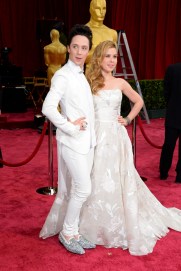 NBC Olympic figure skating analysts Johnny Weir and Tara Lipinski starred at the Oscars red carpet Sunday and then reviewed the best and worst fashions Monday on "TODAY."
Among others, Weir gushed over best supporting actress Lupita Nyong'o.
"Lupita was incredible in that baby blue Prada," Weir said on "TODAY." "It was very balletic. The fullness was very dramatic.
"The pressure was so high because she is the fashion it-girl of the moment."
But Weir and Lipinski didn't like one thing about Nyong'o's look.
"The headband," Weir said. "We're not in gym class. We're at the Oscars."
Weir and Lipinski worked the red carpet as fashion correspondents for "Access Hollywood," and Weir said on Twitter he was going to an Elton John party.
The dynamic duo weren't the only Olympians in town.
Bronze medalist figure skater Ashley Wagner went with fellow skater and training partner Adam Rippon as her date:
Olympic ice dancing champions Meryl Davis and Charlie White continued their whirlwind post-Olympic tour by making a stop in Los Angeles:
Olympic bronze medalist luger Erin Hamlin found Ben Affleck.
Hamlin was among quite a few female Olympic medalists, such as golden halfpipe snowboarder Kaitlyn Farrington and halfpipe skier Maddie Bowman and silver medalist slopestyle skier Devin Logan.
Lastly, it's important to note that best supporting actor Jared Leto played 1972 Olympic 5000m runner Steve Prefontaine in a 1997 biopic.
Video: Johnny Weir parodied on 'Ellen' on SNL