Oscar Pistorius pleaded not guilty to murdering girlfriend Reeva Steenkamp on the first day of a high-profile trial that included two translator problems and the first witness saying she heard a woman scream amid gunshots.
Pistorius, the first double amputee to run at the Olympics in 2012, shot and killed Steenkamp on the early morning of Valentine's Day 2013 in his Pretoria, South Africa home.
He has said he thought Steenkamp was an intruder in his bathroom when he shot four times through the door and killed her, fearing his life was in danger. The prosecution asserts Pistorius shot her after a fight. Pistorius could face life in prison if convicted with a minimum of 25 years.
The proceedings Monday started 90 minutes late after an Afrikaans-English language interpreter had to be replaced. The original interpreter "arrived at court, saw the melee, burst into tears and said she couldn't do it," according to Sky News.
The replacement did not fare much better. The day's first and only witness corrected the interpreter's version of her account. By the end of the day, the interpreter was no longer being used. The witness, originally speaking in Afrikaans, was answering in English.
The witness was Dr. Michelle Burger, who said she heard male and female screams and gunshots from her home in a neighboring community more than 170m away, backing up her statement to authorities last year.
In Pistorius' previous version of events, he had thought Steenkamp was in bed and did not mention hearing a woman scream.
The trial is scheduled to continue Tuesday at 2:30 a.m. ET with more from Burger. Also Tuesday, "TODAY" will air an interview Steenkamp's mother, June.
Here's NBC News' full recap from Monday, including Burger's highlights.
Here's video of Pistorius arriving at the North Gauteng High Court in Pretoria:
Here's video of Pistorius pleading not guilty to murdering Steenkamp:
Here's some atmosphere of the scene via Twitter:
Here are photos from Pretoria via The Associated Press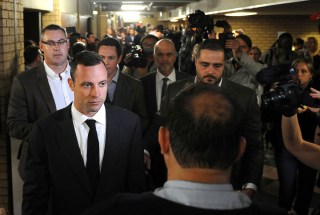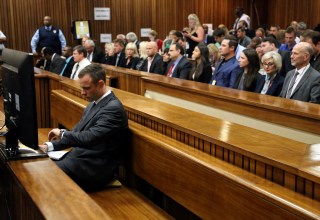 Here are South African Monday PM newspaper front pages: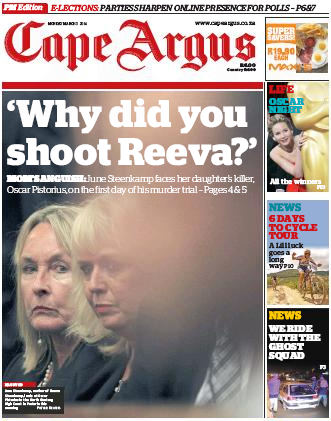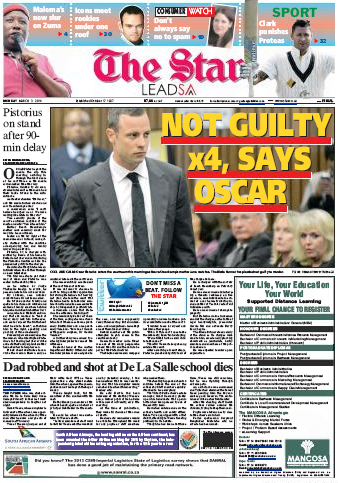 Jamaican national soccer coach eyes Usain Bolt