Oscar Pistorius buried his head in his hands on the second day of his murder trial while it was detailed how bullets hit girlfriend Reeva Steenkamp.
Three witnesses of the Valentine's Day 2013 killing from homes near Pistorius' Pretoria house testified Tuesday as to what they saw and heard on that night. A third Afrikaans-English interpreter was brought in, and the judge warned media for showing a photograph of one of the witnesses on live TV.
Pistorius, the first double amputee to run at the Olympics in 2012, shot and killed Steenkamp on the early morning of Valentine's Day 2013 in his Pretoria, South Africa home.
He has said he thought Steenkamp was an intruder in his bathroom when he shot four times through the door and killed her. The prosecution asserts Pistorius shot her after a fight. Pistorius could face life in prison if convicted of premeditated murder with a minimum of 25 years.
On Tuesday, the first witness, Dr. Michelle Burger, finished answering more than three hours of questions over two days in tears inside a Pretoria courtroom.
Burger said she heard a man and woman scream amid gunshots. Pistorius, in his statement last year, made no mention of hearing Steenkamp scream.
Burger's husband also testified Tuesday to hearing a man and woman scream. Another witness who lived in the same community as Pistorius said she heard arguing that lasted about an hour.
The trial is scheduled to resume Wednesday at 2:30 a.m. ET.
Also Tuesday, "TODAY" aired an interview with Steenkamp's mother, June, who did not attend court on the second day of the trial.

June Steenkamp was there Monday, and she explained why.
"I wanted to see Oscar face to face, and that he would know that I was there," June Steenkamp said. "It doesn't matter to me what happens to Oscar because my daughter is never coming back."
Can she forgive Pistorius?
"It's actually important to forgive him, for me, because I don't want to live with bitterness in my life," she said. "One has to forgive, even though if he made a mistake. It's an enormous mistake."
Here's NBC News' full recap from Tuesday's proceedings.
Here's video of Pistorius putting his head in his hands as details are explained of how the bullets from his gun struck Steenkamp (click the lower left play button, pause a few seconds, and click it again to start from the beginning):
Here's video of the first witness, Burger, crying on the stand (click the lower left play button, pause a few seconds, and click it again to start from the beginning):
Here's some atmosphere from Pretoria via Twitter:
Here are photos from Pretoria via The Associated Press: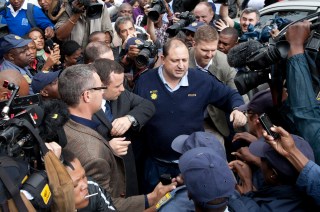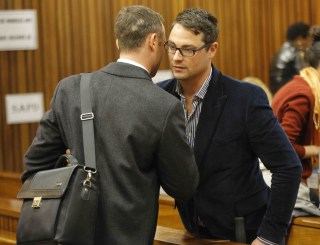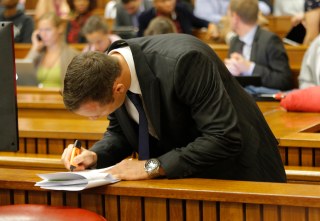 Here are South African Monday PM newspaper front pages: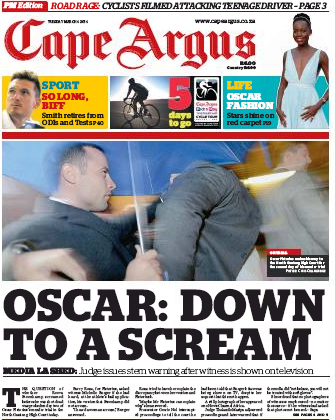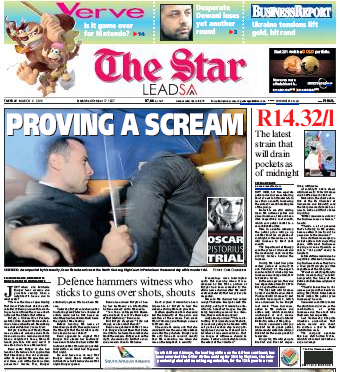 Yuna Kim happy that 'absurd' situation is finished