A crying, praying Oscar Pistorius kneeled by Reeva Steenkamp after shooting her, with two of his fingers in her clenched mouth, trying to open an airway for her to breathe, a witness said at Pistorius' murder trial Thursday.
"I shot her," radiologist Johan Stipp testified Pistorius said with tears on his face on Valentine's Day 2013. "I thought she was a burglar, and I shot her."
Stipp's testimony marked the closest description in four trial days of what happened in the early morning hours of Feb. 14, 2013, after Pistorius shot four times through a bathroom door, hitting and eventually killing Steenkamp.
Pistorius said in a sworn statement last year he thought Steenkamp was an intruder when he shot. Prosecutors argue he intentionally shot her after an argument.
Pistorius could face life in prison if convicted of premeditated murder with a minimum of 25 years.
In his statement, Pistorius said that after he realized it was his girlfriend, he bashed open the bathroom door with a cricket bat, found her still alive and carried her downstairs.
On Thursday, Stipp testified that on the night Steenkamp died he was woken by three loud bangs he thought were gunshots, followed by three or four screams he thought were from a woman. While calling an emergency number, Stipp then heard another three loud bangs, which he thought were gunshots. He then heard what he thought was a man's voice shouting for help.
Stipp lived close enough to Pistorius' house that, from his balcony, he could see a light on through Pistorius' bathroom window.
He got dressed, drove to talk to security and then to Pistorius' house, where inside he said he found another man named Johan Stander and Pistorius kneeling next to Steenkamp. The radiologist Stipp said Steenkamp showed no signs of life.
Pistorius said in his sworn statement last year that Stander and "a doctor who lives in the complex" arrived at his house after the shooting. Pistorius said Steenkamp died in his arms.
The trial is scheduled to resume Friday at 2:30 a.m. ET.
Here's NBC News' full coverage of Pistorius' trial.
Stipp describes the scene when he arrived inside Pistorius' house:
Stipp describes Steenkamp's wounds, causing Pistorius to cover his ears:
Tweets of the atmosphere in Pretoria on Thursday:
Photos from the court in Pretoria via The Associated Press: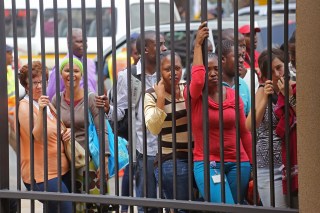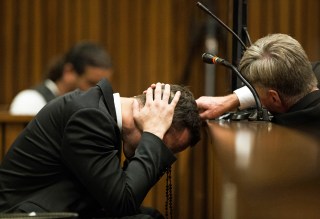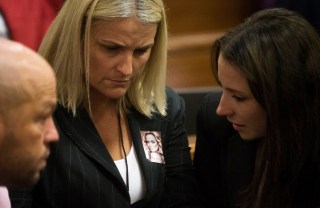 Video: Ato Boldon offers perspective on Oscar Pistorius