A security guard for Oscar Pistorius' gated community testified Friday that Pistorius told him "everything is fine" when the guard called him after neighbors reported gunshots on the night he shot and killed girlfriend Reeva Steenkamp.
"Mr. Pistorius said to me, 'Security, everything is fine,'" security guard Pieter Baba said through an interpreter at a Pretoria, South Africa, court. "That's when I realized that Mr. Pistorius was crying."
Baba then told another security guard that "not everything was in order as Mr. Pistorius was telling me."
Pistorius called back, Baba answered, but Pistorius did not speak before the call ended, the guard said.
"Maybe he wasn't sure about calling me back," Baba said. "He just started crying over the phone."
Pistorius, the first double amputee to run in the Olympics in 2012, is on trial for charges including murdering Steenkamp on the early morning of Valentine's Day 2013. He could face 25 years to life in prison if convicted of premeditated murder. He shot four times through a bathroom door, hitting Steenkamp inside.
The prosecution asserts Pistorius shot through the door after an argument with Steenkamp. Pistorius has said he mistook Steenkamp for an intruder.
The security guard Baba said he spoke to Pistorius on the phone after driving to his house the night of the shooting. He then went inside and saw Pistorius carrying Steenkamp down stairs.
"I was so shocked," Baba said. "Oscar Pistorius told me that everything was fine, only to come and find him carrying Reeva down."
Earlier Friday, Pistorius' ex-girlfriend Samantha Taylor testified that Pistorius carried a gun with him "all the time" while they were dating. Their relationship ended in November 2012, Taylor said.
Taylor also said on at least one occasion when she stayed with Pistorius that Pistorius woke her up during the night, got his gun, checked for an intruder in his house and found nothing.
The trial is scheduled to resume Monday at 2:30 a.m. ET.
Here's NBC News' full coverage of Pistorius' trial.
Here's Baba describing two phone calls with Pistorius:
Here's Baba describing Pistorius carrying Steenkamp down stairs:
Here's Taylor saying Pistorius carried a gun with him "all the time:"
Tweets from reporters in Pretoria:
Photos via The Associated Press: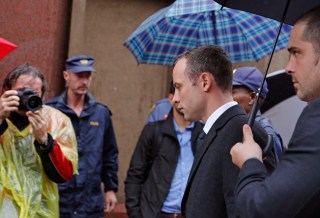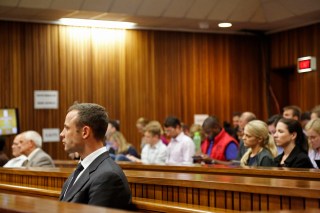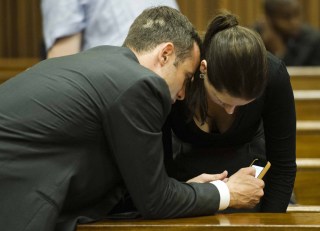 Video: Ato Boldon offers perspective on Oscar Pistorius