Baseball may no longer be in the Olympics, but several MLB stars double as Olympians.
Baseball rosters at the Olympics, an official sport since 1992, included many great collegians and minor-league players for the U.S. as well as some surprisingly strong international names.
Here's one man's Olympic baseball All-Star team, choosing 25 players from the five Olympic baseball tournaments who went onto notable MLB careers, with statistics via sports-reference.com. This list does not include players from when baseball was a demonstration sport in the Olympics, such as 1984 or 1988.
Catcher
Charles Johnson, U.S. (1992)
Jason Varitek, U.S. (1992)
Varitek and Johnson were teammates on the 1992 U.S. Olympic Team, the first Games that included baseball as an official sport. The U.S. finished 5-2 in eight-team group play but lost its last two games — to Cuba in the semifinals and Japan in the bronze-medal game — to finish fourth.
They split time behind the plate. Johnson batted .294 over six games, while Varitek hit .286. Johnson, then 21, had just finished his career at the University of Miami. Varitek, then 19, was at Georgia Tech.
Varitek went on to make three All-Star teams over a 15-year MLB career with the Boston Red Sox. Johnson made two All-Star teams and won four Gold Gloves in a 12-year career with the Florida Marlins, Los Angeles Dodgers, Chicago White Sox, Baltimore Orioles and Colorado Rockies.
Honorable Mention: Pat Borders, U.S. (2000); Kenji Johjima, Japan (2004); Dave Nilsson, Australia (2000, 2004).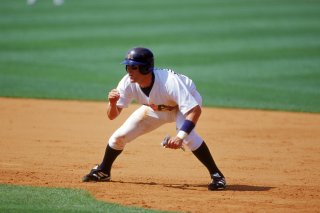 Infield
1B — Jason Giambi, U.S. (1992)
2B — Tadahito Iguchi, Japan (1996)
SS — Nomar Garciaparra, U.S. (1992)
3B — Troy Glaus, U.S. (1996)
1B/3B — Doug Mientkiewicz, U.S. (2000)
2B/SS — Alexei Ramirez, Cuba (2004)
Giambi and Garciaparra joined Varitek and Johnson on the team in Barcelona.
Giambi was coming off a career at Long Beach State and was drafted in the second round by the Oakland Athletics in 1992 as well. He batted .296 in Barcelona, playing in all nine U.S. games and would go on to a 19-year MLB career with the Athletics, New York Yankees, Colorado Rockies and Cleveland Indians, making five All-Star teams and winning an MVP.
Garciaparra, then 19 and embarking on his Georgia Tech career, batted .200 in seven games in Barcelona. He went onto a 14-year MLB career with the Red Sox, Chicago Cubs, Dodgers and Athletics, making six All-Star teams.
Iguchi starred on Japan's 1996 silver-medal winning team in Atlanta. He batted .405, including a 5-for-5 game and one home run. Iguchi was 21 then and didn't come over to MLB until 2005, playing four years with the White Sox, Philadelphia Phillies and San Diego Padres.
Glaus was part of the 1996 U.S. team that won bronze at Fulton County Stadium. Glaus hit .219 in nine games, but four of his hits were home runs. He was a four-time All-Star in 13 MLB seasons with the Anaheim Angels, Arizona Diamondbacks, Toronto Blue Jays, St. Louis Cardinals and Atlanta Braves.
Mientkiewicz, then 26, was a star of the 2000 Olympics coming off his Triple-A season in the Minnesota Twins system. His eighth-inning grand slam propelled the U.S. to a 4-0 win over South Korea in group play, and he hit .414 overall as the U.S. won a stunning gold with Tommy Lasorda at the helm. He compiled a 12-year MLB career, which began in 1998, with seven teams.
Ramirez was 22 when he played in the 2004 Athens Olympics for Cuba, which won gold losing one game all tournament. He hit .278 in nine games in Athens and is about to start his seventh MLB season with the White Sox with a career batting average of .277.
Honorable Mention: Travis Lee, U.S. (1996); Phil Nevin, U.S. (1992); Brett Lawrie, Canada (2008).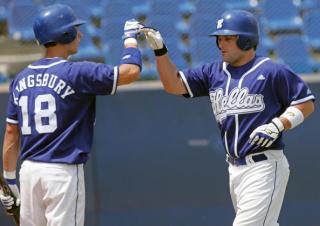 Outfield
Jeffrey Hammonds, U.S. (1992)
Jacque Jones, U.S. (1996)
Mark Kotsay, U.S. (1996)
Nick Markakis, Greece (2004)
Brad Wilkerson, U.S. (2000)
Hammonds was the fourth overall pick by the Orioles in 1992 out of Stanford before going to Barcelona. He lived up to that hype in the Olympics, hitting .432 with base knocks in all nine games for the fourth-place U.S. He made one All-Star team in a 13-year MLB career with six teams.
Jones and Kotsay were both collegiate players in California and drafted by MLB teams in the first two rounds in 1996. Jones hit .395 with five home runs at the Olympics, while Kotsay went .273 with three homers. They both went onto long MLB careers scattered among different clubs but made no All-Star teams.
Markakis, born and raised in New York and Georgia, was part of a Greek team at the Athens Olympics that included players who had Greek heritage. He hit .346 for Greece, which went 1-6, and also pitched in two games. A 2003 first-round pick of the Baltimore Orioles, Markakis is going into his ninth MLB season.
Wilkerson, a collegiate star at Florida, made the 2000 U.S. Olympic Team while coming up through the Montreal Expos minor-league system. He hit .216 in nine games in Sydney, made his MLB debut in 2001 and played eight years in the majors.
Honorable Mention: Dexter Fowler, U.S. (2008); Kosuke Fukudome, Japan (1996, 2004); So Taguchi, Japan (2000); Michael Tucker, U.S. (1992).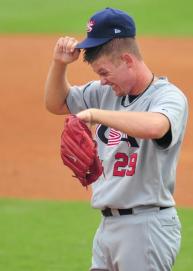 Pitchers
Jose Contreras, Cuba (1996, 2000)
Yu Darvish, Japan (2008)
R.A. Dickey, U.S. (1996)
Orlando Hernandez, Cuba (1992)
Billy Koch, U.S. (1996)
Hiroki Kuroda, Japan (2004)
Daisuke Matsuzaka, Japan (2000, 2004)
Roy Oswalt, U.S. (2000)
Ben Sheets, U.S. (2000)
Stephen Strasburg, U.S. (2008)
Koji Uehara, Japan (2004, 2008)
Jeff Weaver, U.S. (1996)
Hernandez and Contreras were two of the first great Cuban players to make it in the majors.
Hernandez gave up four runs in 6 2/3 innings, striking out 10 at the 1992 Olympics as Cuba won gold. El Duque defected before the 1998 MLB season and pitched nine years in the majors.
Contreras' two Olympics included complete-game shutouts of Japan and Australia in Sydney in 2000. He defected before the 2003 season and played through 2013, making one All-Star team.
Darvish, Kuroda and Matsuzaka have seen varying results as starters in the majors after playing for Japan at the Olympics. Darvish, second in last season's Cy Young voting with the Texas Rangers, had the worst Olympic ERA of the trio — 5.14 in seven innings in 2008. Kuroda allowed no runs in 2004, striking out 13 over nine innings in three combined appearances. Matsuzaka pitched at least 7 2/3 innings in all five of his Olympic appearances, striking out 45 batters over 43 innings with a 2.09 ERA.
Dickey, the 2012 NL Cy Young winner, pitched in the 1996 Olympics after finishing his NCAA career at Tennessee. He won in both of his appearances in Atlanta in U.S. routs en route to bronze.
Oswalt and Sheets were anchors on the memorable 2000 U.S. Olympic gold-medal team. Oswalt threw six innings of two-run ball to beat South Korea in the semifinals, and Sheets blanked Cuba in the gold-medal game. Both went on to All-Star MLB careers.
Strasburg pitched for Team USA in the final Olympic baseball tournament in 2008 while in the middle of his San Diego State career. He one-hit the Netherlands in group play and got the call against mighty Cuba in the semifinals. He gave up two earned runs over four innings in a 10-2 loss, but the U.S. bounced back for bronze.
Honorable Mention: Masahiro Tanaka, Japan (2008); Chien-Ming Wang, Taiwan (2004).
Ultimate Olympic NCAA Tournament bracket