Klete Keller was part of some of the most memorable Olympic swimming races of all time, in the heyday of Ian Thorpe, Pieter van den Hoogenband and Michael Phelps, and won five medals in six career events spanning three Olympics.
Few swimmers can gauge that era better than Keller, who retired after the 2008 Beijing Games.
OlympicTalk recently caught up with Keller to look back on his career:
OlympicTalk: Let's start with Sydney 2000, you won bronze in the 400m freestyle and silver in the 4x200m free relay, both behind Thorpe. What do you remember?
Keller: Going against Thorpe in the 400 freestyle, he was a hero in Australia. He was almost like a mythical figure. [Australian Grant] Hackett was in that race as well. The crowd was just going crazy. I was almost kind of scared because it was my first big international meet.
The funny thing I remember about that race is the camera at the bottom of the pool. It was following Thorpe the whole time. By the end of the race it was like 25 meters ahead of me. I couldn't believe somebody was swimming that much faster than me [Thorpe finished 6.41 seconds ahead of Keller]. I couldn't even see him.
OlympicTalk: You anchored the 4x200m free relay, you held off van den Hoogenband on anchor to get silver by .06.
Keller: The Aussies won that one, and I remember they played that land "Down Under" song by Men at Work. The whole stands of Aussies were singing that song. They were blasting that through the stadium. I'm really glad I stopped and took a moment, rather than rushing through the media zone. It's really cool how a sport like swimming can get people so pumped up.
OlympicTalk: In the 2004 Olympics, you anchored the 4x200m relay again and held off Thorpe for gold.
Keller: It all started in the prelims that morning, when all the teams qualified for finals. It was told to me that I would be the anchor. I knew Thorpe would be the anchor for Australia. I knew he had never really been challenged a whole lot at that point, and I knew we would be ahead [going into the anchor leg] because we had [earlier legs] Michael [Phelps] and [Ryan] Lochte, who was swimming really well.
I thought [Thorpe] would try and be the hero and catch up right away and make me look like a fool. He did catch up right away. When he did that, I was happy, because I knew he wouldn't be able to hold it.
The thing I remember from the last lap was the U.S. team sitting down on the deck that night. The way the seating arrangements worked, they switched countries to different parts of the stands every night. You could be in nosebleeds, but it was really lucky our team was deck level. I could see them going crazy and waving towels and shirts. I had a feeling I would win, but I wasn't sure until I popped my head out at the very end. It was more of a relief at first than anything.
I'm just so proud that I got to be a part of history and be involved with one of Phelps' 22 medals. It has meant different things to me as I've gotten older. At first, I felt responsible for winning a gold. In reality, that's not really what it was. It was all four of us.
Catching up with: Toby Dawson | Shawn Johnson
OlympicTalk: You also finished fourth in the 200m free, known as the Race of the Century with Thorpe, Phelps, van den Hoogenband and Hackett.
Keller: I just remember a lot of splashes and bubbles. I don't really remember seeing anything.
What was interesting is Phelps got third [in an American record 1:45.32]. When he went on to win in Beijing, he went [a world record] 1:42, which is just unheard of.
OlympicTalk: Overall, looking back on your career …
Keller: I regret being so focused on swimming. It's really fulfilling, it can be inspiring to yourself and others at times, but at the end, from an individual perspective, it's just a sport. There's so much more to life afterwards, so many things that are way more important. Having my kids was incredible.
I should have put a lot more time into thinking about careers and what I was doing after swimming. I just got tunnel vision with swimming.
You get done, and you're like, "Oh God, what do you do now?" If I could go back, I probably wouldn't have done another Olympics [swimming on the 4x200m free relay team in prelims in 2008]. I would have retired right after Athens and probably went back to school.
It's not right, but I still probably hold some bitterness toward myself mostly, but also a little bit toward my sport because I let myself get too deep into it. I'm still not quite over that, unfortunately, but I'm working on it. I do love the sport. I'm just a little disappointed overall.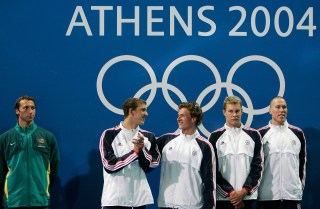 OlympicTalk: What was your relationship like with Thorpe?
Keller: It's unfortunate because I never spoke more than probably two sentences to Thorpe. When I was younger I probably had too big of a chip on my shoulder. And a bad attitude. My motivation was anger pretty much. I wanted the spotlight, and Thorpe had it for those two Olympics [2000 and 2004].
I wasn't angry [at Thorpe], but I wasn't open to him as much as I could have been. On the other hand, Hackett I always thought was a cool guy. We'd talk in the ready room. I'd see him at parties after the Olympics.
It seemed like Thorpe was a little more isolated, I don't know why. It's not like there's anything wrong with that. I have tremendous respect for Thorpe's swimming. It was really an honor to swim next to him. It's weird because I never really saw him swim, because I was always swimming in the lane next to him. I couldn't appreciate it.
It seems like people who have success at that level of swimming, it seems like everybody's had some battles they've had to overcome out of the pool. It's kind of nice to know that I'm not the only one struggling with whatever it may be [Thorpe and Hackett have both been in rehab recently].
Being good at an Olympic sport is almost as much a curse as it is a blessing because I kind of got a skewed sense of reality. If I was as good at basketball or football as I was at swimming, I wouldn't have had to worry about that stuff because I would have had lots of money.
You make just enough swimming to be comfortable, and then you have to get real after [your swimming career ends]. In that way you have to have your head on straight.
OlympicTalk: You mentioned 2008. Were you disappointed not to make the 4x200m free relay final team?
Keller: There was really only one spot open. I didn't really expect to make it. I was happy for Ricky [Berens, who earned his spot with a split .04 faster than Keller in prelims]. I had my moment [in 2004]. I really didn't mind.
Leading up, during the summer, I had the best training of my life, was in the best shape of my life. Then it all fell apart toward the end with an injury and a sinus infection at the wrong time. I really started to move mentally away from swimming by that point anyway, which I felt pretty guilty about.
I didn't really care to be at the Olympics at that point, which sounds pretty bad, but I was over it. So I guess it was good [that Berens made the final over me], because I didn't have the attitude to want to be there.
OlympicTalk: How much do you keep up with swimming today?
Keller: Every once in a while I'll hear what times kids are swimming these days, what times the national teamers are swimming and what they're doing in practice. I'm like, "Man, thank God that I'm not still swimming." People weren't this fast when I was swimming. I don't know how people are getting this fast.
I thought our generation, when we were in it, that things couldn't get much faster than this.
OlympicTalk: A video interview of Phelps at age 15 recently went viral. What do you remember about 15-year-old Michael Phelps?
Keller: He was really spirited on the team and really happy to be there [in Sydney in 2000]. He was leading cheers. He painted his face and his chest. He was an outgoing, happy kid without a lot of pressure it seemed.
My personal view was I thought I had seen a lot of swimmers that were really good when they were younger and fizzled out when they got older. That was my guess what was going to happen with Michael, but it was really amazing to see what he bloomed into. He had domination on every level for a long, long time. I did not expect it.
OlympicTalk: Where are your five Olympic medals now?
Keller: My parents have one of them. I've been doing a lot of moving around. I don't know where three of them are. I think they're in a box somewhere in the garage. I'm sure they'll be recovered at some point.
To me the medals don't really mean much. The ribbons get all tattered. It's not like they're solid gold or anything. What they do for me is serve as a tangible reminder of a really important time in my life.
I could not really care less about the medals themselves, which would explain why I don't know where three of them are.
Remembering the 2000 U.S. Olympic Baseball Team