Dara Torres is a 12-time Olympic medalist, swimming in five Games over a seven-Games stretch and retiring after the 2012 Olympic Trials.
Her 12 medals are tied for the most by a U.S. woman with fellow swimmers Natalie Coughlin and Jenny Thompson. Torres is now 46 and still spending plenty of time at the pool, watching her daughter, Tessa, at swim practice.
Tessa was 2 years old when her mom made her final Olympic Team in 2008. She's now 7.
OlympicTalk recently caught up with Torres to look back on her career and discuss her current activities:
OlympicTalk: What was your favorite Olympic race?
Torres: My last individual event, the 50m free in Beijing. It was my favorite because it was my first time seeded first going into an Olympic final. So it was a different situation being in an Olympic Games final with everybody sort of gunning for me. I thrive on that. I ended up second [behind German Britta Steffen by. 01 of a second], but it still was my favorite race.
I think another reason it was my favorite race was because it was such a refreshing feeling [at the finish]. I hate losing, and when I touched the wall and lost by .01, obviously that's going to live with me forever. But it's also refreshing putting it all out there and leaving everything on the line. I did everything I could. On one hand it was bittersweet, losing by one hundredth of a second and on the other I did everything I could.
OlympicTalk: Who was your favorite competitor?
Torres: Jill Sterkel, [a 1976-88 Olympian]. She is very classy. She was tough, and she also left everything in the pool. She was older than me. My first race against her, I was 14 and she was 21.
There was one instance I was in a heat before her, in a preliminary round, and there was a false start, which back then you were allowed to have without being disqualified. I remember getting out of the pool, I was cold, and she was waiting to go after me, and she gave me her towel. She saw that I was shivering and cold. That was really classy. She was a fierce competitor, but she was nice out of the pool.
OlympicTalk: Would you have changed anything about your career, retiring after 1992 and 2000?
Torres: I don't have any regrets of what I've done. Having taken that time off, it rejuvenated my love for the sport. I found passion for the sport. So that when I finished my last Olympic Trials in 2012, I had no regrets.
Catching up with: Jackie Joyner-Kersee | Klete Keller | Toby Dawson | Shawn Johnson
OlympicTalk: Any thoughts about swimming again?
Torres: That's a hard question for me because every time I have retired, I have come back. After my sixth Olympic Trials, it has hit me that I'm really done this time.
OlympicTalk: Which active swimmers do you like to watch?
Torres: I like swimmers who have versatility. Missy Franklin obviously swims a lot of different strokes. I swam sprint freestyle and a little butterfly. It's always fun to watch someone who can do so many different events. I like watching Missy Franklin, Michael Phelps, Ryan Lochte.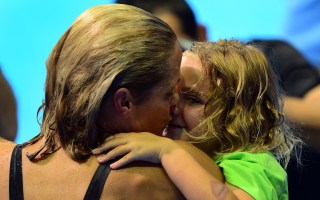 OlympicTalk: How is your daughter, Tessa, taking to the pool?
Torres: She's a little water bug. She loves water.
I'm going to take her in about an hour to swim practice. She does other stuff, too. If she wants to continue swimming, that's great. I don't know if that's what she wants to do, but she seems to love it right now. She also does dance and lacrosse.
OlympicTalk: What have you been up to?
Torres: I have been very busy with sponsors and doing motivational talks. I'm going to a conference tomorrow for a couple days.
It's also fun being home and being a mom. In addition to my daughter, I have two stepkids now. I'm busy shuttling them to different activities. It's a very Sally Homemaker kind of life with other stuff on the side. I really enjoy it.
San Diego submits proposal to USOC for 2024 Olympic bid