BOSTON — The Boston Marathon's added significance this year also accentuates its traditions. That will be clear around lunchtime Monday, when the elite runners turn left off Hereford Street and onto Boylston Street.
"You make that turn, and there's the finish line, so close, yet so far," said Joan Benoit Samuelson, the 1979 and 1983 Boston Marathon champion. "We're going to see a finish line like no other finish line."
There will be 9,000 more runners than a year ago, and as many as double the spectators, perhaps one million along the 26.2-mile route through eight cities and towns.
They've come to participate in and watch the 118th edition of the world's oldest annual marathon, one rocked by twin bombings last year. Three people were killed and more than 260 injured when two pressure cooker bombs exploded within about 12 seconds of each other near the revered Boylston Street finish line.
"Boylston Street is forever changed," U.S. elite marathoner Ryan Hall said.
Boston Marathon Previews: Men | Women | TV, Race Schedules
The crowded sidewalks were a mix of remembrance and renewal on Good Friday.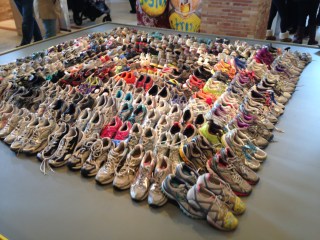 The Boston Public Library's Central Library takes up the south side of Boylston along the finish line. It houses, "Dear Boston: Messages from the Marathon Memorial," a free exhibit of displayed items brought inside from the outdoor makeshift memorials of last year.
There are four white crosses for the three who died from the attack — Martin Richard, Krystle Campbell and Lingzi Lu — and for Sean Collier, the MIT police officer who investigators say was shot and killed by the bombing suspects days later.
There are a few hundred pairs of running shoes, which were left symbolically at bordering Copley Square by runners last year.
And there are supportive notes from a Sandy Hook, Conn., mom, Kashmiri Hindu refugees and a Yankees fan.
The Old South Church takes up the north side of Boylston just past the finish line. Senior women were swarmed by marathon entrants there Friday afternoon.
The women organized a giveaway of more than 7,000 blue and yellow scarves knitted and donated from around the world — Australia, Thailand, even 400 made by a group of women from New Hampshire. A hug accompanied each scarf, billed as "interwoven with love and courage."
On the other side of the finish line, exact locations of the explosions were respectfully recognized.
Eight sets of yellow "Marathon Daffodils" lined in front of the Marathon Sports apparel shop at 671 Boylston, site of the first bomb.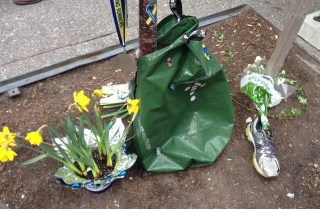 More flowers, a runner's medal hanging from a tree and a solitary shoe lay outside Forum restaurant at 755 Boylston, where the second bomb detonated.
The rest of Boylston's sidewalks were a kaleidoscope — the blue and yellow apparel from the 2013 marathon, the orange jackets outfitted for this year's race and the fluorescent green covering police officers at several stops.
In Copley Square, beyond the finish, John Singleton Copley's statue wore a blue and yellow scarf and race credential.
Just about every other storefront window advertised signs of encouragement, including a large odometer-type display of 858.5 feet to go outside Capital One bank's cafe at 799 Boylston.
On Marathon Monday, the runners will use that atmosphere as final bits of fuel, passing the 26-mile mark.
It's the crowd, most of all.
"You're tapping into everything you can to get to the line," said American Desiree Linden, who was two seconds shy of winning in 2011. "It's like calling you home.
"That's why you get up in the morning when it's negative 30 [degrees] and head out the door [to train]. You think about that and how you could break that tape."
And not just for the dozens of elite runners.
"They almost will you not to quit," said Boston Fire Lt. Paul J. McCarthy, who is running his 16th marathon unofficially (he may have entered a few as an unregistered "bandit" runner on dares). "They just bring you home. It's like a ride that they bring you on."
Officials are expecting Boylston Street to be so popular that they've requested spectators instead watch at other course points.
Security will be staggering, about double the police presence as last year. The surveillance cameras, barricades and National Guard mark another reminder of the development of this race.
The two-time Olympian Hall has read books, studied and watched YouTube videos of landmark moments of the world's oldest annual marathon.
"The thing that makes it the most unique is the history behind the race," Hall said. "Now I get to take my turn in the history books."
Inspired by the first modern Olympics in 1896, the Inaugural Boston Athletic Association Road Race in 1897 covered 24.5 miles, with 18 entrants, 15 starters and 10 finishers.
In 1968, Amby Burfoot of Connecticut won it literally running through the crowd in downtown Boston.
"It was like Moses and the Red Sea," said Burfoot, now 67, who is checking off his 20th Boston Marathon this year. "They opened, they let me go, and they closed in back of me. And I had a guy [another competitor, behind me] on my shoulder. I was looking back for him, and all I could see was the crowd closing in back of me."
Samuelson's vivid Boylston memories are audible, listening to finish-line announcer Tom Grilk call her name over public address on course-record-setting victories in 1979 and 1983.
She heard nothing at the finish in 2013, when she clocked 2 hours, 50 minutes, 29 seconds, before the attack. Grilk, now the Boston Athletic Association executive director, saw his shift end near her 2:50 mark, and there was a bit of silent period before the new caller took over.
Samuelson, 56, is running again this year. She wouldn't miss it.
"It's a moment to remember, to appreciate and to respect," Samuelson said. "At the same time, it's a moment to move forward."
Four-time Olympic medalist returns to run Boston Marathon again