Shannon Miller earned seven Olympic medals, two new cars and a TV commercial with Patrick Ewing for Trivial Pursuit during her gymnastics career.
The most decorated U.S. Olympic gymnast of all time missed all-around gold by .012 of a point at the 1992 Barcelona Games, where she won five medals at age 15, the most of any American across all sports. She added two more golds at the 1996 Atlanta Olympics as an anchor for the Magnificent Seven.
After each Olympics, Miller returned to Edmond, Okla., where welcome-home gifts included sometimes disturbing fan mail (more on that later) and cars. She received a 1993 red Saturn sports coupe after Barcelona, though she was too young to drive it by herself, and a green 1996 Chevrolet Camaro after Atlanta.
Miller was diagnosed with a form of ovarian cancer in January 2011, less than a year after launching her company, Shannon Miller Lifestyle: Health and Fitness for Women.
She had a baseball-sized tumor removed, underwent nine weeks of chemotherapy and has been cancer-free for three years.
Miller, now 37, lives in Jacksonville, Fla., with her husband. They welcomed their second child last year.
OlympicTalk recently caught up with Miller at her annual 5K event in downtown Jacksonville to look back on her career and discuss her current ventures.
Catching up with: Bruce Jenner | Mark Henry | Paul Wylie | Blaine Wilson | Sasha Cohen | Tim Goebel | Bernard 'Hollywood' Williams
OlympicTalk: What do you remember about meeting the Dream Team at the 1992 Olympics?
Miller: When we walked into the Olympic Village for the first time, we had already been in France for two weeks ahead of time. I was only 15 years old, so I was getting a little homesick. We turn around, and there's the Dream Team. For me, this little 15-year-old from Oklahoma, it was like family because I grew up watching them. So for me, it was like, yay, there's other people here with me. We're all from Team USA.
OlympicTalk: What was it like going back to high school in 1992 as a five-time Olympic medalist?
Miller: I was really shy growing up, so I kept to myself. My friends that were there before I won five medals were right there afterwards. No one made a big deal. Every now and then you heard a whisper in the halls. Or the teachers kind of knew. I continued to live in my little bubble and just go on as if nothing had happened.
OlympicTalk: What was the most interesting piece of fan mail you got after 1992 or 1996?
Miller: I don't know if it's a positive thing, but the ones that made the biggest impression on me was I would get death threats at the age of 15. My parents read all of my fan mail first because they knew that not everything was going to be appropriate for a 15-year-old. The only ones that I found out about were the nice letters that wanted an autograph. But there was a couple where the FBI had to be called in, so they couldn't really hide that from me. That's a tough thing for a young girl who thinks, "I just do gymnastics."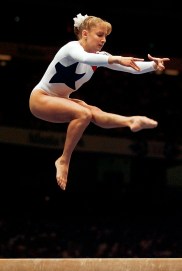 OlympicTalk: What are your fondest memories of the Magnificent Seven?
Miller: Certainly the day of the team competition, but also afterwards (on a post-Olympic gymnastics tour). That's where we really got to know each other. We toured almost 100 cities. It was insane. It was wonderful. We got time to actually talk and learn about us as people.
In Atlanta, I just remember walking into the Georgia Dome that first night. It was insane. I mean, for practices, you had 40,000 people. You just couldn't believe it.
OlympicTalk: Tell me something interesting about Bela Karolyi.
Miller: My first meeting with Bela, I was 7 years old. My mom had taken me and some other girls from our gym had gone up to do the Karolyi camp. I won some little trick contest, and I got to pie Bela Karolyi in the face. That was my reward. That was my introduction to Bela Karolyi.
OlympicTalk: Who do you consider the greatest female gymnast of all time?
Miller: I don't even know that I could because the way gymnastics evolved and how quickly it evolved. Something that Nadia Comaneci did years ago, that's what 6-year-olds are doing now. What I did in 1996 are what 8-year-olds are doing now.
Vitaly Scherbo on the men's side, six gold medals (for the Unified Team at the 1992 Olympics), that's a tough one to beat. Nadia Comaneci dominated, but again the era was so different.
OlympicTalk: You've been cancer free for three years. What has going through that done for your perspective on life?
Miller: When you talk to any survivor, you notice the change. You're not the same person you were before. It's not necessarily negative. For me, it has been in some ways a blessing because it helps me remember those important things, to stop and smell the roses, to enjoy the small stuff along the way, not just the big things that go on in our lives. It helped me take a breath of fresh air, to remember what life's all about. It's also really inspired me to do more. My company was actually started before my diagnosis. So it's just really lit that flame and increased that passion.
OlympicTalk: Tell me about Shannon Miller Lifestyle.
Miller: It's all about women and health. Our mission is to help women make their health a priority in whatever form. So that may be nutrition, fitness, cancer awareness, diabetes, heart disease. The Shannon Miller Foundation is fighting health and obesity here on the First Coast (Jacksonville). So we support over 8,000 children in the local area to help them get interested and have the opportunity to be physically active.
American Cup winner Elizabeth Price explains decision to retire