Horse Guards Parade, a usual site of London's Changing of the Guard, housed a sand shift at the 2012 Olympics.
Beach volleyball debuted at the Olympics in 1996, and the first four men's gold medals were won by U.S. or Brazilian teams, the two dominant nations in the sport. Three of four silvers, too.
Americans Phil Dalhausser and Todd Rogers arrived at the central London venue playing for legacy two years ago, to become the first men to repeat as Olympic beach champions. They were seeded second, behind only a Brazilian duo, and went undefeated in group play to make the single-elimination round of 16.
Dalhausser and Rogers, two men separated by six years in age, seven inches in height and countless hair follicles, had become the perfect complements since teaming in 2006. Rogers, nicknamed "The Professor" for his ability to pick apart the game mentally, especially defensively, and Dalhausser, the younger, quieter, bald man they called "The Thin Beast" for his scary-good offensive play.
Their partnership pretty much ended on the night of Aug. 3, 2012.
The men's round of 16 was not a showcase event around the London Games that evening. Michael Phelps and Missy Franklin were swimming their final individual events over at the Aquatics Centre. It was the first night of track and field at Olympic Stadium.
But at Horse Guards Parade, Dalhausser and Rogers were unceremoniously dethroned in straight sets by a 13th-seeded Italian team that had to win an extra match just to qualify for the round of 16.
"When you lose," Dalhausser said that evening, "it smacks you right in the face the second the ball hits the sand."
One month later, Dalhausser said on an Internet volleyball radio show that he would switch partners and team with another two-time Olympian, Sean Rosenthal, for the following season.
Rogers, at a seasoned 39, was to cut back on playing internationally, but his forecast would have changed had the Olympics been different.
"If Phil and I had played really well and won a gold … if we were still playing at a level where we were winning a lot of tournaments, we would have kept going," Rogers said in a phone interview last week.
It started to go wrong a little over a year before the Olympics.
Dalhausser and Rogers won 13 of the 16 FIVB tournaments from late 2009 to early 2011. Then Rogers tweaked his knee, Dalhausser rolled his ankle before the 2011 World Championships (they finished ninth), Rogers tore his meniscus and had offseason surgery and Dalhausser was hospitalized with blood clots in his shoulder and arm one month before they were to defend their Olympic gold medal.
"I wonder what would have happened if the little injuries and things not happened and if we continued to roll," Rogers said.
Instead, a German team won Olympic gold. Men's beach volleyball took a turn. Dalhausser and Rogers, now separated, face more challenges internationally (for Dalhausser) and domestically (for Rogers) than in their heyday.
The new pair of Dalhausser and Rosenthal are inconsistent but among the world's best, arguably No. 1 when at their peak. Rogers is playing with his third different partner in as many seasons, the last two being younger players transitioning to the beach.
But the game is global now, with championship roots across Europe two years before it's going to be one of the showcase sports at the Rio Olympics.
A Dutch pair won the 2013 World Championship. A Latvian duo is the team to beat right now, Dalhausser said, early on in the international FIVB season that runs from April to December. The Italians who stunned Dalhausser and Rogers at the Olympics have won two of the first three tournaments.
"Once beach volleyball became an Olympic sport in 1996, people started taking it more seriously around the world," said Rosenthal, who made the 2008 and 2012 Olympic quarterfinals with Jake Gibb. "We always did [take it seriously] here and Brazil did there, but it became a much bigger sport around the world. A lot of these countries are taking their indoor players and taking them out to the beach. They're all 21 [years old] and 6-9 and 6-10. They're getting good and getting good fast."
The 6-foot-9 Dalhausser and 6-3 Rosenthal took three FIVB World Tour event titles last year, more than any other duo. But they didn't make the semifinals of their five other tournaments. They lost in the round of 16 at the World Championships.
"Fifteen teams could probably win a tournament on any given weekend," Dalhausser said.
Dalhausser and Rosenthal, who have switched sides on the sand this year (Dalhausser is back on his natural left; Rosenthal on his unnatural right), were bounced in the round of 16 and quarterfinals in their first two international tournaments this season in China. In both defeats, they squandered one-set-to-none leads.
"We couldn't step on their throats, I guess, and finish them off," Dalhausser said. "That's something we need to work on."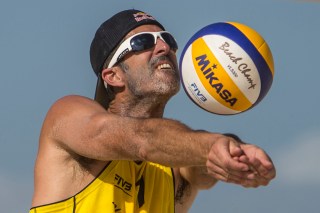 Rogers, who was largely credited with developing Dalhausser into a dominant force during their partnership, took on a project in 2013.
His partner last year was Ryan Doherty, a 7-foot former minor-league baseball pitcher with a puddle of domestic tour experience. They parted amicably after a disappointing international season and mixed results on the domestic AVP Tour.
Rogers picked up another new partner this season named Theo Brunner, a man he once recruited when he was an assistant college coach to play for UC-Santa Barbara's indoor team. Brunner, at 29, is 11 years younger than Rogers.
Rogers said after he and Dalhausser lost in London he would never play another Olympic match, but he's not completely ruling out a Rio run now.
At the same time, his focus is on boosting his partner's ranking among American men via a points system that accumulates results over the course of a season. Rogers wants his former college pupil to have a shot at his first Olympics in case Rogers opts not to try for his third. A country can't send more than two teams to an Olympics.
"Basically my No. 1 goal here is to put Theo in a position by the end of this year that he has enough points that he's now a viable option for players to choose from if we're not doing really, really well," said Rogers, who with Brunner isn't automatically qualified for the marquee FIVB Grand Slam main draws yet. "In that case, he shakes my hand, and I'm going off into the sunset of some kind."
Dalhausser and Rosenthal and Rogers and Brunner are both scheduled to compete in the first event of the new AVP season in St. Petersburg, Fla., next week.
Dalhausser, Rosenthal and Rogers all have children now. That balances their futures in a sport with high travel mileage. Still, there's that image of playing an Olympic final in a full, 12,000-seat stadium on Copacabana Beach in Brazil — where rowdy spectators are known to yell curse words at U.S. teams, in English.
"I think Rio will probably be my last Olympics," said Dalhausser, 34, whose wife is expecting a girl, Sophia, in August, to pair with Sebastian, who turns 1 in June. "The travel wears on you. I don't see myself playing until 40 [like Rogers]. Try to qualify for Rio, then hopefully medal there. Then maybe play another year and probably call it quits after that.
"But if I'm still winning tournaments when I'm 37, it'd be tough for me to walk away."
First grass planted on Rio Olympic golf course