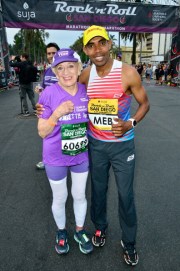 Harriette Thompson didn't let age or cancer stop her from making history at the San Diego Marathon on Sunday.
Thompson, 91, broke the women's 90-94 age-group marathon record when she crossed the finish in 7 hours, 7 minutes, 42 seconds.
She was still healing from squamous cell carcinoma radiation treatments as recently as one month before the marathon. Her white tights covered wounds on her legs. It wasn't her first time battling cancer. She ran San Diego in 2010, 2011 and 2012 with an oral cancer that took all but one of her upper teeth and her jawbone, according to the Charlotte Observer.
Actually, Thompson shattered the previous 90-94 age-group record of 8:53:08, set by Mavis Lindgren in 1997. She came close to the men's mark of 6:46:34.
Get this: Thompson didn't take up marathon running until 15 years ago, at age 76.
"I started running because I had friends who were very ill from leukemia," the Charlotte retirement community resident said. "A friend of mine was gathering money for the race, and she was going to run for the Leukemia & Lymphoma Society. I decided, well, I could walk that. So I signed up, and I came out here in 1999 and ran my first marathon."
Everybody in her family has died from leukemia or cancer, including the recent passing of her 99-year-old brother, she told NBC San Diego. She has raised more than $90,000 for the Leukemia & Lymphoma Society running 15 marathons, according to the Charlotte Observer.
She was given a special introduction before Sunday's race and met Meb Keflezighi, the Boston Marathon winner and 2004 Olympic silver medalist.
Her longest training run/walk was five or six miles, and she told reporters wasn't sure she would be able to finish Sunday. But she powered on with her son, Brenny, 55, by her side.
Thompson, reportedly a former concert pianist who played Carnegie Hall three times, was surrounded by media after completing the 26.2 miles in about 16:20/mile pace Sunday.
"I don't deserve all this attention," she said, according to competitor.com. "I feel relieved. But I'm interested in getting into a cold shower and falling into bed for a while."
Thompson told reporters she would run the San Diego Marathon again next year, if she's able.
"I can't believe how big a deal they're making over me," she told the Charlotte Observer. "I felt like a queen for the day."
Spain King Juan Carlos I and the Olympics