Soccer has mostly been a showcase for youth at the Olympics, with a rule limiting nations to a maximum of three players over age 23.
That has somewhat leveled the playing field — Nigeria and Cameroon won gold medals in 1996 and 2000 — and also provided international tournament experience to players would go on to become World Cup stars. This is apparent when looking at the 2014 World Cup squads.
One non-household name, the oldest player at the 2014 World Cup, 42-year-old Colombian goalkeeper Faryd Mondragon, was on Colombia's roster at the 1992 Barcelona Olympics.
Here's a gallery of this year's World Cup stars who double as Olympians:
FIFA Ballon d'Or winner Cristiano Ronaldo scored one goal for Portugal at the 2004 Olympics when he was 19, two years before his World Cup debut. Portugal is best known at those Athens Games for being upset by Iraq in their opener and being eliminated in the group stage.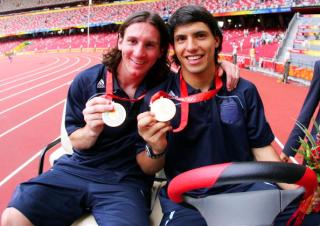 Four-time FIFA World Player of the Year Lionel Messi (seen here with World Cup teammate Sergio Aguero) scored twice during Argentina's run to 2008 Olympic gold.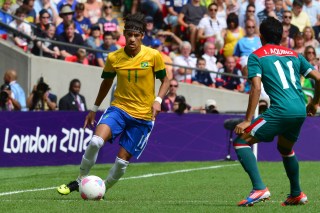 Neymar, the star of the World Cup host nation, scored three times at the London Olympics. But Brazil couldn't overcome Mexico in the gold-medal game. Brazil and Mexico will face off again at the World Cup on June 17.
Recognize this American? That's Michael Bradley, before he went bald, at the 2008 Olympics (with Japanese star Shinji Kagawa, also set to play at the World Cup). The U.S. failed to advance out of group play in 2008 (and didn't qualify for the 2004 or 2012 Olympics). Also on that 2008 U.S. team were World Cup players Jozy Altidore and Brad Guzan. No. 1 U.S. goalie Tim Howard was on the 2000 U.S. Olympic Team that finished fourth, but he didn't play (alas, no photos readily available). Omission Landon Donovan, too, was on the 2000 U.S. Olympic Team, when he had blond hair.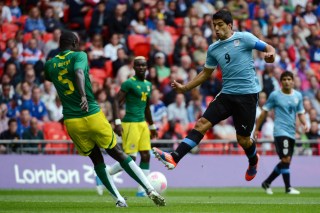 Polarizing striker Luis Suarez was an over-23 player at the London Games, but it didn't do Uruguay much good. The South American nation that made the 2010 World Cup semifinals lost to Senegal and failed to make it out of group.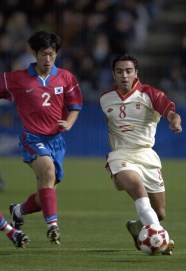 Xavi scored twice for silver medal-winning Spain at the 2000 Olympics, two years before he made his first World Cup team in 2002. The midfield maestro is pictured here with longtime South Korean star Park Ji-sung, who played at the 2002, 2006 and 2010 World Cups.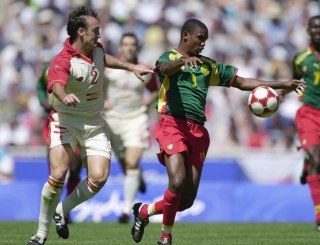 Samuel Eto'o and Cameroon beat Xavi and Spain in the 2000 Olympic final. Both players scored in regulation (a 2-2 draw) and converted penalty kicks.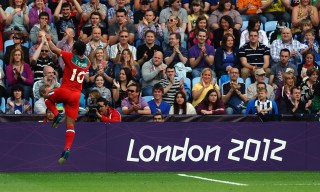 Giovani dos Santos was part of Mexico's gold-medal team at the 2012 Olympics, scoring three goals, but missed the final against Brazil due to injury.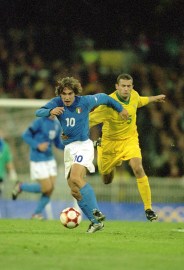 Andrea Pirlo is a two-time Olympian for Italy. He played in 2000, when Italy was eliminated by Xavi and Spain in the quarterfinals, and in 2004, when Italy won bronze. Also of note for Italy, longtime goalkeeper Gianluigi Buffon was the youngest member of its 1996 Olympic roster at age 18.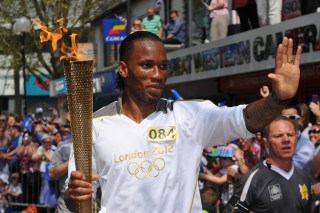 Didier Drogba is not an Olympian, but the Ivory Coast striker did take part in the 2012 Olympic torch relay.
Remembering the 'Ohno celebration' at 2002 World Cup