The U.S. and Germany will face off with advancement on the line at the World Cup on Thursday, adding to decades of sports clashes between the two nations.
Of course, there is the World Cup — Germany beat the U.S. in the 2002 World Cup quarterfinals (with Torsten Frings' handball) and the 1998 World Cup group stage (where Jurgen Klinsmann scored).
But even more memorable moments have occurred at the Olympics, where the nations have long been among the top medal winners and thus battled for gold often. In particular, the U.S. and Germany were one-two, in some order, in overall medals at the 2002, 2006 and 2010 Winter Games.
Here are five U.S.-Germany Olympic duels:
Jesse Owens vs. Luz Long, Berlin 1936
The most fabled of Owens' incredible four gold medals in Nazi Germany came in the long jump. Owens, the favorite, was surprisingly in danger of missing the final, down to his final qualifying jump.
The long-told story, though specifics have been questioned, is that the German jumper Long tapped Owens on the shoulder before that do-or-die final qualifying jump and offered advice. Owens used the pointer, to jump from a few inches behind the takeoff board, and made it into the final.
Owens went on to win with an Olympic record jump of 8.06m, Long took silver at 7.87m and the two became friends. Long would be killed in action in World War II. He was posthumously awarded the Pierre de Coubertin medal for his sportsmanship.
Debi Thomas vs. Katarina Witt, Calgary 1988
The figure skaters engaged in the "Battle of the Carmens," dubbed so because they both performed long programs to music from the same Georges Bizet opera "Carmen."
They had also finished one-two at the 1986 and 1987 World Championships; Thomas winning in 1986 and Witt in 1987.
In Calgary, the Stanford pre-med Thomas led after the compulsory figures and short program, with the East German Witt in second place. But Witt performed her "Carmen" better in the free skate than Thomas, who erred on a few jumps. Canadian Elizabeth Manley surpassed Thomas for silver.
Jackie Joyner-Kersee vs. Heike Drechsler, Seoul 1988 and Barcelona 1992
Joyner-Kersee and Drechsler combined to win every Olympic and World Championship long jump gold from 1983 through 1993, except the 1984 Olympics. Their friendship shined at the 1991 Worlds in Tokyo, where Joyner-Kersee injured herself on a jump, and Drechsler came over and wiped tears and sand off her rival's face, according to Sports Illustrated.
"They are the Ali and Frazier of the women's long jump," Bobby Kersee, coach and husband of the American, told SI in 1992.
Drechsler won the 1983 World Championship for East Germany at 18. Their head-to-head showdowns began after that:
1987 Worlds — Gold: Joyner-Kersee; Bronze: Drechsler
1988 Olympics — Gold: Joyner-Kersee; Silver: Drechsler
1991 Worlds — Gold: Joyner-Kersee; Silver: Drechsler
1992 Olympics — Gold: Drechsler; Bronze: Joyner-Kersee
Drechsler won the 1993 World Championships with Joyner-Kersee absent, and Joyner-Kersee's memorable final Olympic medal, long jump bronze in 1996, came without the injured Drechsler in the field. Drechsler won the 2000 Olympic title after Joyner-Kersee's retirement.
After Soviet world-record holder Galina Chistyakova, Joyner-Kersee and Drechsler own the seven longest jumps in history.
Picabo Street vs. Katja Seizinger, Lillehammer 1994 and Nagano 1998
The U.S. and Germany had a few Alpine skiing battles — Lindsey Vonn and Maria Hoefl-Riesch split World Cup overall titles at their peaks and Tommy Moe was denied 1994 super-G gold on his 24th birthday by Markus Wasmeier.
Let's focus on Street and Seizinger, the two best speed racers of the 1990s. Idaho's Street won downhill silver in 1994 and super-G gold in 1998. Germany's Seizinger won back-to-back downhill golds in 1994 and 1998. From 1992 through 1998, they won every World Cup season title in the downhill, save 1997.
Seizinger was nicknamed Die Millionärs-tochter by the German press as the daughter of a wealthy German industrialist. Her Type B reputation and preference to race far away from home (and the European media and stress) was a stark contrast from Street.
Seizinger's first Olympic gold, in Lillehammer, was greeted by the silver medalist Street, who reportedly kissed her rival on the cheek and exclaimed, "You're the queen!"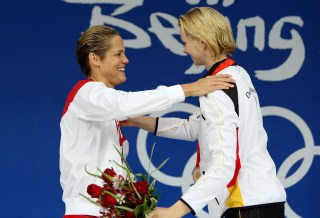 Dara Torres vs. Britta Steffen, Beijing 2008
This must be the closest U.S.-Germany duel in Olympic history, coming in swimming's splash-and-dash 50m freestyle.
Torres, at 41, had come out of retirement, for a second time, to become the oldest female Olympic swimmer ever. Steffen, then 24, was coming off a fourth-place finish at the 2007 World Championships and was the second fastest qualifier into the final, .16 behind Torres.
But Steffen prevailed at the Water Cube by one hundredth of a second — 24.06 to 24.07.
Torres swam an American record, which still stands, but Steffen claimed the Olympic record. Torres, denied her first career individual Olympic gold, joked, "I shouldn't have filed my nails last night."
The next year, both lined up for the 50m free final at the World Championships. Steffen finished first and Torres last, but they embraced on the deck afterward with Steffen having snatched the world record.
***
Perhaps the most notable U.S.-German head-to-heads came outside the Olympics in boxing, where Joe Louis and Max Schmeling fought in 1936 and 1938 and split knockouts.
Another interesting Olympic fact between the two nations is the longtime relationship between top U.S. biathlete Tim Burke and German Olympic champion biathlete Andrea Henkel.
1936 Olympic swim champion still in pool daily at 95