One had to wonder what Lindsey Vonn and Roger Federer were up to when they Skyped two weeks ago.
As it turns out, they were arranging a sponsor-related tennis exhibition in the Alps, about two miles above sea level in Jungfraujoch, Switzerland.
"It was a little bit difficult with the high altitude," Vonn said in a video interview (with highlights of the match). "It was something I've never done before, being on the mountain and playing tennis. Obviously, I'm in the snow a lot for skiing, but never playing tennis, so it was really cool.
"I think Roger wasn't expecting me to be that good at tennis. I'm not very good, still, but I had some good shots, and it was good to get a point."
Here are more match highlights.
Vonn has long been a Federer fan, having visited him at the London Olympics at Wimbledon and challenging him to a tennis or golf match last year.
This is not too out of the ordinary for Federer, who has played against Rafael Nadal on top of water in Doha, Andre Agassi high above water in Dubai and against Nadal on a half-grass, half-clay court.
Here are some photos via The Associated Press: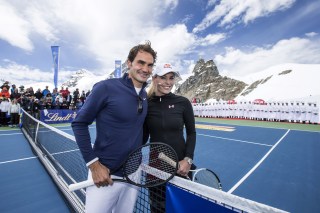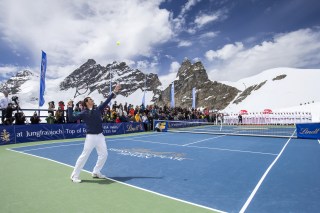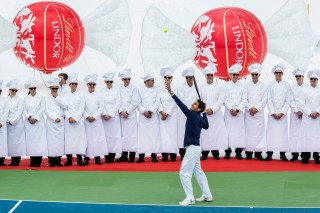 Video: Ex-gymnast is first woman to complete 'American Ninja Warrior' course