Olympians scattered the crowd at the ESPYs in Los Angeles on Wednesday night, including Sochi stars and several summer athletes in team sports.
The Olympics weren't quite as big a part of the broadcast as in 2013, when Michael Phelps and Ryan Lochte made Jon Hamm's monologue, but a few took home awards. Here are some of the notable attendees:
https://twitter.com/JazmineFenlator/status/489589479020044288/
Sochi Olympic bobsledder Jazmine Fenlator interviewed Olympians and Paralympians for TeamUSA.org.
Sochi Paralympic snowboard bronze medalist Amy Purdy was in the recently released ESPN the Magazine "Body Issue."
https://twitter.com/DaraTorres/status/489581028797734912/
The 12-time Olympic swimming medalist Dara Torres honored her alma mater, the University of Florida, for winning the women's Capital One Cup.
Olympic slalom champ Mikaela Shiffrin was nominated for Best Female Athlete, won by 2008 judo bronze medalist Ronda Rousey.
https://twitter.com/sagekotsenburg/status/489566698060525568/
Olympic snowboard slopestyle champion Sage Kotsenburg won the Best Male Olympian ESPY.
https://twitter.com/JamieAsnow/status/489820415053684736/
Kotsenburg's female counterpart, Jamie Anderson, won Best Female Olympian and Female Action Sports Athlete.
https://twitter.com/maddiebowman/status/489787267431415809/
Olympic ski halfpipe gold medalist Maddie Bowman was nominated for Best Female Olympian.
Four-time Olympic medalist Alpine skier Julia Mancuso (center) was in the "Body Issue" in 2010.
https://twitter.com/lolojones/status/489636151813107714/
Summer and Winter Olympian Lolo Jones also met 1976 Olympic decathlon champion Bruce Jenner in Los Angeles.
Olympic halfpipe champion Kaitlyn Farrington was nominated for Best Female Olympian.
Olympic ski slopestyle gold medalist Joss Christensen walked the red carpet with ski halfpipe Olympian Brita Sigourney.
https://twitter.com/usahockey/status/489553262761484288/
Paralympic sledge hockey champion Declan Farmer won the ESPY for Best Male Athlete with a Disability.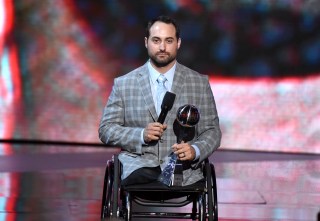 Farmer's teammate, Josh Sweeney, won the first Pat Tillman Award for Service.
Photos: Vonn, Federer play tennis in Swiss Alps