It's been nearly two years since Kerri Walsh Jennings won her third straight Olympic gold with Misty May-Treanor and about one year since she began playing internationally with new partner April Ross.
Based on early results, Walsh Jennings and Ross could very well be playing for gold two years from now in Rio de Janeiro.
Walsh Jennings, 35, paired with Ross, 32, following May-Treanor's retirement and the birth of Walsh Jennings' third child. Ross is a star in her own right, winning the 2009 World Championship and 2012 Olympic silver with Jennifer Kessy.
Not too surprisingly, Walsh Jennings and Ross have performed quite well in their first 10 FIVB World Tour events together. They've won half of them, which, as the Wall Street Journal noted, is better than Walsh Jennings and May-Treanor's record in their final 10 events together in 2012.
This week, they're the star pair at the biggest beach volleyball tournament in the U.S. this year — the World Series of Beach Volleyball in Long Beach, Calif., which will air on NBC, NBCSN, Universal Sports and NBC Sports Live Extra from Friday through Sunday.
Long Beach marks the seventh FIVB World Tour Grand Slam event this season. Walsh Jennings and Ross are the only women's team to win multiple Grand Slams this year and are the world's No. 1 team in the FIVB's technical rankings.
Walsh Jennings' biggest competition during the May-Treanor years usually came from Brazil. Of course, the Brazilians will be pumped at their home Olympics in 2016, but their top players are still in a transition phase since London 2012.
The London Olympic bronze medalists, Juliana and Larissa, broke up with Larissa's retirement in 2012. Larissa recently unretired, but she is now paired with a different Brazilian partner.
Last year's World Championships final did not include a Brazilian pair for only the second time in its nine-edition history (Walsh Jennings and Ross missed the tournament). However, the best women's pair on the World Tour was Brazilian, Talita and Taiana, who are now no longer a pair.
In Long Beach, the top-seeded Walsh Jennings and Ross won their first two pool matches Wednesday and will look to advance through elimination rounds to Sunday's final.
A U.S. Olympic champion is also a top seed on the men's side. Beijing gold medalist Phil Dalhausser and two-time Olympian Sean Rosenthal won their first two matches Wednesday, too. The men's final is also Sunday.
Here's the broadcast schedule: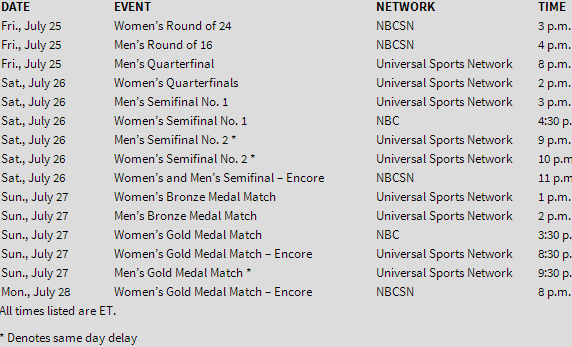 Queen photobombs Commonwealth Games athlete selfie