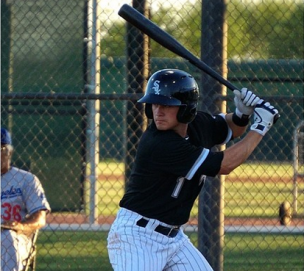 Olympic short track speed skating silver medalist Eddy Alvarez kept his goal simple this spring when he started playing baseball for the first time in three years.
"Not look bad and swing and miss at the first three pitches," he joked.
He's looking better and better in the uniform of the Chicago White Sox's Arizona League rookie-level affiliate, suiting up for games in 115 degrees with little to no spectators on spring training complex fields.
Alvarez ranks 15th in batting average (.301) in the 13-team league, is riding an eight-game hitting streak, including his first two professional home runs on Sunday and Monday, his first two games of the second half of the season.
Alvarez was an all-conference shortstop at Salt Lake Community College in 2011 before shifting focus to short track speed skating, where he and his U.S. teammates won 5000m relay silver medals in Sochi.
He reverted to baseball when he returned from Sochi, ended up working out for the Chicago White Sox and signing a minor-league contract with the club in early June.
"It definitely was a chance, picking up a kid who hasn't played in three years who is starting at the age of 24," said Alvarez, who plays in a league full of recently drafted and signed players in their teens and low 20s. "It's not your typical story, but I play like a 17-year-old kid. I'm running around everywhere. I'm diving around everywhere. I'm full of life. I definitely see my progression moving at a rapid pace."
The speed of the game challenged him at first, seeing high 90s mph pitching for the first time in three years, perhaps ever. But he's now settled in, with regular advice from older brother Nick, a former prospect in the Dodgers system.
Alvarez smacked his first professional home run Sunday, a "nice and pretty," bases-loaded 3-1 fastball over the right-center field fence. It being the Arizona League and no spectators, the ball was easily retrieved by his hitting coach and trainer via a golf cart.
"From what I can remember, you know when you have an out-of-body experience?" Alvarez said. "Not out of body but when you feel like you're not there sometimes. That's kind of what happened."
He estimated the ball flew about 400 feet.
"As soon as I hit it, I knew instantly it was gone," Alvarez said. "It was one of those moments you don't feel the ball hit the bat. It was absolutely perfect."
Alvarez, a 5-foot-9 Miami native nicknamed "The Jet," was known more for his speed by Olympic followers, but proved his pop by going deep again Monday.
He's thinking about his future, ready to let go of speed skating, but not ruling it out completely if something goes amiss with baseball and he gets the Olympic itch again. He still talks with friend and Olympic teammate J.R. Celski weekly. Celski called him after that first homer.
Alvarez's next goal is a promotion in the White Sox's minor league system by the end of the season. Either way, he hopes to be at their minor-league camp in spring training next year.
"He's as athletic as anybody we have," White Sox assistant general manager Buddy Bell said earlier this season, according to the Chicago Tribune. "You have to be at the level he has competed at. Surprisingly he has really, really good instincts for baseball considering he hasn't done a whole lot the last few years. I'm really interested to see what develops."
Watch 41-shot rally, crazy celebrations in table tennis at Commonwealth Games