NBC, NBCSN and Universal Sports will combine for 54.5 hours of coverage of the Youth Olympics from Nanjing, China, beginning with an Opening Ceremony broadcast Saturday.
It's the first time the Youth Olympics will be televised on NBC and NBCSN.
The Youth Olympics were approved by the International Olympic Committee in 2007 and include athletes between the ages of 14 and 18. The first Youth Olympics were held in Singapore in 2010. The first Youth Winter Olympics were in Innsbruck, Austria, in 2012.
The Nanjing Opening Ceremony will air on NBCSN at 6 p.m. ET on Saturday. The show is hosted by Josh Elliott and Mary Carillo.
Nightly NBCSN coverage, from Saturday through the Aug. 28 Closing Ceremony, will be similar to NBC's traditional primetime presentation for the Olympics. Swimming, track and field, gymnastics, beach volleyball and diving will be among the sports featured.
NBC Sports Live Extra will stream all Youth Olympics coverage on NBC and NBCSN, too.
The Nanjing Youth Olympics will include about 3,800 athletes in 222 events across 32 sports.
NBCUniversal will broadcast every Youth Olympics through 2032.
Commentators Jason Knapp, Jim Watson and Mike Corey will provide play-by-play coverage throughout the Nanjing Games. Lewis Johnson and 2006 Olympic ice dancing silver medalist Tanith Belbin will be on-site reporters.
Analysts include 2008 Olympic gymnastics silver medalist Alicia Quinn (formerly Sacramone), two-time Olympic 800m runner Nick Symmonds, four-time swimming medalist Kaitlin Sandeno, 2000 diving gold medalist Laura Wilkinson and 2000 Olympic beach volleyball player Kevin Wong.
Here's the full coverage schedule: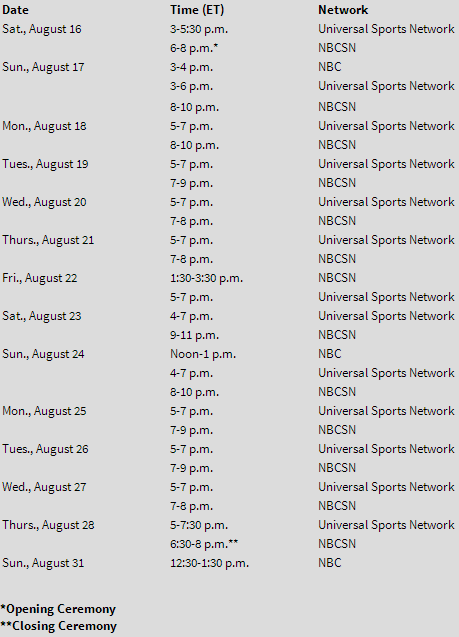 Five takeaways from U.S. Swimming Championships