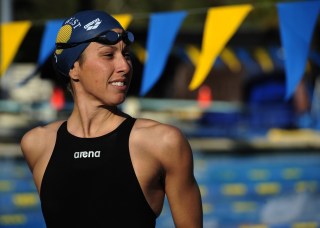 Janet Evans remembers the disappointment in Katie Ledecky's eyes.
It's not a look that has been seen recently. Ledecky, a 17-year-old from Bethesda, Md., has been the most impressive swimmer in the world over the last year, breaking and rebreaking freestyle world records from 400m to 1500m.
Her latest breakthrough came in the 400m at the U.S. Swimming Championships in Irvine, Calif., last week. Ledecky snatched Italian Federica Pellegrini's world record set at the peak of the high-tech suit era in 2009.
The rising all-girls, prekindergarten-through-12th-grade Catholic school senior became the first woman to simultaneously hold the 400m, 800m and 1500m freestyle world records since the great Evans toted them all as recently as 2006.
Evans, 42, jokes that she's old enough to be Ledecky's mother. But they actually swam in the same meet in 2012, when Evans entered the U.S. Olympic Trials for the first time since 1996.
Ledecky won the 800m free at trials (and the Olympics), but Evans chose to reflect on the 400m, where Ledecky came in third place in Omaha. Only the top can make the Olympic team in each individual event, and the 400m came before the 800m at trials.
"I remember seeing how disappointed she was when she didn't make the team [in the 400m]," Evans said. "I remember thinking, oh, yeah, she wants this. She's pretty hungry. Then I remember watching her 800, where she just took it out and took no prisoners."
Evans sees a bit of herself in Ledecky, whom she met for the first time at the Golden Goggle Awards in November, when Ledecky won Female Athlete of the Year.
Evans broke her first world record at 15 and won the first of her four Olympic gold medals at 17. Ledecky won her first Olympic gold medal at 15 and broke her first world record at 16.
"She swims her races a lot like I used to," Evans said. "I remember that feeling when there's no one around you [in a race]. You're just like, what do I do now? You keep swimming."
Evans learned of Ledecky's 400m free world record last week when she stopped in Frankfurt, Germany, on the way home from a European vacation.
"My phone blew up," Evans said.
"The 400 was my favorite race, and it was my favorite record," said Evans, who held the 400m free world record from 1987 to 2006. "It was against the East Germans in Seoul [1988 Olympics]. It was my favorite race ever. When my world records were broken, I think the 400 hurt me the most because it was like my favorite race. I always wanted an American to get that record back."
Evans believes Ledecky will continue to swim faster, particularly in the 200m free, but wondered about the pressure that comes with being so good, so young.
"I needed people to tell me that it was OK not to win," Evans said. "I needed people to tell me that it was OK not to break a world record and it was OK to get second at the 1992 Olympics and get touched out by 19 one-hundredths of a second. As much support as I had from my parents and my coaches, I never had anyone tell me as a young woman that it was OK not to win. And that made swimming not fun for me. And that's, in hindsight, what I look back on and say, I wish someone had told me that one day I'll love my silver medal."
Evans recalled breaking her first world record in 1987 and then getting crushed by Australian Julie McDonald by 10 seconds in the 800m free at the Pan Pacific Championships two weeks later.
"That's something, too, that I needed warning about," Evans said. "Once you get there [to the top], there's less of that I'm going to shock the world and win a gold in London and more of oh, that girl down there in the corner of the world in Australia knows who I am.
"And she's out to get me."
https://twitter.com/olyphil/status/498637588874682368/
Amy Van Dyken-Rouen leaving hospital