NEW YORK — Jenny Simpson felt embarrassed as the London Olympic women's 1500m final began.
That's because Simpson, the surprise 2011 World champion in the event, wasn't on the track at the Olympic Stadium. Two nights before, Simpson was eliminated by fading to last place in her semifinal — "a shameful performance," she called it that night, reportedly while breaking into tears.
So, on the night of the final, she joined supporters at her sponsor New Balance's hospitality house at the Games. They watched the race.
"To be there, surrounded by people that were hoping to be watching me race the final and were crossing their fingers for a medal in the final, and the fact that I was there with them in that room was a little bit embarrassing to me," said Simpson, standing across from the Guggenheim Museum on Friday, one day before she defends her Fifth Avenue Mile title.
"When you sign up to be a professional athlete, you sign up for good days and bad days."
The bad days have become less and less frequent since the Olympics.
Simpson, 28, rebounded to win the 2013 World Championships silver medal in the 1500m. This year, she whacked nearly three seconds off her personal best, won the final two Diamond League races of the season and the Diamond League season title.
The Coloradoan won't get as much mainstream praise for her performances since this is the only year in the Olympic cycle without a major global championship. But she was arguably the best U.S. female track and field athlete this season.
The blueprints were conceived last fall, in goal-setting with her coaches, Mark Wetmore and Heather Burroughs, who guided her at the University of Colorado and she returned to after that disappointing 2012. A wise move.
"My goal, really, was incredibly straightforward," Simpson said. "I wanted to PR. I wanted to run as fast as I ever had in the 1,500 meters. I wanted to set up my season so that I had as many opportunities to do that as possible."
Simpson twice set a personal best. She finished fourth at the Prefontaine Classic on May 31 in 3:58.28, smashing her previous top time from the same meet in 2009 by 1.62 seconds.
Thirsty for more, Simpson clocked 3:57.22 at a Diamond League meet in Paris on July 5. She finished second in that race, but she also became the second-fastest American ever over the metric mile in doing so. Only Mary Slaney has run faster, by one tenth of a second.
From there, Simpson raced for victories in Stockholm (Aug. 21) and Zurich (Aug. 28) over fields that included the fastest women since London — Ethiopian-born Swede Abeba Aregawi, Ethiopian-born Dutchwoman Sifan Hassan and Hellen Obiri, who was born in and has always competed for Kenya.
"I put together a better season than I ever could have imagined," said Simpson, who won the Zurich finale by .01 of a second over countrywoman Shannon Rowbury.
Simpson said she does not race motivated by what happened in 2012, but it's hard not to draw back to Olympic years in track and field. Especially in her case, given a chance encounter at the 2012 U.S. Olympic Trials in Eugene, Ore.
Simpson walked into a local sandwich shop with a coach a few days before the 1500m race that would determine if she made her second Olympic team. A short while later, another woman walked into the shop. It was Slaney, whom she had never met.
"[Slaney] came in, with a friend who realized that the only two American gold medalists in the 1500m were in the same room together," said Simpson, referencing Slaney's 1983 World title, as no U.S. woman has won Olympic 1500m gold.
The meeting was polite and short. "Like an acquaintance," Simpson said of their only meeting to date. "We got our sandwiches and went on our way."
Photos: Things Mutaz Barshim could jump over
Next season, Simpson will chase Slaney's time, the longest-standing American record in an Olympic men's or women's track event.
"The record is important to me at this point, mostly because it means that I'm still improving," Simpson said. "I don't know that I'm really ready to appreciate or understand that significance until I have a chance to do it."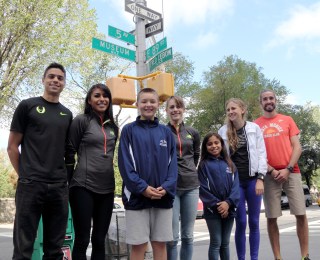 Simpson is, of course, a different runner now than at Colorado, when she tacked Sara Slattery's school record in the 5000m on her freshman bulletin board but was converted into a 2008 Olympic steeplechaser.
She hasn't yet pasted Slaney's 1500m time in her Boulder home.
"Maybe because I'm not living in a dorm room anymore," Simpson said, smiling.
She also feels different from the wide-eyed woman who captured the 2011 World Championship with the slowest gold-medal time ever, wrapping herself in the American flag and the meet mascot's arms in euphoria.
"I'm so much more sure of myself when I step on the starting line," she said. "I have absolutely progressed to a point where if [the pace] is fast, I can still be a factor, where back in 2010, 2011, that might not have necessarily been the case."
If Simpson progresses, or even remains at this level, she will have a chance in 2016 to break a 44-year U.S. gold-medal drought in Olympic track events longer than 400m. No man or woman has won since Dave Wottle captured 800m gold while wearing a cap in Munich.
She might not be the only hope to snap the skid, with Olympic and World medalists Galen Rupp, Leo Manzano and Matthew Centrowitz (Centrowitz leads the men's field in the Fifth Avenue Mile).
In Simpson's event, the precocious talent is Mary Cain, who became the youngest woman ever to make the World Championships 1500m final at age 17 last year. Cain, too, is in the Fifth Avenue Mile on Saturday.
Cain, a college freshman, tells her friends who do not know much about track and field about how unusual Simpson's dominance is in an event usually owned by Africans and Europeans.
"She finished, as an American woman, No. 1 in the world, she's won the Diamond League," said Cain, who owns a fuzzy yellow duck named "Puddles," the same name of a stuffed duck given to a teenage Simpson as a consolation gift after her parents discovered and let free her pet duck, Noah, when she was in high school. (Simpson still has Puddles.) "That's something that doesn't happen."
Oscar Pistorius guilty of culpable homicide (verdict video)