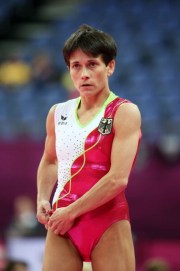 Oksana Chusovitina, who first competed at the World Gymnastics Championships in 1991, wants to do the all-around at next month's Worlds in Nanning, China.
Chusovitina, 39, who has competed for the Soviet Union, the Unified Team, Germany and currently Uzbekistan, is limiting her schedule to vault at the Asian Games in Incheon, South Korea, before heading to Nanning.
"I had a foot injury a few days ago during the podium training, and today when I was warming up, I felt my foot was still not ready for all-round," she told China's Xinhua News Agency on Monday. "So I decided just to do vault today. I hope my foot will recover and compete in all-round at the World Championships."
Chusovitina has won 11 World Championship medals and two Olympic medals, but all of the hardware since 1992 has come on vault. She hasn't competed on all four events and qualified for a global championship all-around final since the 2008 Olympics, when she finished ninth for Germany.
Chusovitina finished fifth in the World Championships vault final last year, behind winner McKayla Maroney.
Here's Chusovitina's vault from the Asian Games team final.
Analyzing the U.S. women's World Championships team