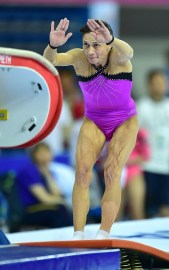 Oksana Chusovitina already shares the record for most Olympic appearances in gymnastics. She'd like to have it all to herself in two years.
"I hope to make my seventh Olympic Games in Rio de Janeiro, and seven is my favorite number," said the Uzbek Chusovitina, who won vault silver at the Asian Games on Wednesday (video here), according to Xinhua News Agency.
Chusovitina, 39, and Bulgaria's Jordan Jovtchev both competed in their sixth Olympics at London 2012. Jovtchev then retired, but Chusovitina is still going. Normally a vault specialist, she wants to compete in the all-around at the World Championships in October.
Chusovitina has competed for the Soviet Union, Unified Team, Germany and Uzbekistan. She won 11 World Championship medals and two Olympic medals, but all of the hardware since 1992 has come on vault.
She hasn't competed on all four events and qualified for a global championship all-around final since the 2008 Olympics, when she finished ninth for Germany.
Chusovitina finished fifth in the World Championships vault final last year, behind winner McKayla Maroney.
If she could win a medal in Rio, she would own Olympic medals from three different decades. The record for most Olympic appearances across all sports is 10.
"Age is just a number, and I keep doing it not for a living but because I love the sport," Chusovitina said, according to Xinhua. "When I come to the podium I feel like a fish in the water."
Gymnasts born in 2000 drug tested by USADA