Mike Eruzione, the captain of the 1980 U.S. Olympic hockey team that won gold after the "Miracle on Ice" in Lake Placid, discussed Olympic hockey, the recent passing of Olympic teammate Bob Suter and more in a Q&A with OlympicTalk last week.
Here's a portion of the conversation from NFL Hall of Famer Nick Buoniconti's Fund to Cure Paralysis dinner in New York:
OlympicTalk: What are your thoughts on the possible return of the World Cup of Hockey?
Eruzione: I'm a huge fan of it. I've been promoting that. I said that to many people years ago. I think the World Cup of Hockey is a better opportunity for all the countries to practice together, train together and compete to see who the best team in the world is. The Olympic Games, I felt, you don't practice together, you go over there, and you start playing games. If you want to see who the best team in the world is, let them practice together for a couple of weeks, let them train together, get used to each other and then play the tournament.
OlympicTalk: What did you think of the Sochi Olympic tournament?
Eruzione: I've watched every Olympic game since 1980. I really think that, for the United States standpoint, we belong with everybody now. In 1980, we might have opened the door. Today's players have knocked the door down. We go into a tournament now as a favorite. I think it was a very disappointing finish for the U.S. team in Sochi [fourth]. I thought, the way they started out, they were going to take a real good run at it.
OlympicTalk: When was the last time the entire 1980 U.S. Olympic team was together?
Eruzione: Salt Lake City [2002 Olympics] there were 19 [out of the 20] of us together [Mike Ramsey missed the Opening Ceremony, where team members lit the cauldron, due to coaching commitments with the NHL's Minnesota Wild. The reclusive Mark Pavelich did not attend. Eruzione didn't specify which player arrived later in the Games].
When [coach] Herb [Brooks] passed away [in 2003] there were 20 of us together. Unfortunately, when Bobby Suter passed away, I think there were 10 or 12 of us that were able to get back to pay tribute to Bobby. We're hoping next year, with the 35th anniversary, there might be a couple opportunities for us to get together as 19 guys. We're sad that Bobby's moved on, that all 20 of us couldn't get together more often.
OlympicTalk: How hard was that, hearing about Bob?
Eruzione: As a team, we've experienced nothing but great moments. The only two negative or sad moments are when Herb passed and now, clearly, when one of your teammates passes. You think, 35 years, usually something happens to 20 guys. We had hung in there and been all part of that moment. It's going to be interesting and sad to think about the next time we're together as a team that one of us is not there but not for a family function or a speaking engagement but the fact that he's no longer with us. There are going to be more of those moments. It makes us realize that maybe, this year, it would be nice if we could get everyone together.
OlympicTalk: Did you go back for Bob's service?
Eruzione: I went back for the service. I couldn't get there for the wake. Mark Johnson spoke [at the tribute service], and Mark was dead-on awesome talking about Bobby, what he meant not only to the hockey world but to the people of Madison. I don't think people realized how important Bobby was to hockey in Madison, Wisconsin. I've said this before, with all due respect to my teammates, I think nobody has done more for the sport of ice hockey with the youth level and the high school level than Bobby did in Madison. So he's not only missed by us as a teammate but clearly missed by his community as well as his wife and kids.
OlympicTalk: Bob had an ankle injury and reportedly didn't play against the Soviet Union. Do you remember him playing?
Eruzione: I've got to think Bobby took a couple shifts in that game, I could be wrong. I've only see that game twice, and the last time was probably 20 years ago.
OlympicTalk: You sold some of your 1980 souvenirs to a 9-year-old boy named Seven last year. Any regrets?
Eruzione: No. I made a decision, and my grandkids are going to benefit from what I did. I said many times I did it for the right reason. I'm not destitute. I'm not financially broke. I thought this was the time to do something for them. I guess, if you look back on it, maybe I could have waited 10 years, 15 more years, but I wanted to see where it was going to go. God forbid something happens to me, and then it's being sold, I won't see the rewards or the results of it. This is better that I can see that the money is going to go to them.
OlympicTalk: If the 1980 team gets together for the 35-year anniversary, is there a setting you would like it to be at?
Eruzione: It would be awesome if we could be back in Lake Placid, for Lake Placid's sake. Because it's such a great little place and where it all started. If not, maybe Augusta [Ga.], where we could all go play golf [laughs]. The perfect setting and the right setting probably should be and hopefully will be Lake Placid.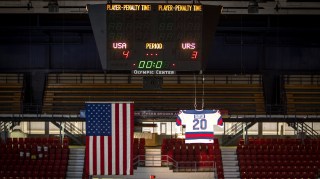 OlympicTalk: When was the last time you were at Lake Placid?
Eruzione: Last year. I get back quite a bit to Lake Placid for speaking engagements and functions. Interestingly, Bobby went back for a hockey tournament this year with Buzz Schneider, and they spent the weekend there and signed autographs and did some visits. Then, the day of Bobby's funeral, they hung his jersey from the rafters [at Herb Brooks Arena] with the score of the U.S.-Soviet game.
OlympicTalk: What do you think of driving through Lake Placid nowadays?
Eruzione: It's like Pleasantville. It hasn't changed. It's what makes the place so unique. Every store you go in, there's videos of the Olympic Games. Eric Heiden or Beth Heiden, Linda Fratianne, the bobsledders. As great as a moment it was for us as a team, they kind of hang their hat on that moment as well. It's good for them, because it's such a great place, and the people there are so nice. I highly recommend you go.
The doors, when you walk into the rink, the picture is of us winning. And then the door opens, and you walk into the building. I've had hundreds and hundreds of people over the years that have come up to me and said, "I brought my son to a tournament in Lake Placid," or, "I went on vacation in Lake Placid, and I can't believe how special it is."
Photos: Lindsey Vonn ski training in Austria