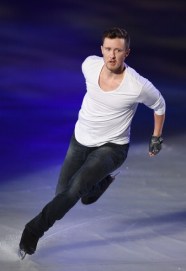 Jeremy Abbott said he spent the weekend rewatching videos of his career, one that's included four U.S. Championships, two Olympics and a bronze medal from Sochi.
He wanted to get back into a competitive mode — and its associated tension and nerves — going into his debut event of his 10th senior figure skating season at Skate America in Hoffman Estates, Ill., next week.
His takeaway?
"I've had a pretty good career," he said on a teleconference Monday. "Certainly there are still more things that I want to do."
Abbott went into last season believing it would be his finale as a competitive skater.
He won the U.S. Championships in January then had a disastrous performance in the Olympic team event short program (seventh overall), though he still took home a bronze medal. Abbott later also fell in his singles short program, considered dropping out due to pain, but gutted out a 12th-place finish overall.
Abbott went to the World Championships a month later and finished fifth, matching his best performance ever at a Worlds or Olympics. That motivated him to reconsider retirement.
"I am missing one thing in my competitive career that I want," he told Examiner.com in May. "I want a World medal. I feel like there is such a void."
He still feels that way.
"It is a strong motivating factor," Abbott said Monday. "It's not the only one."
Abbott will begin working toward that goal competitively at Skate America next week. There, he's slated to face 2014 Olympic bronze medalist Denis Ten of Kazakhstan, fifth-place finisher Tatsuki Machida of Japan and countryman Jason Brown, who was ninth in Sochi and won his season debut in Germany three weeks ago.
Confidence will rise if he can top a field of that caliber, but which Abbott will show up?
The man who knocked off Evan Lysacek and Johnny Weir at back-to-back U.S. Championships in 2009 and 2010, or the one who underperformed at so many international competitions before that Worlds awakening in Japan in March?
Abbott finished fifth in his only Skate America appearance in 2012. He hasn't won a Grand Prix series event since 2011. He still has at least a little of that fire, ignited with that "middle finger" rant in Sochi.
"When I comepted against Evan and Johnny, I was always constantly fighting for that attention, because I was always that third one," Abbott said. "I was always brushed aside by the media because they garnered the attention. Now, Jason Brown is garnering that attention as well. That's great for figure skating, and that's great for the U.S., but that doesn't necessarily mean that he's going to win."
Abbott said this season "is for me." He said he's rebuilt himself as a skater, right down to the "biomechanics," not a term often used in the sport. Less dancing movement. More classic figure skating.
"We kind of wanted to throw it back and be very traditional," said Abbott, who said his body feels better than it has in years with less hip and back pain.
He's grown facial hair and added a short program to Sam Smith's "Lay Me Down."
"Since this is the first year we get to do lyrics," Abbott said of a new rule allowing skaters to perform to music with words, "I was super excited to get the chance to do that."
Abbott said he's loving his skating right now but cautioned to let time and competitions play out.
"Every season is long," he said. "We get to start the whole marathon next week."
Video: Wrong anthem played at World Gymnastics Championships