NEW YORK — Noelle Pikus-Pace misses jumping head first onto a sled and speeding 90 mph down an icy chute.
She won skeleton silver at the Sochi Olympics eight months ago. Her home track in Park City, Utah, hasn't opened for the winter season yet. Pikus-Pace plans to travel to the track at Utah Olympic Park in a couple of weeks.
"We'll see if I get on my sled or not," she said, breaking into a laugh. "I don't know."
Pikus-Pace first retired after the 2010 Olympics, but a year and a half later she found herself at that same Park City track. Her husband, Janson, challenged her to take one last run. She obliged, and it sparked a comeback.
Pikus-Pace, 31, insists she is happily retired after her emotional performance in Russia, returning from a fourth-place finish at Vancouver 2010, that retirement, having her second child and just about climbing to the top of her sport.
"It will be hard to just turn and walk away from it, but I think everybody needs to know when it's time to move on, and I feel like I've done what I needed to do," Pikus-Pace said Wednesday night at the Women's Sports Foundation awards on Wall Street, where she received the Wilma Rudolph Courage award.
She's watched her Olympic runs plenty of times in the last eight months.
"I get those emotions every time I see it," she said. "It doesn't matter how many times I've seen it."
Pikus-Pace slid into a new career — motivational speaking. She shared her message of perseverance to events and groups such as Time Out for Women in Sacramento, Calif., the Utah Technology Council and Monroe Middle School in Wheaton, Ill.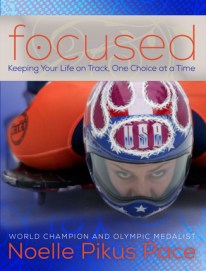 She was approached to write a book the day after she returned from Sochi, spent copious amounts of airline time writing it, turned in a draft in April and saw it released last month. "Focused: Keeping Your Life on Track, One Choice at a Time," is 137 pages.
Now, she's doing more personal book signings, where people tell her she inspired them to overcome struggles in their lives. Pikus-Pace recently did a double take driving around a mountain near her home.
"It was a big picture of my face on this billboard," she said. "It was to market my book. I didn't even know they were promoting it that way."
The book was high on her post-Olympic bucket list. Also on it?
* See the Aurora Borealis in Alaska
* Develop fluent Spanish
* Learn sign language
* Run a half-marathon
* Learn to play the guitar
* Help her kids, Traycen and Lacee, reach their dreams
* Have more kids
"[Having kids] is not very aerodynamic for our sport," she said, "so I can't really come back."
Traycen, 3, is in preschool. Lacee, 6, is in first grade and playing the piano. You may remember Lacee taking skeleton runs last season. Pikus-Pace joked she would prefer Lacee choose a different sport.
"Tennis, golf," she said. "Something more lucrative and in the sun."
J.R. Celski not on U.S. short track team for World Cup