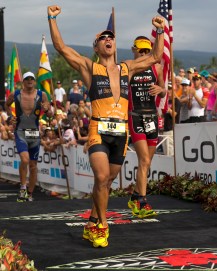 Apolo Ohno said he went into "full warrior mode" in completing the Ironman World Championships in his goal — under 10 hours — on Oct. 11.
"Conquering the Ironman enriched me physically, emotionally and mentally and it will be a milestone in my life, among my eight Olympic medals, that I will always remember," Ohno wrote in a Seattle Times blog.
Consider these two stats:
* Ohno completed the Hawaiian course in 9 hours, 52 minutes, 27 seconds, which was more than three hours faster than retired NFL wide receiver Hines Ward's time last year.
* Ohno ran the 2011 New York City Marathon in 3:25:14. In Hawaii, he ran a marathon in 3:36:41, after swimming 2.4 miles and biking 112 miles.
Ohno, 32, owns the U.S. record for Winter Olympic medals with eight over three Winter Games in 2002, 2006 and 2010 before retiring. He's also won Dancing with the Stars, played a role in a TV movie and hosted a TV game show.
"The Ironman World Championship was like no other event I have experienced," he wrote. "I wanted to cross the finish line knowing I left everything I had out on the course — which I can honestly say I did."
The Ironman World Championships will air on NBC on Nov. 15 from 1:30-3 p.m. ET.
Shaun White brings Air & Style event to Rose Bowl