Two-time Olympian Johnny Weir used to collide "all the time" with other figure skaters in practice for junior competitions. The 1998 Olympic champion Tara Lipinski remembered a competitor's skate scraping her thigh during a warm-up session.
What happened at the Cup of China on Saturday shocked both NBC Sports figure skating analysts not so much because two skaters ran into each other, but because of the severity of the collision.
Olympic and World champion Yuzuru Hanyu warmed up for his free skate at the Grand Prix series event, a six-minute session where all skaters in the group (usually five or six) set to perform prepare on the ice at the same time.
Hanyu skated with his back to the majority of the ice when he turned and saw Chinese skater Han Yan in his path. Hanyu had little time to react, barely pulling his arms up to brace for impact (video here).
Hanyu and Han fell to the ice and grabbed their faces. Han managed to stand up and get off the ice. Hanyu lay on the ice for a minute, blood streaming down his chin and neck, before two people in medical outfits reached him.
"It's very traumatic," Weir said in a phone interview Tuesday. "My initial response was just of shock that this happened. And worrying about the boys."
They both appeared to receive medical attention once they got off the ice. Han while laying on the floor next to the boards; Hanyu while sitting down farther away.
Neither withdrew from the competition, which caused scrutiny given heads collided. Hanyu was reportedly cleared by a doctor to compete, with his coach, two-time Olympic silver medalist Brian Orser, saying the skater showed no physical signs of a concussion.
Orser said Hanyu was determined to compete, though the coach cautioned the 19-year-old, "This is not the time to be a hero. You have to take care of yourself," according to The Associated Press.
"If there was any head trauma or anything that he was at risk for in that area, he definitely shouldn't have skated," Lipinski said. "But if they gave him the go-ahead, I give him so much credit. I would consider myself back in the day a tough competitor, but I don't think I could have done that. I would have been so frazzled and dealing with the physical symptoms."
Han performed his free skate 45 minutes after the collision, falling on a quadruple jump attempt and erring on several other jumps. Hanyu performed shortly after that and fell five times, while wearing a head wrap. Hanyu needed to be held up by Orser when he got off the ice following his program.
"You've got to keep breathing, OK?" Orser told him. "Hang onto the boards."
"I know that tomorrow he's going to feel like he was hit by a car," Orser said later, according to The Associated Press.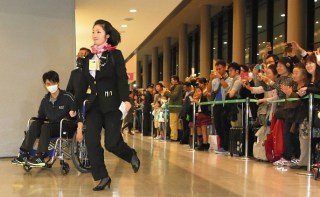 Hanyu, who needed jaw stitches and head staples, was wheeled through a Japanese airport the following day. On Monday, Japan's figure skating federation said he would be out two to three weeks.
Han told Weir after the competition that he was feeling much better.
Collisions in figure skating are common in practice and warm-ups, with skaters twisting and jumping at high speeds in proximity.
Perhaps the most famous came in practice at the Lillehammer Olympics, when Ukraine's Oksana Baiul and Germany's Tanja Szewczenko hit each other while preparing for jumps (video here) before the women's free skate. Baiul suffered a cut on her right shin that required three stitches. Szewczenko suffered a bruised right hip and abdomen, according to The New York Times.
There was immediate concern Baiul might not be able to compete. Both skaters managed to, with Baiul surpassing Nancy Kerrigan for gold. Szewczenko finished sixth.
Weir said collisions were frequent at his home rink as he grew into an international-caliber skater and shared ice time with less experienced athletes.
There is a right-of-way system when skaters are on the ice at the same time for practice, dictated by which skater's music is playing or which skater is preparing for a bigger competition.
But neither of those deciders can be used in six-minute group warm-ups for international events such as Cup of China. The skaters are the fastest and strongest in the world, too.
"Everyone is so driven and so focused and in their own little zone," Lipinski said. "[When you collide] you're shaken up emotionally and taken out of your normal schedule and normal zone.
"For all that to go out the window so suddenly, to get that back on track is nearly impossible."
Weir said group warm-ups are like "six bulls on the ice all fighting and jostling for space" and likened navigating the rink to driving through traffic.
"You misread somebody, or they misread you or you cut a turn too tight," he said. "Skaters are skin and bones. You hit another person with skin and bones, and it's all bones going into you."
Weir said he would like to see the International Skating Union increase warm-up time from six minutes to 10 minutes, but not necessarily to split the six skaters into groups of three for five minutes each. Rather, he emphasized that six minutes is a short period for a skater to warm-up an arsenal of program elements.
A brief history of figure skating collisions:
In 1994, U.S. ice dancer Renee Roca broke a wrist after skating backward into another couple at U.S. Championships practice, one month before the Lillehammer Olympics. Roca and her partner, the defending U.S. champions, withdrew from the competition. They weren't eligible for the Olympics because Roca's partner hadn't secured citizenship fast enough after defecting from the Soviet Union.
In 2011, U.S. ice dancers Lynn Kriengkrairut and Logan Gjulietti-Schmitt and Japan's Cathy and Chris Reed crashed in warm-up at the NHK Trophy Grand Prix series event in Japan (video here). They did not withdraw. Earlier that morning, two other ice dance couples collided in a practice, with one couple withdrawing due to the female skater suffering a cut to her thigh.
In 2012, Russian pairs Yuko Kavaguti and Aleksander Smirnov and Vera Bazarova and Yuri Larionov collided in training at the World Championships but reportedly did not require medical attention.
In singles figure skating, collisions are less common but still prevalent. There was Baiul in 1994, but also these accidents:
Jill Trenary sliced her calf  and severed an artery in a warm-up collision as a junior skater in 1985. She recovered from that to win the World Championship five years later.
In 1991, Japan's Midori Ito was reportedly in tears after colliding with a French skater in a short program warm-up (video here). She missed minutes of warm-up time and, in her short program, actually fell out of the rink entirely (video here). Ito ultimately finished fourth. Kristi Yamaguchi won gold. A year later, Ito won Olympic silver behind Yamaguchi.
In 2010, American Adam Rippon and Canada's Patrick Chan collided in a Skate Canada practice (video here). Rippon had "a red welt the size of a quarter on his cheek," according to The Associated Press. Chan went on to win the competition. Rippon was third.