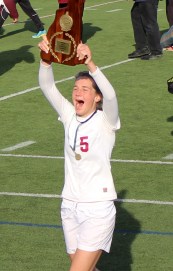 Olympian Julia Krass owns a heavy basket full of all her slopestyle skiing medals. She can add a new medal to the collection after helping her high school soccer team to a state championship Sunday.
Krass, who finished 11th in ski slopestyle's debut at the Sochi Olympics, and the Hanover High School girls soccer team won the New Hampshire Division II title.
The biggest difference between the high school soccer championship and the Olympics was the team aspect, Krass said.
"I was with all my good friends I was playing soccer with the past 10 years or so," she said in a phone interview Tuesday. "We had finally gotten to the top with each other, whereas skiing is more individual."
The 17-year-old senior made it a habit of wearing a long-sleeve shirt in the state tournament that she also wore as part of her Team USA uniform at the Sochi Opening Ceremony.
Krass attended Hanover as a freshman and sophomore and switched to online classes last year as she trained for the Olympics. She was still eligible to play for the team and didn't give it up, even though ski coaches told her to focus solely on her Olympic sport.
Krass was on the Hanover team that lost in the state tournament first round two years ago and the semifinals last year.
Krass has already switched her focus back to skiing. She's preparing for her post-Olympic season debut at the Dew Tour Mountain Championships in Breckenridge, Colo., in December.
Krass expects to finish her online classes next spring. She's applying to the University of Utah, Dartmouth and Westminster College (Utah), three popular schools among skiers that allow them to keep training easily.
Krass' year also included a trip to the White House with the U.S. Olympic team in April. President Barack Obama joked about her being one of the youngest U.S. Olympic team members.
"You're 16, and you already went to the Olympics, what are you supposed to do now?' Obama told her. "I guess the same thing as me when I get out of the White House. There's not much more to look forward to."
Swedish Olympic hockey player could lose silver medal