Mark Schultz, an Olympic wrestling gold medalist, said the film "Foxcatcher," based on the murder of his Olympic champion brother, is "the greatest thing that has happened in my life."
"Easily the greatest," Schultz said last month, according to MMAMania.com. "Even greater than the Olympics."
Why does it beat a gold medal?
"I got Channing Tatum playing me, and Steve Carell and Mark Ruffalo [also in the cast], and Bennett Miller [the director]," Schultz answered in a phone interview. "I got this A-list cast, and it's like thank God all the pain and suffering I went through, all the destruction that occurred in my life didn't go for nothing."
Schultz and older brother Dave Schultz won Olympic freestyle wrestling titles at the 1984 Los Angeles Games. As depicted in the film, they both later joined paranoid schizophrenic millionaire John du Pont's Foxcatcher gym in Pennsylvania.
Du Pont shot and killed Dave Schultz on Jan. 26, 1996. At the time, Mark Schultz was no longer at Foxcatcher and coaching at Brigham Young University in Utah.
The film "Foxcatcher" opened in New York and Los Angeles on Friday. It stars Carell as du Pont, Ruffalo as Dave Schultz and Tatum as Mark Schultz and has received Academy Awards buzz. Carell, in particular.
Schultz confirmed he cried each of the first three times he saw the movie. Why?
"Watching my brother get murdered," he said, matter-of-factly.
In previous interviews, Schultz said that years ago a draft of his memoir, which he originally gave to younger wrestlers, eventually made it into the hands of director Bennett Miller. Miller was then coming off making the 2005 film "Capote," for which he was nominated for Best Director.
"[Miller] read one paragraph and said, 'This is the story I've been looking for for the last six years,'" Schultz said in a radio interview.
To which Schultz later responded, "What paragraph was that?" (Miller couldn't remember by the time Schultz was able to ask him)
Bennett took on the film. Schultz, an associate producer, said being on set in Pittsburgh was painful — so much that he walked off the set at one point, and he said he doesn't like parts of the film — but the experience also proved cathartic.
"The training that the actors had to go through, and the going back into my past and dredging up all that horrible stuff, and the actors really wanted to get it right," he said, according to FoxSports.com. "They wanted to get to the truth, and they did get to the truth."
Schultz spent additional time with Tatum in Montreal and New York. Tatum had already played the role of a fighter in the 2009 film "Fighting."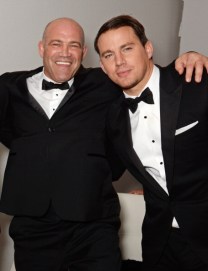 "[Tatum] already looks like me, kind of, better looking," Schultz said in the radio interview. "He's a great MMA fighter."
Schultz said the first time he saw Carell dressed as du Pont on set, it was like seeing a ghost.
"My personal feelings was I actually thought it was du Pont for a split second," Schultz said, according to FoxSports.com. "I thought he had been resurrected from the dead because he looked so much like him. He walked and talked exactly like him."
Schultz even had a cameo in the film, as the official weighing Tatum at the 1988 U.S. Olympic trials, when in real life he had to cut 12 pounds in 90 minutes to make weight.
Schultz distanced himself from USA Wrestling in previous interviews. He said he used to scream at the organization's former executive director, in the 1980s, for its inability to assist him financially while training. He went to Foxcatcher because du Pont offered him money. Du Pont became a USA Wrestling sponsor, and reportedly gave more than $3 million to the national governing body.
"I don't have any animosity towards [USA Wrestling]," Schultz says now. "They do what they do. I do what I do."
USA Wrestling supports the film.
"Going into the movie, I was a little apprehensive and worried, so to speak, in terms of how accurately the story would have been told and what reflection the movie would have on wrestling and USA Wrestling as well," said USA Wrestling executive director Rich Bender, who knew du Pont and was the organization's national events director two decades ago. "I was relieved, from an authenticity standpoint, and from a fair representation."
Tiger Woods' ranking drop brings up Olympic question