OlympicTalk takes a look back at the year in Olympic sports this week. Today, we review enduring news stories.
US Speedskating's Sochi Problems

U.S. speed skaters starred in the World Cup season before the Olympics. That, combined with US Speedskating's history of Olympic medals (more than 20 more than any other U.S. winter sport), portended success in Sochi.
But the U.S. won zero long-track speed skating medals for the first time since 1984. They weren't even close. The best individual finish was seventh place.
What went wrong? Early reports emphasized an Under Armour racing suit billed as the fastest in the world, different from the suits that U.S. skaters wore during the World Cup season. Skaters eventually reverted to the old suits during the Olympics, but results didn't get any better.
US Speedskating cited several factors and finalized an internal report in May, also including a decision to hold a pre-Olympic training camp outdoors and up in the mountains in Collalbo, Italy. The Olympic speed skating events were indoors and near sea level.
This season, two-time Olympic champion Shani Davis started out slow but made his first podium in his last World Cup race of 2014. Heather Richardson has been arguably the most impressive male or female skater so far, while Brittany Bowe has also made the podium multiple times.
Olympic Year in Review: Winter Sports | Summer Sports | Photos | Social Media
Yuna Kim Judging Controversy
Russian figure skater Adelina Sotnikova's victory over defending champion Yuna Kim in Sochi became the controversy of the Winter Games, in competition at least.
One of the judges is married to a top Russian figure skating federation official and was seen hugging Sotnikova shortly after she won gold. Another judge was suspended one year as being part of the 1998 Olympic ice dance fixing scandal.
Kim retired after the Olympics, but South Korea's Skating Union announced one month later that it would file an official protest to the International Skating Union. In June, the International Skating Union rejected the complaints.
It certainly looks like we'll see Kim at the 2018 Olympics, since she is an ambassador for the first Winter Games in South Korea. Sotnikova, meanwhile, hasn't competed in top-level international competition since Sochi, suffering a torn ankle ligament this fall.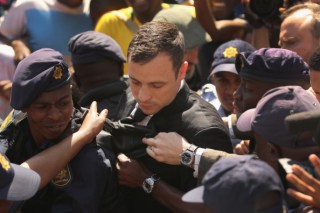 Oscar Pistorius Trial
A trial that gripped South Africa and made headlines worldwide began a little over one week after the Sochi Olympics ended.
Oscar Pistorius, the first double amputee to run in the Olympics in 2012, faced up to life in prison for shooting and killing girlfriend Reeva Steenkamp on Valentine's Day 2013.
Pistorius' trial began March 3, was initially slated for three weeks and ran to Oct. 21 with several breaks. On the 49th day in court, Pistorius was sentenced to no more than five years in prison for culpable homicide (but not premeditated murder) with a possibility of it being less than a year and the rest served under house arrest.
On Dec. 10, judge Thokozile Masipa ruled South Africa's Supreme Court of Appeal will review the murder trial. Pistorius, 28, is barred from the Rio 2016 Paralympics under his current sentence but could be allowed to return to track and field.
Michael Phelps' Comeback
The most decorated Olympian of all time came out of a 20-month competitive retirement in April, won his first final in May and was the best U.S. men's swimmer again by August.
Phelps won USA Swimming's Male Athlete of the Year and finished the season as the only U.S. man with the fastest time in the world in an Olympic event (100m butterfly).
Then, Phelps was pulled over and arrested on DUI charges in September, suspended six months by USA Swimming in October and received probation after pleading guilty in a Baltimore court in December.
The 29-year-old is training again, after spending 45 days in an Arizona treatment program, and focused on unspecified goals for 2015. He is barred from the 2015 World Championships, the biggest meet between now and his potential fifth Olympics in 2016.
Michael Phelps' potential record chases at Rio Olympics
2024 Olympics
In 2013, the 2020 Olympics were awarded to Tokyo. The focus quickly turned to the next Summer Games, and which city they would be awarded to in 2017.
The U.S. Olympic Committee ramped up its bidding process in 2014, choosing four finalist cities in June (from an initial group of more than 30 to which it sent letters in February 2013). In December, the USOC announced it would bid for the 2024 Olympics, its first bid since Chicago's failed bid for the 2016 Games.
The U.S. is expected to choose one city from Boston, Los Angeles, San Francisco and Washington, D.C., in January to be its 2024 bid. The U.S. is in the midst of its longest stretch between hosting Olympics (since 2002) since a 28-year gap from 1932 to 1960.
The U.S. will also get to size up its competition in 2015, with bids confirmed for Rome and either Berlin or Hamburg. Paris and South Africa may also join the fray.
Lindsey Vonn's Comeback
The 2010 Olympic downhill champion Lindsey Vonn announced on Jan. 7 that she would undergo a second knee surgery in less than a year's time and miss the Sochi Olympics. But she would return to ski racing, and the Olympics in 2018.
Racing another four years? Skepticism was merited. Vonn will be 33 come Pyeongchang 2018, older than any previous Winter Olympic women's Alpine medalist.
But Vonn silenced doubters with victories in two of her first four races back in December. She goes into the new year one win shy of the women's all-time World Cup record and a medal favorite at the World Championships in Vail/Beaver Creek in February.
Video: Vonn falls in final race of 2014