It is not an Olympic year, but 2015 will provide plenty of anticipated competition and storylines in Olympic sports.
Odd-numbered years include more World Championships than evens. Rio Olympic qualification begins for many athletes, too.
Here are 15 events not to miss this year, followed by exceptional teaser videos from Universal Sports and Eurosport.
1. U.S. Figure Skating Championships, Jan. 22-25, Greensboro, N.C.
Every singles skater from the Sochi Olympics is expected to vie for national titles (NBC broadcast schedule here).
Gracie Gold, coming off a small stress fracture in her foot, is slated to defend her title against a field including Ashley Wagner, a two-time U.S. champion who finished fourth in 2014.
Defending men's champion Jeremy Abbott will go for his fifth title, which would give him more than Scott Hamilton and Brian Boitano. His biggest competition is Jason Brown, a 20-year-old seeking his first victory.
New champions will be crowned in ice dance and pairs, with Meryl Davis and Charlie White sitting out this season and Marissa Castelli and Simon Shnapir ending their pairs partnership last spring.
2. Winter X Games, Jan. 22-25, Aspen, Colo.
We haven't seen Shaun White in competition since he finished fourth at the Sochi Olympics. He's been invited to the Winter X Games, which he competed at every year from 2000 through 2013 but skipped in 2014 to prepare for the Olympics.
Other invitations went to Olympic snowboard champions Iouri Podladtchikov, Kaitlyn Farrington and Sage Kotsenburg and freestyle skiing gold medalists Joss Christensen, David Wise and Maddie Bowman.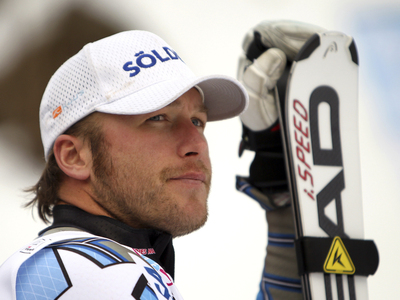 3. World Alpine Skiing Championships, Feb. 2-15, Vail/Beaver Creek, Colo.
The U.S. hosts the event for the first time since 1999 with unprecedented broadcast coverage from NBC Universal. Almost every race could have a U.S. medal threat.
Lindsey Vonn is slated for her first Worlds since blowing out her right knee at the 2013 edition in Schladming, Austria. She's a contender in the downhill and super-G. Mikaela Shiffrin could win medals in the giant slalom and slalom after winning the latter at the 2013 World Championships and Sochi Olympics.
Likewise, Ted Ligety aims to defend titles in the super-G, giant slalom and super combined. Six-time Olympic medalist Bode Miller hopes to return from back surgery in time to be a force in the downhill and super-G in what may be his final World Championships.
4. World Bobsled and Skeleton Championships, Feb. 26-March 8, Winterberg, Germany.
Canadian Olympic champion Kaillie Humphries and American silver medalist Elana Meyers Taylor could continue making history by becoming the first women to drive four-man sleds at the World Championships. Four-man bobsled was declared gender neutral this season, and both have driven on the World Cup tour.
American Steven Holcomb has never won an Olympic or World bobsled title on a track outside North America. No U.S. man has won a World title in skeleton since Jim Shea in 1999. Olympic bronze medalist Matthew Antoine looks to break that drought.
5. World Figure Skating Championships, March 25-28, Shanghai.
The World Championships go to China for the first time, but the gold-medal favorites appear to come from Russia, Japan and Canada.
Yuzuru Hanyu enters as the reigning Olympic, World and Grand Prix Final champion. The men's field will not include Olympic silver medalist Patrick Chan (sitting out this season) or World silver medalist Tatsuki Machida (retired).
A Russian will be the women's favorite, but which one is the question. Olympic champion Adelina Sotnikova is an alternate for the deep team, led by national champion Yelena Radionova, the two-reigning World junior champion. An American trio, likely including Gold and Wagner, will look to win the first U.S. women's medal at an Olympics or Worlds since 2006.
Canadians swept pairs and ice dance at the Grand Prix Final in December, but their hopes may be compromised if Olympic pairs champions Tatyana Volosozhar and Maksim Trankov and World ice dance champs Anna Cappellini and Luca Lanotte return and are at their best in Shanghai.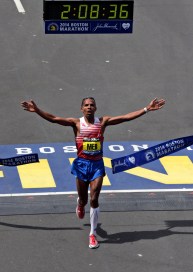 6. Boston Marathon, April 20.
Meb Keflezighi, who in 2014 became the first U.S. man to win in Boston since 1983, has reportedly said he plans to race the world's oldest annual marathon again this year.
Keflezighi, already the oldest Boston men's winner since 1930, will be two weeks shy of his 40th birthday on Patriots' Day. If he fares well again, it will boost his chances of making his fourth Olympic team in 2016 and becoming the oldest U.S. Olympic runner of all time, according to sports-reference.com.
The women's race will almost surely not include the 2013 and 2014 winner Rita Jeptoo, the Kenyan who tested positive for EPO in September and is facing a lengthy ban.
7. Rugby Sevens World Series, finishing in May.
The first nations to qualify for the first Olympic rugby tournaments since 1924 will be determined by the end of the 2014-15 Rugby Sevens World Series in May.
The top four men's and women's nations from the tournaments will earn places in Rio. The U.S. teams are in the running, but both must make up ground in the standings following the first legs that took place in 2014.
The men's World Series concludes in London on May 17. The women's World Series concludes in Amsterdam on May 23. After that, further nations to make the Olympics will be determined in continental qualifiers.
8. FIFA Women's World Cup, June 6-July 5, Canada.
The quadrennial soccer competition also serves as an Olympic qualifier. The top three European nations at the World Cup will book Olympic spots.
The U.S. women can't clinch a spot in Rio until 2016, but the World Cup will provide a measure of their chances for a fourth straight Olympic gold in Brazil. The Americans haven't won a World Cup since 1999.
Coach Jill Ellis, who took over for the fired Tom Sermanni in April, faces several roster and playing-time decisions. Will goalkeeper Hope Solo be available following a trial on domestic violence charges? How to distribute precious minutes among attackers Abby Wambach, Alex Morgan, Sydney Leroux, Christen Press and Amy Rodriguez?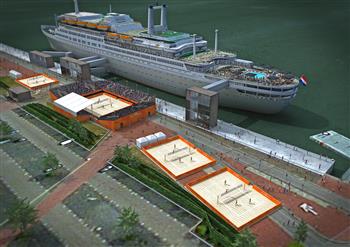 9. World Beach Volleyball Championships, June 26-July 5, Netherlands.
Kerri Walsh Jennings will look to win her first World Championship since back-to-back-to-back titles with Misty May-Treanor in 2003, 2005 and 2007. She will do so with new partner April Ross. Walsh Jennings and Ross teamed to win four FIVB World Tour events in 2014, their first full year together. Their biggest competition could be Brazilians Larissa and Talita, who also won four times last year.
Beijing Olympic champion Phil Dalhausser and two-time Olympian Sean Rosenthal will be favored to perform better than in 2013, when they fell in the round of 16.
Some early-round action will be played on a quay in front of the SS Rotterdam ship. The finals will be held on a floating stadium on the Hofvijver pond near the Parliament in the Hague.
10. World Aquatics Championships, July 25-Aug. 9, Kazan, Russia.
The biggest international swimming, diving, water polo and synchronized swimming titles between now and the Rio Olympics will be handed out this summer.
Michael Phelps will be eligible to compete again in April, but he was taken off the U.S. team for Worlds as part of his discipline for a DUI arrest in September. The Americans will be led by the three stars of the 2013 World Championships — Ryan Lochte, Missy Franklin and Katie Ledecky.
Internationally, the world's best all-around swimmers Katinka Hosszu of Hungary and Kosuke Hagino of Japan could leave with an armful of medals, setting up for breakthrough Olympics in Rio.
11. 128th International Olympic Committee session, July 31-Aug. 3, Kuala Lumpur.
IOC members will vote to determine the host of the 2022 Winter Olympics — either Almaty, Kazakhstan, or Beijing. Kazakhstan has never hosted the Olympics. Beijing hopes to become the first city to host both the Summer and Winter Games.
12. World Track and Field Championships, Aug. 22-30, Beijing.
Usain Bolt returns to the site of his 2008 Olympic breakout, the Bird's Nest. Bolt, who barely ran in 2014 following foot surgery, must prove himself in races leading up to Beijing to earn clear favorite status over American Justin Gatlin.
Others looking to propel themselves with titles toward Rio 2016 include Allyson Felix, who had to be carried off the track with a torn hamstring at the 2013 World Championships in Moscow. She could stare down Jamaican Shelly-Ann Fraser-Pryce in the 200m and American Sanya Richards-Ross in the 400m.
Ashton Eaton and Brianne Theisen-Eaton could make it an American husband-Canadian wife sweep of the decathlon and heptathlon. And host nation eyes could be on Liu Xiang, the former 110m hurdles world record holder plagued by injuries the last several years.
13. World Wrestling Championships, Sept. 7-12, Las Vegas.
The U.S. will host the World Championships for the first time since 2003.
Olympic champions Jordan Burroughs and Jake Varner could lead the U.S. men. Burroughs saw his 69-match winning streak end in February 2014, then lost again at the World Championships in September, after spraining an MCL in a match.
An interesting women's story is American Adeline Gray, who lost in the 2012 U.S. Olympic Trials finals but also won medals at each of the last four World Championships, including gold in 2014.
14. World Triathlon Grand Final, Sept. 18-19, Chicago.
World champions will be crowned after the last stop of the 10-event World Triathlon Series in the Windy City. If 2014 is any indication, American Gwen Jorgensen could have a second straight title all but wrapped up by then.
On the men's side, British Olympic champion Alistair Brownlee, his brother, Jonathan, and Spain's Javier Gomez and Mario Mola figure to be the top contenders.
15. World Gymnastics Championships, Oct. 23-Nov. 1, Glasgow.
American Simone Biles could look to become the first woman to win three straight World all-around titles. Japan's Kohei Uchimura could go for his sixth straight all-around gold, which would give him twice as many as any man or woman ever.
In the team picture, will any of Gabby Douglas, Aly Raisman or McKayla Maroney join Biles? Douglas and Raisman haven't competed since the London Olympics. Maroney missed all of 2014 following March knee surgery.
The U.S. men's team figures to include a few Olympians — Sam Mikulak, Danell Leyva, John Orozco and Jacob Dalton, perhaps — with the annual challenge of contending with China and Japan.
Olympic 2014 in Review: Winter Sports | Summer Sports | Photos | Social Media | Headlines
2015 EUROSPORT ANTICIPATION SPOT / INTERNATIONAL VERSION from Mongénéral on Vimeo.