Lindsey Vonn wasted no time. She broke the record for women's Alpine skiing World Cup victories on Monday, one day after tying the mark in Cortina d'Ampezzo, Italy.
And Tiger Woods was there to see it.
Vonn easily prevailed in a super-G for her 63rd career race win, clocking 1 minute, 27.03 seconds. Second-place Austrian Anna Fenninger, the Olympic super-G champion, was .85 slower, followed by Liechtenstein's Tina Weirather.
Vonn moved past Annemarie Moser-Proell for women's World Cup victories, one day after she drew level with the retired Austrian legend in a Cortina downhill. (more comparing Moser-Proell and Vonn's careers here)
"I feel a lot lighter," Vonn told media in Cortina. "I have a lot less pressure."
Boyfriend Woods, whom Vonn said watched her record-tying race on the Internet from Florida on Sunday, embraced her in the finish area Monday.
"My dad said, 'Hey, look, I found someone,'" Vonn said on TODAY.
He showed up without telling Vonn, incognito with a mask covering most of his face, but she recognized him.
"I knew it was him immediately," Vonn said. "He loves that stupid mask."
Vonn exclaimed "No way!" when she saw him, according to The Associated Press.
"I'm so surprised that he's here," Vonn said of Woods, who last saw her race on Dec. 21, 2013, in Val d'Isere, France, when she skied off course in her last race before ending her comeback bid for the 2014 Olympics. "This is a much better memory [than Val d'Isere] that we can have forever."
Woods joined a large group of Vonn's family who had been in Cortina all weekend.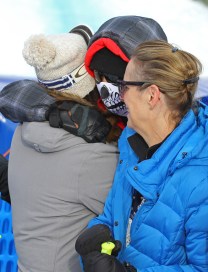 "He told everyone to keep it a secret," Vonn said. "Normally no one can keep a secret in my family."
It's another remarkable achievement for Vonn, the 2010 Olympic downhill gold medalist and four-time World Cup overall champion returning from blowing out her right knee at the 2013 World Championships.
NBC will air a documentary on Vonn's comeback Sunday.
"I was a kid, but I think I said I want to be the greatest ski racer ever," Vonn said. "As an adult, I didn't really know if it would ever come true. It seems I'm getting closer to that point."
On Monday, Vonn won for the fourth time in eight races since December, giving her more wins than any other woman this season. It marked her first super-G victory since Dec. 8, 2012.
She is ranked fourth in the overall standings, 434 points behind Tina Maze (100 points are awarded for a win). Maze has raced 18 times this season.
What's next for Vonn?
More World Cup races next weekend and the World Championships at home in Vail/Beaver Creek, Colo., in February.
In the long term, the overall wins record. Swede Ingemar Stenmark won 86 races in his storied career.
"We just got done talking about one record, I don't want to talk about another one," Vonn joked. "I'm just going to try to ski my best, and we'll see what happens. Eighty-six is a long, long ways away. You never know, but I'm just going to focus on tomorrow."
Vonn provided more detail in past interviews.
"I've already been thinking about that [men's record]," Vonn said in December 2013, according to Red Bulletin. "My current plan is to keep going until the 2015 World Cup. Then I'll see how far away I am from that number and then I'll decide what to do, whether I'll keep going in every discipline or maybe just downhill and super-G and concentrate on that record."
In March 2012, when she had 53 World Cup wins, the Denver Post reported Vonn "shrugs off the notion of breaking that record, as if it's the one mark that will never be touched."
In April 2012, Vonn told Real Vail of Stenmark's record, "That's definitely something to look forward to in the future, but right now my goals are just to try to keep winning … I don't know if it's feasible to be able to break those records or not."
Vonn averaged 10 victories per season from 2009 through 2012. If she gets back on that pace and stays healthy, she would need to ski into the 2016-17 World Cup season to pass Stenmark around age 32.
Vonn, 30, targets skiing through the Pyeongchang 2018 Olympics, but she may never ski slalom again and hasn't skied a giant slalom yet in her comeback. So getting back to 10 victories per season may be tough.
"Records are the only thing that remain of an athlete, the only thing that people will remember," Vonn told Red Bulletin in December 2013. "If I want to ensure that people don't forget me, I can only stop once I've set the bar as high as possible for anyone coming after me. That means that as long as I can keep winning I'll keep skiing. Essentially it's about what I leave behind, and that means statistics, records."
Tiger Woods plans to attend World Alpine Skiing Championships