Mikaela Shiffrin moved closer to clinching her third straight World Cup slalom season title with an easy victory in Are, Sweden, on Saturday.
Shiffrin, the Olympic and World champion who turned 20 on Friday, prevailed by 1.41 seconds over two runs. Slovakia's Veronika Velez Zuzulova took second, followed by Czech Sarka Strachova.
Shiffrin moved 90 points ahead in the World Cup slalom season standings with one race left at the World Cup Finals in Meribel, France, next week. Shiffrin will earn her third straight season title if she finishes 15th or better in Meribel, or if Swede Frida Hansdotter does not win.
She hopes to become the first woman in 20 years to win three straight World Cup slalom season titles.
Shiffrin shared the podium with Emma Lundell, a 13-year-old Swede fighting leukemia whom Shiffrin first met after her maiden World Cup win in 2012. Lundell brought Shiffrin to tears last year.
"I feel that beats anything I can do on the race hill," Shiffrin said of Lundell. "So she deserves to be on the top step of the podium."
Lundell's health has improved so much since 2012 that she's no longer taking medicines, according to The Associated Press.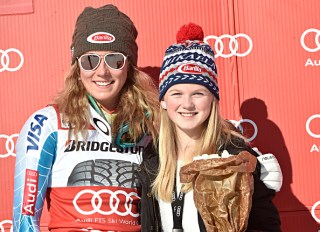 "[Shiffrin] has meant so much to me," Lundell said, according to the AP. "It was huge for me that a big star like her would see me. It gave me the strength to continue fighting."
In the final run Saturday, Shiffrin gave up about half of her first-run lead of .92 to Zuzulova midway through the course.
"Sometimes I hear the announcers when I'm skiing, and I thought I was behind," Shiffrin said. "So I was like, 'Go faster! Go faster!'"
But she made it all back up — and then some — in the bottom section to secure one of the easier victories of the 14 in her career.
Slovenian Tina Maze squandered an opportunity to retake the World Cup overall lead, finishing 16th. Austrian Anna Fenninger goes into the four-race World Cup Finals with a 30-point edge over Maze and is likely to win her second straight World Cup overall title.
In men's action Saturday, France's Alexis Pinturault won a giant slalom in Kranjska Gora, Slovenia, by .68 over Austrian Marcel Hirscher. Hirscher clinched the giant slalom season title over Olympic and World champion Ted Ligety, who was fourth Saturday. Ligety had won the World Cup title the previous two seasons.
Hannah Kearney hesitant to make retirement announcement
'Into the Wild' snowboarder rebounds after it went 'horribly wrong' in Sochi