Michael Johnson's gold shoes will return in a Nike commercial, according to the Olympic sprint champion's Twitter account.
Johnson memorably swept the 200m and 400m at the Atlanta 1996 Olympics while wearing golden shoes, after he wore purple shoes at the Olympic trials.
"I just wanted to change it up, and I thought gold would be a good color," Johnson said in 1996, according to the New York Daily News.
"Opting for gold shoes could have been considered downright cocky, but I was confident and never doubted my ability to deliver gold medals to match my shimmering footwear," Johnson said in his book, "Gold Rush," according to the Telegraph.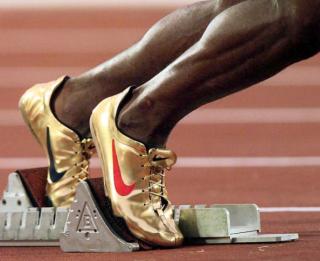 At Sydney 2000, Johnson had new gold shoes, these ones with actual 24-carat gold woven in. He repeated as 400m champion and anchored the 4x400m relay team to cross the finish line first, but team member Antonio Pettigrew later admitted to doping.
Johnson said he auctioned at least some of his Olympic competition gold shoes for charities, in a 2009 ESPN.com chat and to the Melbourne Herald Sun at the 2000 Olympics.
Here's a previous Johnson Nike commercial, with white shoes.