Lance Armstrong said that his competitors would agree with him that he's a seven-time Tour de France champion, despite being stripped of those titles in 2012 due to doping.
In a Dan Patrick Show interview Tuesday, Armstrong was asked if he still considered himself a seven-time Tour winner as his Twitter bio says. The full interview is here.
"I know that's a polarizing subject question, and it's certainly polarizing for me to have that on there [the Twitter bio]," Armstrong said. "I think the 200 guys that took that start line, all of those seven years, I think if we went and asked those guys who won the races, they would tell you who won the races. I think it's unfair, and it's a real injustice to the sport and to the event to not have a winner. As unfortunate and as messy of a time as it was, it just was what it was. I'm terribly sorry for the people that are literally pissed off and disappointed by that, but I think my competitors would agree that I won those races. And I agree with them."
Armstrong said last year that he still thought of himself as a Tour champion but respected that many would disagree with him.
"Whether we say that those happened or not, whether I won or not, that's for others to decide," Armstrong said Tuesday.
Officials did not elevate the 1999-through-2005 second- or third-place cyclists, many of whom also cheated, to Tour winners when Armstrong was stripped. In more recent cases in 2006 and 2010, the second-place rider was elevated when winners Floyd Landis and Alberto Contador were stripped.
In 2013, Armstrong's biggest rival during his heyday, German Jan Ullrich, said he believed Armstrong should keep the seven titles because doping was so prevalent in that era.
"I am no better than Armstrong, but no worse either," said Ullrich, who admitted in June 2013 to blood doping during a career that included second-place finishes behind Armstrong at the 2000, 2001 and 2003 Tours.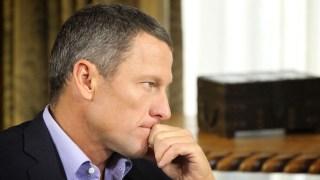 Also Tuesday, Armstrong said he believes a clean cyclist could over time be better than he was as a cheater and brought up another U.S. Olympian who took performance-enhancing drugs, sprinter Justin Gatlin.
"Could somebody be better than you without cheating?" Patrick asked.
"I suppose over time it will be, yeah," Armstrong said. "But don't we all evolve? Look at the case of Justin Gatlin. He's tested positive two or three times. He's now back on the track. He's probably being tested 82 times a day. He has the fastest time in the world in the 100-meter dash this year. He's the favorite for a gold medal. So, I don't know. Did he just find a way to do it clean? Let's hope so.
"I'm not trying to excuse what me or an entire generation did, but more and more, I think that's pretty well-known. We came across an era where the PEDs that were available were so beneficial and so advantageous that if you didn't gear up, it was going to be hard to stick around.
"When I flew over to Europe in the early '90s, I thought, this is cool, I'm a tough kid from Plano, Texas. I'm going to work hard and kick these guys' asses. Within a year or two, it did look different. I thought, OK, I'm not going home. I'm staying, and I'm fighting."
Lance Armstrong on forgiveness: 'We're getting close to that time'