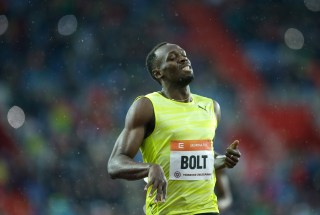 NEW YORK — Before Usain Bolt races at the Adidas Grand Prix on Saturday (NBC, NBC Sports Live Extra, 1-3 p.m. ET), the six-time Olympic champion discussed recent chats with President Barack Obama, golfer Lexi Thompson and U.S. sprinter Ryan Bailey.
On April 9, Bolt met Obama in Kingston (video here). What did they say?
"It was one of those moments that I never thought would happen," Bolt said. "I remember when [I was told] we might be able to meet the president. I was playing it cool, but when I actually met him, it was a different situation. I was dumbstruck. I didn't know really what to say to the President of the United States. For me, it was one of those moments that puts you in awe. It was wonderful. I really enjoyed having a small talk with him. He knew me pretty well, and he knew my pose.
"I didn't say much. He was saying what I did was great, and, 'I'm sure your country's proud of you, continue striving to be the best.' I was mumbling a lot of stuff. Not a lot of words came out."
"What surprised me was he said, 'Yo, let's do the pose together.' That, for me, was the best thing. I was mid-sentence as he said it. Right into my pose instantly."
Adidas Grand Prix preview, schedule, broadcast info
The previous April, Bolt shared a flight to Milan with the golfer Thompson, a fellow Puma athlete, to film this hot-tub commercial.
Here's what Thompson said of Bolt earlier this week:
"We had a lot of laughs on that airplane ride. We talked about TV shows. He got mad at me for some reason for saying that my favorite show was 'Criminal Minds' or 'Law & Order' for some reason. He was a very cool guy. I got to spend a few hours with him. He was cracking jokes the whole time. He had a camera in his face the few hours I got to spend with him, and he was just a very laid back, cool guy."
Bolt's road to the Rio Olympics and to a planned 2017 retirement will be documented in a film for theatrical release.
Thompson, a 20-year-old ranked No. 11 in the world, could join Bolt at the Rio 2016 Olympics, golf's first time at the Games since 1904.
Here's what Bolt remembered from his conversation with Thompson, namely her TV favorites:
"All of those shows are pretty much the same thing, the same episode every week. This is why I stopped watching, 'Walker, Texas Ranger,' stuff like that, because the episodes are pretty much the same. Somebody dies, and somebody goes and solves the mystery. It's the same thing.
"I told her I can't play golf to save my life. We talked a little bit about golf. I'm not going to be one of those persons that retires to go play golf. I won't be one of those persons. I'll probably play basketball or soccer or something."
Finally, Bolt discussed his mixed-zone whisper to the U.S. sprinter Bailey, after Bailey anchored the Americans to a 4x100m win over Bolt anchoring the Jamaicans at the IAAF World Relays in Nassau, Bahamas, on May 2.
"I told him, 'Don't worry, I'll get you back for that one. Don't worry.' He laughed," Bolt said.
Bolt may get his chance at the World Championships in Beijing. The 4x100m relay, won by Jamaica at the last three World Championships and two Olympics, is Aug. 29 at the Bird's Nest.
Flashback Video: Usain Bolt at the Athens 2004 Olympics