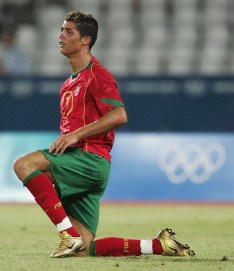 Cristiano Ronaldo could make his Olympic return in Rio de Janeiro next year, 12 years after his Olympic debut at Athens 2004.
Portugal has qualified for the Olympic men's soccer tournament for the first time since 2004. Olympic soccer teams can include a maximum of three players born before Jan. 1, 1993, so the two-time reigning FIFA Ballon d'Or winner Ronaldo could be called on.
"It is a possibility," Portuguese soccer federation president Fernando Gomes told Brazil's O Globo, according to an ESPN.com translation. "We can bring three players aged over 23. Cristiano is one of those being considered, but we have not yet sat down to discuss it."
Ronaldo's availability is complicated by Euro 2016, which will be June 10-July 10, and the start of the La Liga season, usually in mid-August. The 2016 Olympic soccer tournament runs from Aug. 3-20.
Ronaldo played for Portugal in Euro 2004 and in the Athens 2004 Olympics, when he was 19 and Euro ended July 4 and the Olympic soccer tournament began Aug. 11.
Ronaldo scored one goal for Portugal at the 2004 Olympics, two years before his World Cup debut. Portugal is best known at those Athens Games for being upset by Iraq in their opener and being eliminated in the group stage.
Argentina, Germany and Sweden have also qualified for the Rio Olympic men's soccer tournament, opening up more possibilites for world stars to play in the Games next year. Brazil gets an automatic spot as host.
Manaus approved as Rio 2016 Olympic soccer venue by FIFA