A few minutes after Usain Bolt confirmed he's still the world's fastest man by winning the 200m at the World Championships on Thursday night, top challenger Justin Gatlin saw the Jamaican sitting on a dark folding chair on the crest of the Beijing Bird's Nest track.
Gatlin, the best sprinter the last two years (before Bolt beat him in the 100m and 200m in Beijing) who served a four-year doping ban and has been billed as evil to Bolt's good going into these World Championships, saw a tan bench, grabbed the seat and pulled it some feet to within arm's length of Bolt.
Bolt, with a Jamaican flag draped over his left knee and holding green shoes in his left hand, noticed Gatlin approaching him. Bolt smiled.
Bolt extended his right arm across his body as Gatlin entered the picture, with an American flag in his left hand, and held out his right arm. They fived and shook hands. Bolt and Gatlin sat and spoke in spurts for 30 seconds while photographers captured the meeting from in front of and behind them.
Once both were sitting, Bolt appeared to speak first.
"He said, 'I'm tired, my legs on fire,'" Gatlin later told Lewis Johnson on Universal Sports. "I said, 'I'm tired, my legs on fire, too.'"
As Gatlin untied and removed his Nikes, Bolt rose from his chair to continue his victory lap, striding away from Gatlin.
"He talks a lot, I've noticed over the years, but that's just who he is," Bolt said of Gatlin in a press conference later, drawing a smile and laugh from Gatlin sitting to his right. "I've noticed that leading up to the championships he's going to say a lot of stuff, but after the championships, he confuses you. You feel like he's your best friend."
From his bench, Gatlin then chased Bolt, which he will be doing for the next year until the Rio Olympics, for one final interaction. They pounded fists and went on their ways.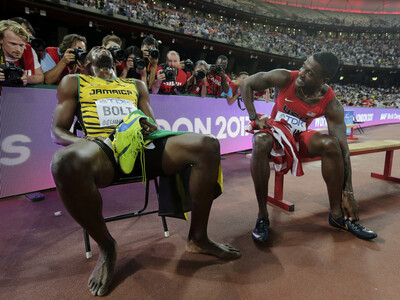 "When [Gatlin] is not talking or saying what he's going to do, he's actually a cool person," Bolt told Johnson on Universal Sports. "We were just talking how tired we were."
Gatlin, 33 and the Olympic sprint king before Bolt took the throne in Beijing 2008, had been undefeated in the 100m and 200m in 2014 and 2015 going into the World Championships.
He lost both the 100m and 200m to Bolt, who had been doubted by many due to injuries the last two years, a lack of races and times far from his world-record peak in 2009.
Experts said Bolt's victory over Gatlin in the 100m by .01 on Sunday was due to Gatlin's mentally induced physical breakdown at the end of the race rather than Bolt's 9.79-second form. After all, Gatlin was faster in the semifinals (9.77) earlier that night, in a race that did not include Bolt.
On Thursday, Bolt left no doubt that he is the world's best sprinter. He trounced Gatlin with the fastest time in the world since Bolt's 2012 Olympic victory. Thursday's win was assured with at least 20 meters left, and Bolt knew it, pointing to his chest as he decelerated before the finish line.
Bolt clocked 19.55 seconds; Gatlin 19.74 (full results here), after going into the final with the four fastest times in the world since the start of 2014 — 19.57, 19.68, 19.68 and 19.71. Bolt's fastest time before Worlds in that same span was 20.13.
Bolt: I may retire after Rio Olympics
Bolt doesn't often acknowledge he's motivated by others, but he said after the race that his celebration was due to the man two lanes to his left.
"Justin Gatlin was saying he was ready to go, he's going to do something special," Bolt told Johnson on Universal Sports. "For the 100m, I don't mind. … When it comes to my 200m, I take it really personal. That's the only reason I celebrated across the line."
In a post-race press conference, Gatlin joked while sitting next to Bolt that the 29-year-old Jamaican "calls me an old man when we're in the background."
"Y'all don't see that," Gatlin told the media. "When we're in the warm-up area, he'll be like, 'Old man!'"
Gatlin added another silver to his collection, 10 years after he won the World 200m title in his first race against Bolt. (Bolt finished last in that race (video here), pulling up with a reported leg injury). One year later, Gatlin began serving his doping ban, and the two would go six years between races together.
"It's a cluster of electricity," Gatlin said of Thursday's final to Johnson on Universal Sports. "I want to say that I help, I guess, spawned the rivalry this year, bring excitement. I'm just happy to go out there and make the big man run this year. Be able to come back next year and do the same thing."
Bolt and Gatlin could go head to head one more time at Worlds, in the 4x100m relay on Saturday (NBC and NBC Sports Live Extra coverage, 2:30 p.m. ET). Jamaica won that relay at the last two Olympics and last three World Championships.
"I'm re-energized for that already," Gatlin told Johnson on Universal Sports.
On his victory lap, Bolt was taken down by a cameraman on a Segway.
"They tried to kill me. I don't know what's going on," Bolt said on the BBC, adding later on Universal Sports, "accidents happen."
After his BBC interview, Bolt looked into the camera and, presumably, into the eyes of former 200m world-record holder Michael Johnson, who is now a studio analyst for the BBC.
"A lot of people been doubting me and saying I'm going to lose, like one of the guys in the studio," Bolt said. "Michael Johnson, stop doubting me, bro."
Also Thursday, Allyson Felix won her first World 400m title, breaking the record for most Worlds gold medals and overall medals for an American. More on Felix's victory and what it means for Rio here.
World Championships: Broadcast schedule | Video: South African stretchered off after 400m gold
Earlier Thursday, U.S. Olympic champion Christian Taylor outdueled Cuban rival Pedro Pablo Pichardo (18.21 meters to 17.73) for triple jump gold. Taylor's final jump of 18.21 marked the second best of all time behind Jonathan Edwards' 18.29m world record from 1995. Taylor bowed next to the pit after his jump. Edwards could be seen with an open-mouth smile, shaking his head in disbelief from a commentary box in the Bird's Nest.
"My coaches told me to clear my head and just let it rip," Taylor told Johnson on Universal Sports, adding on Eurosport, "When you're that close to a record, it just makes you even hungrier for the next time."
Polish world-record holder Anita Wlodarczyk captured her second hammer throw World title.
Olympic champion and world-record holder Aries Merritt was the fastest qualifier into Friday's 110m hurdles final. Merritt's kidney function is less than 20 percent, and he's scheduled for a transplant Tuesday with his sister as the donor. Defending World champion David Oliver also made the eight-man final.
"I'm about 75 percent physical health right now," Merritt said on Eurosport. "That should be enough to get me a medal, I hope."
"It's taken a lot of soul-searching," Merritt said on the BBC. "It's a really good distraction from the surgery."
Two-time Olympic 200m champion Veronica Campbell Brown reached Friday's 200m final, along with Worlds 100m silver medalist Dafne Schippers. Neither Olympic champion Felix nor 2013 World 200m champion Shelly-Ann Fraser-Pryce entered the 200m in Beijing.
Neither 2009 World champion Caster Semenya (she of the gender-testing controversy) nor any Americans qualified for Saturday's 800m final. The favorite is Kenyan Eunice Sum, the defending World champion and world's fastest woman this year. In 2013, three U.S. women finished third, fourth and sixth in the event.
Reigning Olympic and World champion Brittney Reese failed to qualify for Friday's long jump final. Another American, 2005 World champion Tianna Bartoletta, did make the 12-woman final as the top jumper in the world this year.
Ethiopian Genzebe Dibaba qualified for Sunday's 5000m final, where she'll try to become the first woman to sweep the 1500m and 5000m at a single Worlds or Olympics.
All four Americans, including 2008 Olympic champion Dawn Harper-Nelson and 2013 World champion Brianna Rollins, advanced to the 100m hurdles semifinals Friday. The final is also Friday.
Video: Usain Bolt's only loss at the Olympics