The U.S. finished the World Track and Field Championships with 18 medals, its fewest at a single Worlds or Olympics since the 2003 World Championships, and fewer gold medals than Jamaica and Kenya.
The U.S. earned gold in the men's 4x400m relay and silver in the women's 4x400m (behind a Jamaican comeback on the final straightaway) on the final night of competition in Beijing on Sunday (full results here).
The U.S. totaled six gold medals for the nine-day meet, finishing third in those standings, one behind Jamaica and Kenya. It's the lowest finish for the U.S. in the gold-medal standings at a single World Championships, in their 15th edition.
"There was pockets of great moments, pockets where, you know, I think we expected to do a lot better than we did," Allyson Felix, who ran the third fastest 4x400m relay split ever for her third medal of the meet, told media in Beijing. "I think the biggest thing that we take away is just being hungry for next year [and the Rio Olympics]."
In 2013, the U.S. won a Worlds-leading 25 medals and six golds, one fewer gold than host Russia. Russia, which won 17 medals in 2013, left Beijing with two golds and four medals.
NBC and NBC Sports Live Extra will have World Track and Field Championships coverage Sunday from 2-3:30 p.m. ET.
World Championships: Eaton breaks decathlon world record | Bolt on U.S. relay DQ: 'It's called pressure'
Early this summer, the U.S. was projected to break its previous high for Worlds medals (26). Two days before Worlds began, the respected Track and Field News predicted the U.S. would finish with 31.
Where did it go wrong?
The U.S. earned zero gold medals in men's individual track events at a Worlds or Olympics for the first time (h/t @davidwoods007). It earned one gold medal in women's track events (Allyson Felix in the 400m).
The U.S. could have won 10 medals across the four hurdles events. It came away with three, with gold-medal contenders Dawn Harper-Nelson and Keni Harrison (100m hurdles) and Bershawn Jackson and Johnny Dutch (400m hurdles) failing to make their finals.
Americans fared worse in the distance races. The U.S. earned one medal of any color in individual races longer than 400 meters — Emily Infeld's surprise bronze in the 10,000m.
Past Olympic and Worlds medalists Matthew Centrowitz, Leo Manzano, Galen Rupp, Brenda Martinez, Jenny Simpson and Shalane Flanagan missed the podium. As did Evan Jager and Emma Coburn, who were hopes to end U.S. steeplechase medal droughts.
Keep in mind for Rio that no U.S. man or woman has won Olympic gold in a track event longer than 400m since Dave Wottle's 800m title while wearing a cap at Munich 1972.
On Sunday, Felix won her 13th career Worlds medal with a 47.72-second third leg in the 4x400m relay, making up a 1.99-second Jamaican lead and handing a .48 advantage to Francena McCorory.
McCorory, who had the world's three fastest 400m times this year going into Worlds, was passed on the final straightaway by Jamaican anchor Novlene Williams-Mills, who was diagnosed with breast cancer two months before she ran in the 2012 Olympics.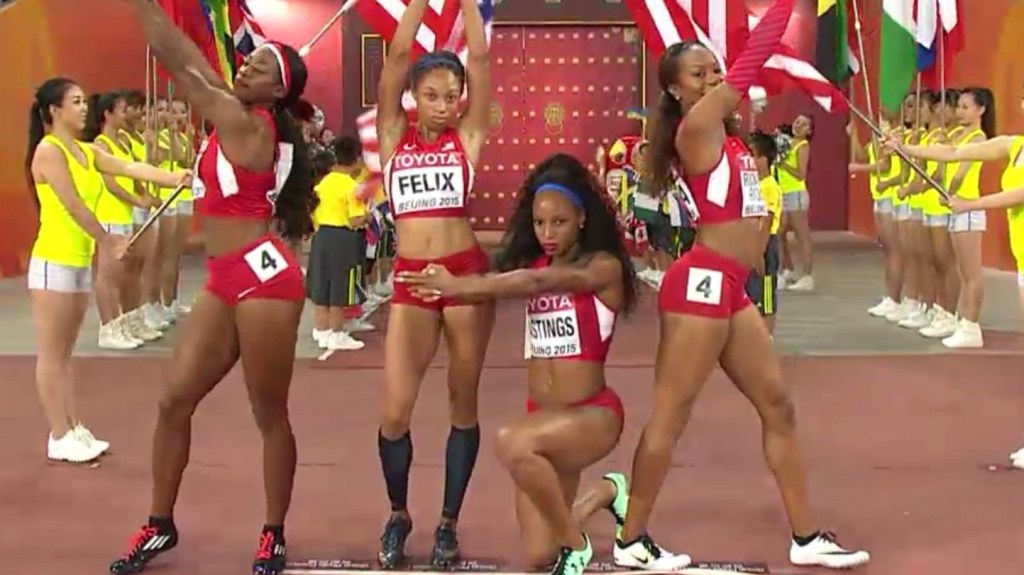 Felix's silver moved her into a tie with Usain Bolt at 13 Worlds medals, one behind record holder Merlene Ottey, a retired Jamaican/Slovenian sprinter. The U.S. women posed like Charlie's Angels in their pre-race intro.
"It's bittersweet," Felix told media in Beijing. "You can run as fast as you want, but if you don't win, it doesn't quite mean that much."
The U.S. won the final event of Worlds, the 4x400m relay (video here), with 400m silver medalist LaShawn Merritt anchoring for his 11th Worlds medal, most by an American man.
Centrowitz and Manzano were eighth and 10th in the 1500m, with countryman Robby Andrews 11th. Centrowitz had won bronze and silver at the last two Worlds. Manzano is the 2012 Olympic silver medalist.
Kenyan favorite Asbel Kiprop prevailed in 3:34.40 (video here), followed by countryman Elijah Manangoi (3:34.63) and Morocco's Abdalaati Iguider (3:34.67). Kiprop has won three straight World 1500m titles plus the 2008 Olympics.
Manangoi, a Maasai warrior, planned a special celebration.
"I'm going to cut the goat," Manangoi told media in Beijing, "and drink the blood."
Earlier, Ethiopian Genzebe Dibaba became the first woman to win 1500m and 5000m medals at a single Worlds, taking bronze behind countrywoman Almaz Ayana in the 5000m (video here).
https://twitter.com/CBCOlympics/status/638023611203342337/