The most famous track and field venue in the U.S. may get an upgrade following the 2016 U.S. Olympic Trials.
The University of Oregon's Hayward Field, initially constructed for football in 1919, could be renovated ahead of its 100-year anniversary, funded entirely through private donations, according to a press release. The plan is to have it substantially completed before the 2017 NCAA Championships at the Eugene, Ore., venue.
On Thursday, a university board of trustees will discuss the first steps of an upgrade plan that would begin after next year's trials, the sixth time Hayward Field will host the U.S. Olympic Trials.
Hayward Field's current capacity is 10,500, according to the university's athletics site, though that number can reach 20,000 with temporary seating. A renovation could lift seating to 30,000.
The cost is to be determined, and preliminary plans and designs would be completed by the end of 2015, according to the university.
Eugene, and presumably Hayward Field, will host the 2021 World Track and Field Championships, the first time Worlds will be in the U.S.
Hayward Field during the 2015 U.S. Championships (AP):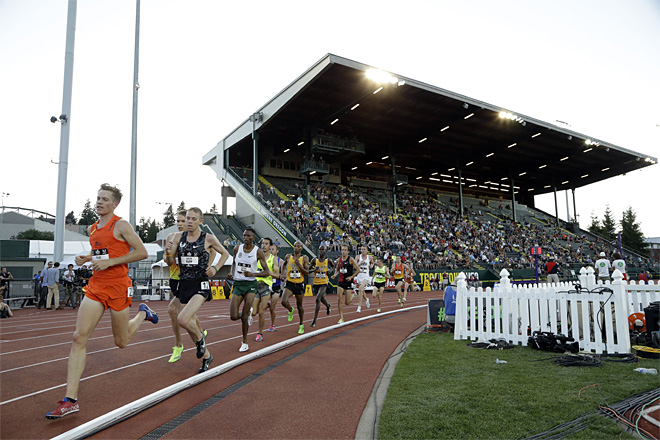 A rendering of what Hayward Field could look like in 2017 (courtesy University of Oregon):