The World Road Cycling Championships will be held in the U.S. for the first time in 29 years next week, and NBC and Universal Sports will combine for daily coverage from Richmond, Va.
NBC, NBCSN, CNBC and Universal Sports will combine for more than 33 broadcast hours, including 26 hours live. All NBC, NBCSN and CNBC broadcasts will stream on NBC Sports Live Extra. All Universal Sports broadcasts will stream on UniversalSports.com.
The U.S. team for Worlds is led by Taylor Phinney, who finished fourth in the 2012 Olympic road race and time trial and owns Worlds medals in both track and road cycling, and Kristin Armstrong, the two-time reigning Olympic time trial champion who came out of retirement this year.
Internationally, Great Britain's Mark Cavendish and Slovakia's Peter Sagan are among the entered riders.
Here's the broadcast schedule: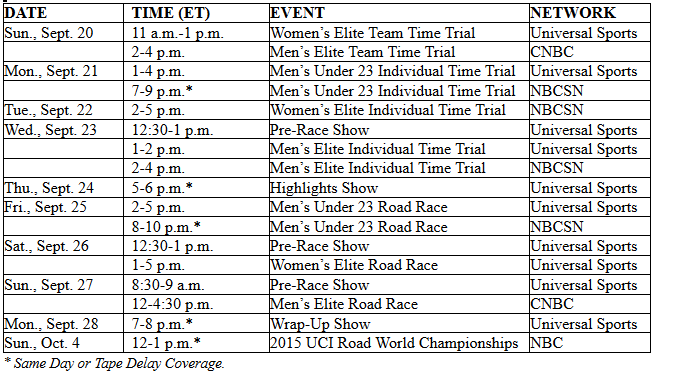 MORE CYCLING: Can Tour de France stars contend for Olympic medals?