OlympicTalk takes a look back at the year in Olympic sports this week. Today, we review winter sports.
Alpine Skiing
The year began with Lindsey Vonn chasing a record while coming back from two major knee surgeries. It will end with Vonn chasing another record as the healthiest elite U.S. Alpiner.
The 2010 Olympic downhill champion won 10 World Cup races in 2015 (so far), including breaking Annemarie Moser-Pröll's record of 62 women's World Cup wins on Jan. 19. Vonn returned to her pre-2013 World Championships crash form, dominating the speed disciplines of downhill and super-G.
However, Vonn won zero races at the biggest event of the year, the World Championships near her Colorado home in February.
At Worlds, the most memorable U.S. story was Bode Miller, who at 37 may have competed for the final time, crashing in the super-G. Miller, though, has said there is a "good likelihood" he returns to racing, but a run for a sixth Olympics in 2018 is "really unlikely."
Mikaela Shiffrin, who in 2014 became the youngest Olympic slalom champion, repeated as World champion in the slalom and three-peated as World Cup champion. However, Shiffrin suffered a torn MCL in a Dec. 12 crash and is unlikely to race again until next fall.
Ted Ligety three-peated as World champion in his best event, the giant slalom, but was kept from a third straight World Cup season title in March by Austrian rival Marcel Hirscher. Ligety looked to continue his competition with Hirscher this season, but hip and back injuries in the fall put him well behind as the winter begins.
Julia Mancuso, who earned medals at the last three Olympics, finished no better than sixth in any race in 2015. She was slowed by a hip injury last winter, cutting her season short, and underwent surgery in November, ruling her out this season.
That leaves Vonn as the major story heading into 2016. She has reached 71 World Cup victories, inching closer to the overall wins record of 86 held by retired Swede Ingemar Stenmark. If she continues on her recent healthy pace, Vonn would break the record in the 2017-18 Olympic season.
A more pressing matter is the World Cup overall title, the biggest prize this season with no Olympic or Worlds. Vonn seemed a heavy favorite for her fifth crown following Shiffrin's injury (with past champions Anna Fenninger and Tina Maze already out), but that changed this past weekend.
MORE: Lindsey Vonn cedes World Cup standings lead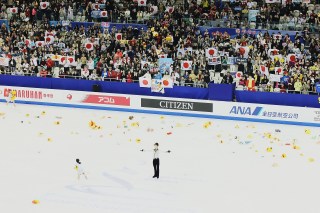 Figure Skating
The singles skating power still lies with the Russian women and Japan's Yuzuru Hanyu.
This time last year, Elizaveta Tuktamysheva was en route to one of the most dominating seasons of all time, a World title and talk of adding a quadruple jump in March. While Tuktamysheva has struggled this fall, a new Russian teen ascended to win the Grand Prix Final two weeks ago — 16-year-old Yevgenia Medvedeva.
The Olympic champion Hanyu was upset for the World title by Spain's Javier Fernandez in March. Hanyu rebounded to become untouchable this fall, breaking records for highest short program, free skate and total scores under the decade-old judging system in his last two competitions.
Medvedeva and Hanyu appear easy favorites heading into the World Championships in Boston in three months. Conversely, the pairs and ice dance pictures are less clear with injuries and breaks for past Olympic and World champions, including Meryl Davis and Charlie White.
U.S. singles skaters failed to reach the podium in 2015 at a global championship for a ninth straight year for the women and a fifth straight year for the men. But they were oh-so close.
Jason Brown was fourth and Gracie Gold and Ashley Wagner were fourth and fifth, the best efforts by Americans since Evan Lysacek took 2010 Olympic gold and Kimmie Meissner captured the 2006 World title.
Brown, 21, who last year became the youngest U.S. men's champion since 2004, withdrew before his last competition in November with a back injury. He may be challenged at the U.S. Championships in January by Nathan Chen, a 16-year-old who won the Junior Grand Prix Final.
Gold and Wagner both qualified for the six-skater Grand Prix Final earlier this month, but neither reached the podium against skaters they will likely have to beat to earn medals at Worlds. They'll go head-to-head at the U.S. Championships in January.
MORE: Ashley Wagner questioned her career at Grand Prix Final
Freestyle Skiing
Hannah Kearney, the most decorated U.S. freestyle skier of all time, tied the World Cup moguls wins record in her final competition before retirement in March.
Then, Canada's Mikael Kingsbury capped his year by breaking the men's moguls wins record on Dec. 12. Kearney and 1992 U.S. Olympic champion Donna Weinbrecht notched 46 victories. Kingsbury is at 29.
In aerials, first-grade classmates Kiley McKinnon and Mac Bohonnon recorded the first U.S. sweep of World Cup season titles since 1995.
In ski halfpipe, Olympic champions David Wise and Maddie Bowman continued to star. Bowman took her fourth straigth Winter X Games title in January. Wise's bid for an X Games four-peat was denied, but he came back to win the Dew Tour Mountain Championships this month.
In slopestyle, Olympic bronze medalist Nick Goepper won X Games, while silver medalist Gus Kenworthy prevailed at Dew Tour, two months after coming out.
MORE: Big air ski/snowboard event set for Fenway Park
Nordic Skiing
The top recent U.S. stars in cross-country skiing, Nordic combined and ski jumping are not competing this season.
In cross-country, four-time Olympian Kikkan Randall is taking the campaign off to have a baby. In Nordic combined, 2010 Olympic champion Billy Demong retired following the 2014-15 season. And in ski jumping, 2013 World champion Sarah Hendrickson is out after undergoing another right knee surgery in August.
Outside of competition, U.S. skiers caused a buzz in February with their "Uptown Funk" music video.
MORE: U.S. Olympian wins Red Bull 400 up ski jumping hill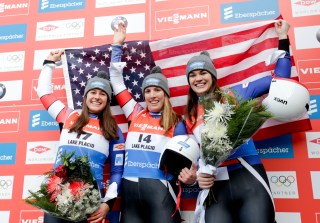 Sliding Sports
The year after the Olympics proved eventful for U.S. bobsledders, lugers and skeleton sliders.
In bobsled, Elana Meyers Taylor became the first U.S. woman to pilot a World Championship-winning sled in February, while Olympic champion Kaillie Humphries continued to break the gender barrier by competing in the four-man at Worlds.
Meyers Taylor was sidelined in December by long-term concussion effects. Humphries has been in a dispute this fall with the Canadian federation regarding competing in four-man bobsled. And U.S. Olympic driver Jazmine Fenlator announced she planned to compete for Jamaica moving forward in hopes of piloting the first Jamaican Olympic women's bobsled in 2018.
In luge, the U.S. emerged as a world power this fall. Olympians Erin Hamlin, Summer Britcher and Chris Mazdzer all won World Cup races in the first half of the season. However, all of those victories came on North American ice, and the rest of the season, plus the World Championships, will take place in Europe.
Finally, in skeleton, three-time Olympian Katie Uhlaender took a run at track cycling in the summer before returning to the ice following 2014 hip and ankle surgeries.
MORE: Former NFL wide receiver makes U.S. bobsled team
Snowboarding
Shaun White finished fourth at the Winter X Games in January in his first competition since also taking fourth at the Sochi Olympics. Then, in his second competition since Sochi, he beat the riders who trumped him in Sochi and at X Games at the Dew Tour Mountain Championships in December.
While White is back atop the men's pipe, the women's picture changed drastically in 2015. Olympic champion Kaitlyn Farrington announced her retirement in January due to a congenital spine condition. One week later, Chloe Kim became the youngest Winter X Games champion by winning the women's halfpipe at age 14.
Olympic slopestyle champions Sage Kotsenburg and Jamie Anderson were both beaten at X Games and missed Dew Tour.
Meanwhile, Lindsey Jacobellis continued a run of dominance dating to 2003 by sweeping X Games and the World Championships in snowboard cross. Jacobellis has won 13 gold medals in 18 career appearances at the Olympics, Worlds and X Games, yet she is missing an Olympic title.
In June, it was announced that ski and snowboard big air would be added to the Olympics in 2018, with snowboard parallel slalom being cut after it debuted in Sochi.
MORE: Shaun White talks Olympic skateboard, Air & Style, more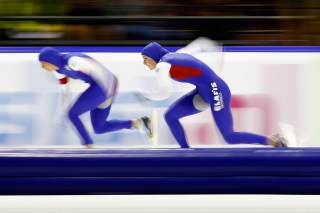 Speed Skating
U.S. long-track skaters rebounded in a big way after going medal-less at the Sochi Olympics. Americans won more gold medals in Olympic events than any other nation — including host Netherlands — at the World Single Distance Championships in February.
Shani Davis re-emerged after questioning his future in the sport in 2014 to win the World 1000m title. Davis, though, went winless in World Cup competition in a calendar year for the first time in his career dating to 2005.
Heather Richardson-Bergsma and Brittany Bowe traded World titles in the winter and world records this fall, while the Netherlands' Ireen Wüst, who won the most medals of any athlete at the Sochi Olympics, failed to make her nation's World Cup team this fall.
In short track, three-time U.S. Olympic medalist J.R. Celski returned after a one-season break, though U.S. skaters earned zero World Cup medals in a calendar year for the first time since the tour started in 1997. Americans also missed the podium at the World Championships in March.
MORE: Dan Jansen explains recent flurry of world records
Team Sports
Canadian men dominated the World Hockey Championship in May, going 10-0 and outscoring opponents by a combined 51-goal margin. Sidney Crosby captained the team to its first gold since 2007, crushing Alex Ovechkin and Russia 6-1 in the final.
The U.S. women nearly collapsed against Canada in its gold-medal game, as it did in Sochi, but this time held on after squandering a 5-2 lead for a 7-5 victory at Worlds.
In curling, Sweden's men and Switzerland's women took World titles, while mixed doubles was added to the Olympic program for 2018.
And in sledge hockey, the U.S. men won their first World title on home ice, blanking Canada in the May final to follow up on a Sochi Paralympic title.
Olympic Year in Review: Winter Sports | Summer Sports | Photos | Social Media