On Aug. 1, a tall, slender high school senior broke the American junior record in the women's high jump, clearing a height that would have made the 2012 Olympic team.
Her behind barely grazed the bar, not nearly enough to scare it out of place. She leaped out of the landing pit with her right arm raised.
She composed as she walked out of the competition area, fixing her hair as she crossed eight running lanes and stepped onto grass on the track's perimeter.
There, standing on the other side of a white, four-foot fence, were two men who share a name.
Vashti Cunningham exchanged words with her coach, Randall Cunningham, the longtime NFL quarterback, and a handshake with her older brother, Randall Cunningham, a USC sophomore who specializes in the same field event.
The Cunninghams swept the high jumps at the Pan American Junior Championships in Edmonton in August. It marked another step toward the family's goal of having two Cunninghams on the 2016 U.S. Olympic team.
"When my kids came out, and I saw how tall they were going to be, I just really believed that they could get it done," Randall Sr. said.
Vashti, named after the strong-willed queen from the Book of Esther, had the two best clearances of any U.S. female high jumper in 2015 — that record-breaking 1.96-meter (or 6 feet, 5 inches) jump, plus a 1.94-meter jump in April.
She is 6 feet, 1 inch and 122 pounds.
Randall II, named after the senior pastor at Las Vegas' Remnant Ministries, cleared a personal-best 2.26 meters last week. That would have ranked 12th among U.S. men last year. Third in the U.S. in 2015 was 2.31 meters (remember, top three at the Olympic trials are in line to make Rio).
He is 6 feet, 6 inches, two inches taller than his dad.
Randall Sr. coached both kids for about six years until Randall II enrolled at USC in 2014 and joined the Trojans track team. He's still the primary coach for Vashti, who may follow Randall II to USC, if she doesn't choose Georgia, Oregon or turn professional.
Randall Sr. has high jumping experience, too.
On page 46 of the 1981 Santa Barbara (Calif.) High School yearbook is a black-and-white image of a high-socks-wearing high jumper, his arms outstretched clearing the bar with palm trees in the background.
"Oh my gosh, I was so skinny," Randall Sr. laughs, recalling the photo. "It's one of the things that I cherish."
Randall Sr. cleared 6 feet, 10 inches, without the aid of coaching or lifting weights, competing in track to help stay in shape for football. The athlete later dubbed "The Ultimate Weapon" by Sports Illustrated said he dunked in ninth grade and could have done the decathlon.
His high jump career ended his senior year at Santa Barbara, when he needed knee surgery to alleviate muscle growing too fast for his bones.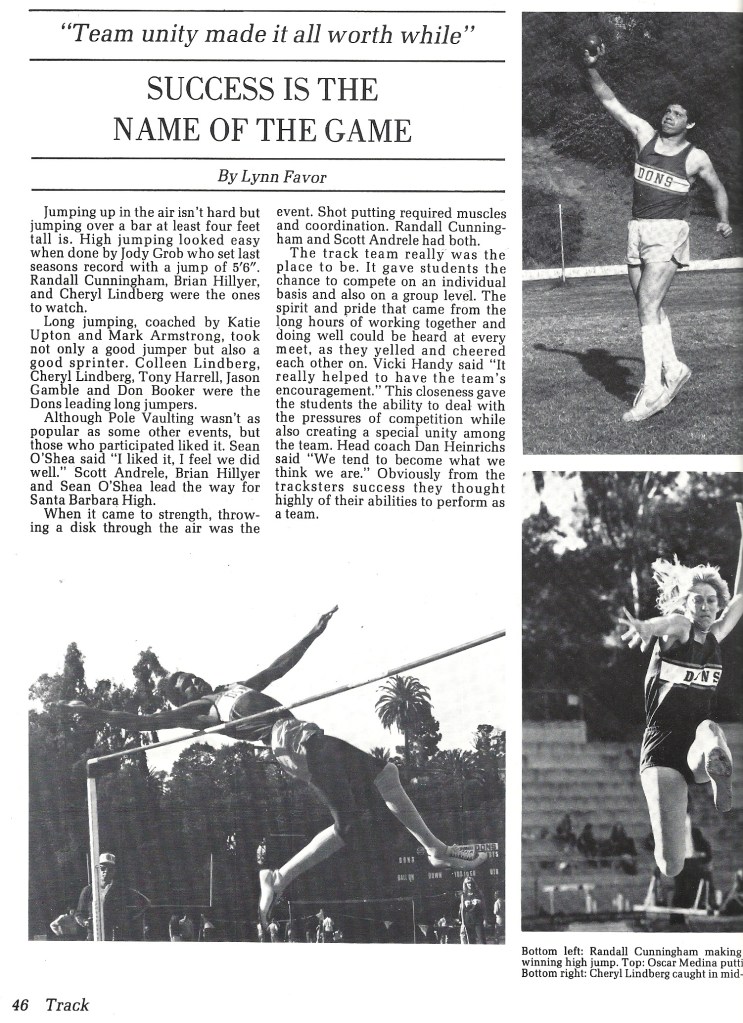 He continued playing football, his star rising at UNLV and then with the Philadelphia Eagles during a 16-year NFL career through 2001.
Vashti and Randall II played other sports well enough to earn recruiting attention, Vashti in volleyball and Randall II as a quarterback. But both are focusing solely on the high jump now.
"We wanted them to follow in the footsteps of our family," said Randall Sr., whose wife, Felicity, is a former ballet dancer. "I really wanted to focus on the high jump because my kids were tall, and I knew that I knew how to train them. 
"I'm trying to get my kids to that point where they'll be pros very quickly."
What are their chances of making the Olympic team?
No U.S. woman other than Vashti cleared a qualifying height last year to compete at August's World Championships.
And since Vashti opted to stick to junior-level competition last summer and not enter the senior U.S. Outdoor Championships, she didn't go to Worlds, either.
"I was taking smaller steps," Vashti said.
Three-time Olympian Chaunté Lowe accepted an invitation to compete at August's Worlds but missed all three of her attempts at 1.80 meters in Beijing.
It marked the first time no U.S. women's high jumper cleared a height at an Olympics or Worlds since the Helsinki 1952 Games, when no U.S. women competed (excluding the boycotted Moscow 1980 Olympics).
If Lowe and Olympic silver medalist Brigetta Barrett (who sat out 2015 due to hip surgery) can't regain their best form, Vashti may enter the Olympic trials in July as the favorite.
The top three at trials in Eugene, Ore., make the Olympic team, so long as they meet the Olympic qualifying standard of 1.93 meters.
Vashti began high jumping at about 9 years old, starting out doing the sprint hurdles and long jump, too.
"I was better than my other events in high jump," she said. "And my dad was coaching high jump, so I just went where he was."
She's moved past being "frazzled" at her high school state championships last spring. After all the other jumpers had gone, she moved the bar up to 5 feet, 10 inches, for her first jump (1.77 meters). She knocked the bar off on all three attempts and ceded the title to a girl who cleared 5 feet, 3 inches.
"I'd like to sign [professionally] now, and my dad would like me to sign now, too, make the Olympics and be on the podium, first, second or third," said Vashti, who turned 18 last week. "But I would really like to be first."
Randall II faces more competition.
Olympic silver medalist Erik Kynard has been untouchable domestically since London, clearing 2.37 meters each of the last three years. Several others have eclipsed 2.30 meters or better.
Randall II must clear 2.28 meters by June 27 to automatically qualify for the trials. He could still make the trials field without it. Nobody cleared better than 2.28 meters at the 2012 Olympic trials.
Randall II grew up sprinting and long jumping, and playing quarterback, of course. He began high jumping at his father's urging in middle school.
"In Vegas, where we're from, nobody high jumps," he said. "We would go to the meets, and the pits won't even be out. I had never seen anybody high jump."
Randall II says he keeps his father as "a mental coach" while on the USC team. They talk on the phone the night before NCAA competitions.
"He has the ability to jump 7-8, even this year [2.33 meters]," Randall Sr. said. "There's a road of success in front of both of them."
In coaching, Randall Sr. absorbs the event like a sponge studying video of the greats — such as two-time U.S. Olympic medalist Dwight Stones and two-time World champion Blanka Vlasic of Croatia, among others.
Now, he has a club team of dozens of track and field athletes. A meet bears his name.
"I've learned a lot. I do know a lot about high jump," he said. "I know a lot about the body, but more so I know the mental aspect of competing in a difficult situation, when there's a lot of pressure. … That has really allowed me to go to another level."
MORE: Christian Taylor looks to shoes for triple jump goals