U.S. Olympic champions Greg Louganis, Janet Evans and Edwin Moses will appear on Wheaties boxes for the first time next month.
Louganis is most noteworthy, for there was a petition to put the four-time Olympic diving champion on the iconic cereal box following his 2015 documentary, "Back on Board."
In the film, Louganis said that he wasn't as celebrated as other 1980s Olympic champions.
"Never got a Wheaties box," Louganis said in the film. "Their response was that I didn't fit their wholesome demographics or whatever. Basically, being gay, or being rumored that I was gay."
Louganis, who swept the platform and springboard titles in 1984 and 1988, retired after the Seoul Olympics and came out publicly as gay and HIV positive in the mid-1990s.
Evans also earned four gold medals while swimming in three Olympics in 1988, 1992 and 1996.
Moses, winner of 122 straight 400m hurdles races from 1977 to 1987, won the 1976 and 1984 Olympic titles and was an Olympic teammate of Louganis and Evans in 1988.
Below are images of the boxes to come out in May along with comments from each athlete, via General Mills:
VIDEO: Janet Evans relives 1996 Olympic torch handoff to Ali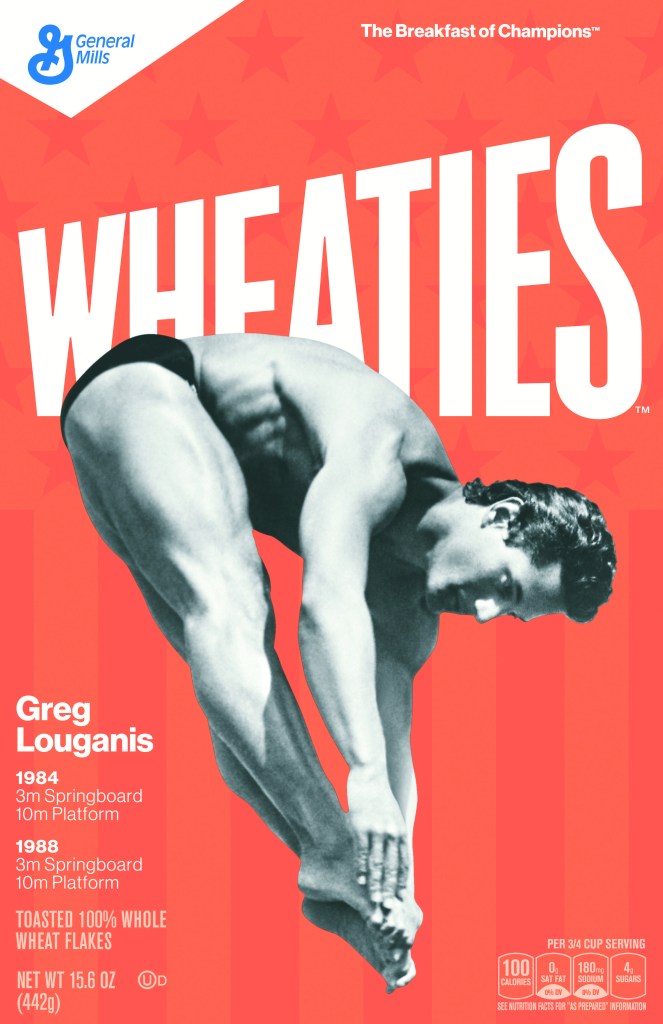 Louganis: "It's so iconic, everybody looks at the Wheaties box and it's such an honor. I can't wait to see Janet's and Edwin's boxes too. I'm excited for them as much as myself. What great company to be in. Edwin's always been a hero to me. It's such an honor to be in this group."
Evans: "I think getting the honor now actually means more. I think when you're competing and you're young, you kind of just take it for granted that of course if you win a gold medal you might have the incredible honor of being on a Wheaties box. To even be listed with the incredible athletes that have been on the Wheaties box, and to be a part of this great legacy … for me to be on a Wheaties box with these incredible legends that have already graced the front of your boxes. It's truly an honor and I honestly can't think of anything that makes me more excited. I'm really honored."
Moses: "I was very impressed, because I know it's a very prestigious honor to be on the box of Wheaties. Several icons in track and field, and people that I know, have been on the box – starting with Bruce Jenner in 1976 – so it's quite an honor to be included among that subset of athletes."