U.S. shooter Enkelejda Shehaj will compete in the Olympics for the first time in 20 years in Rio. Her last appearance at the Atlanta Games, representing her native Albania, was truly a lifetime ago.
Shooting was a popular sport in communist Albania when Shehaj started at age 17 in 1986, even though she said Albanians weren't allowed to purchase guns at the time.
She grew up in the capital, Tirana, and trained at her local shooting club, where she picked up and left her pistol. Shehaj said she began competing in 1988. It would be another three years before communism fell in the country.
"It's a different world, how you live in the communist era," Shehaj, now a 47-year-old mother of two living in Florida, said in a recent phone interview. "I can't say there was a danger, but it was a danger in a different way, like if you would not follow whatever the leaders of the country would say, you'd get imprisoned. Even if we would go to a competition, we were not allowed to talk to the other people and express our feelings. Any communication was not allowed. They were afraid that we might hear something, how people outside of Albania live. We were taught that we were the best country, and everybody else was miserable. … They would have people follow us and all that, and we were not supposed to say what we saw there. It was just unbelievable. When I tell my kids now, they're like, 'Oh my gosh, mom!'"
She did not consider fleeing Albania early in her career.
"Because family would have consequences," Shehaj said. "Like my parents would go to jail. I always knew what would happen. I've heard stories from other people that their kids being abroad, Albania, with competitions, they were in danger. They would send them in the worst places to live and with no electricity or not even minimum things that you need to be alive."
Shehaj worked her way up to a fourth-place finish in a World Cup competition in 1991 and earned a place on Albania's team for the 1992 Barcelona Games. It marked the nation's first Olympic appearance since 1972 and since the end of communism.
She finished 14th, 15th and 21st in three Olympic events between 1992 and 1996, giving birth to a girl, Megi, in between. Shehaj and her husband, also a competitive shooter, stayed in Albania, hoping a new government would bring stability.
It didn't. The collapse of pyramid schemes led to chaos in 1996 and 1997.
"There was like a curfew," she said. "You couldn't get out after 7 p.m. There were people shooting. … My dad had a restaurant that they closed down and destroyed."
Shehaj had enough and came to the U.S. on a visa in 1999, the year the bordering Kosovo War ended. She sought a better life for Megi, who was then 5 years old. Her husband stayed.
"It was not safe," Shehaj said. "A lot of Albanians at the time were leaving the country, were going to Europe or whoever had the opportunity in the States."
She flew to New York with Megi and two suitcases.
"One with my clothes," she said. "And one luggage, it sits there in my closet with all my medals, magazines, articles that were written about me and all the diplomas and everything that had related to the sport. That's it."
Shehaj's decision didn't sit well with Albanian sports officials, whom she said left her off the nation's 2000 Olympic team as a result.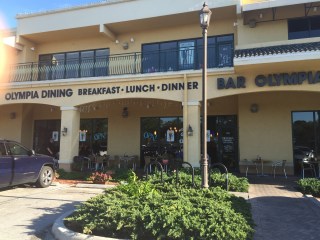 Shehaj stopped shooting competitively and settled with friends in Michigan for the first five years.
There she met through mutual friends countryman Tony Bekurti, who grew up in the same Tirana neighborhood and moved to the U.S. in 1997.
Bekurti never met Shehaj when they both lived in Tirana, but he played on the same table tennis team as her younger sister.
"Enka was one of the top 10 athletes in Albania," Bekurti said. "I knew who she was."
They married in 2001, and Shehaj had her second daughter, Enelda, in 2002.
The family moved to Florida in 2004. Shehaj's shooting and Olympic mementos now line the walls of Olympia Dining, a Mediterranean restaurant in Naples they opened in 2009.
"[Olympia] was a meaningful name," Shehaj said. "I always wanted to be in one more Olympics."
Bekurti sensed it. He started playing table tennis again and prodded his wife to return to shooting in 2009 and 2010.
"We have the same mentality when it comes to sport," said Bekurti, who wasn't an Olympic-level table tennis player. "On morning runs together, I encouraged her. Even 10, 15 minutes, we can find time for you if we are busy. She started little by little competing."
Shehaj became a U.S. citizen in 2012 and returned to top-level international competition for the first time since 2000 in 2014. This time, as a member of the U.S. national team.
"You never forget how to shoot," she said, comparing it to riding a bike. "It's a mental game."
Shehaj clinched a spot in Rio via a sudden-death Olympic Trials win in Fort Benning, Ga., in April. She is training and competing in Europe this month.
The qualification news has circulated at Olympia Dining. Bekurti proudly shows regular customers a local NBC affiliate's video report on Shehaj making the Olympic team, which he has saved on his phone.
NBC-2.com WBBH News for Fort Myers, Cape Coral & Naples, Florida
"Everybody asks every day how she's doing," Bekurti said. "I get a tear in my eyes when I hear the interview and when she talks about it. She talks about me. She talks about the girls. The sacrifice, the work, the dedication."
Two women have previously gone 20 or more years between Olympic appearances. That number will likely at least double in Rio, with Shehaj and Swiss tennis player Martina Hingis expected to return to the Games for the first time since 1996.
Shehaj's goal is to perform at her best at an Olympics for the first time. She remembers succumbing to the increased pressure in Barcelona and Atlanta and not shooting precisely.
"Who doesn't want to have a last shot in the Olympic Games?" Shehaj said. "I will try to do [my] best. If that happens, I'll be the happiest person."
Shehaj's younger sister now resides in the U.S., too, but they both worry about their parents, who still live in Albania.
"My parents always wanted us to leave Albania," Shehaj said. "They're like, OK, at least if you are there, don't worry about us. But now we worry, because they're getting older."
Shehaj last visited Albania two years ago and plans to go again in July, one month before the Rio Games. It's much safer there now than 20 or 30 years ago.
"It's a place that you were born, you grew up, and you have memories," she said. "It's still your hometown."
MORE: U.S. athletes qualified for Rio Olympics