Dave Hughes went to the 2004 Olympics as a training partner for an Olympian. He went to the 2012 Olympics as a coach. This summer, he will head to the Games for the first time as an Olympic sailor.
"I love Olympic competition," Hughes, 38, said. "At its very soul, it's something that keeps you young. In other ways, it's such a unique activity that triggers the senses."
Peel back Hughes' story, and it triggers much more.
In 2012, Hughes coached the U.S. 49er team of Trevor Moore and Erik Storck to a 15th-place finish at the London Games.
Moore was last seen June 25, 2015.
He left a U.S. Sailing Center in Miami in a 15-foot inflatable powerboat. The boat, with Moore's belongings, was retrieved later that day. Moore was not found.
Hughes and Moore were more than coach and athlete. They became housemates in Coconut Grove, Fla., after the London Games, as Hughes transitioned from Olympic coach back to Olympic-level competitor for one more try at qualifying for the Games.
To help, Moore took on an adviser-like role for Hughes and Hughes' new partner in the two-man 470 class, two-time Olympian Stu McNay.
McNay, who spent blocks of time living with Hughes and Moore in what everyone called the "Olympic House" in Coconut Grove, described Hughes and Moore as best friends.
"I admit that it is an interesting story," Hughes said. "At its base level, it is two best friends go to the Olympics, one as a coach, one as an athlete. Athlete unfortunately disappears. Coach turns to athlete. Coach qualifies for next Olympics. That's the story.
"I know it sounds emotional, because it is, but there, how should I put this? Every Olympic athlete is driven by a multitude of reasons as to why they're competing. Is it the pleasure of the sport? Is it for their family? Is it for themselves? But, for me, competing for Trevor is no small part of what drives me… he will be there with me in Rio."
Hughes' Olympic journey began leading up to the 2004 Athens Games. He had just started a 470 class partnership with Michael Anderson-Mitterling with an eye on the 2008 Olympics.
So they decided not to enter the 2004 Trials, but Hughes was selected as a training partner for the U.S. men's 470 team that was going to Athens. That pair, Paul Foerster and Kevin Burnham, won gold. They remain the most recent U.S. pair to win Olympic gold in any sailing class.
Hughes took that experience into the next Olympic cycle, but he and Anderson-Mitterling came second at Trials. The winner? McNay, and then-partner Graham Biehl. They finished 13th in Beijing.
Hughes and Anderson-Mitterling considered another Olympic try for 2012 before deciding they couldn't put forth a strong effort. Mitterling went into commercial real estate.
Hughes went into coaching. He would turn 34 in 2012 and understood that his best shot at competing at the Olympics may have been in his rearview.
"I suppose, on one level, I had not quite hung up on my own Olympic dream," Hughes said. "I do enjoy the concept of the Olympic pathway and what the Olympics means. I also believe that it [the Olympics] is one of the hardest things an athlete can do in our sport. So when I decided to not pursue the 2012 Olympics as an athlete, I was still very much interested in being part of the Olympic project as a coach."
Moore and Storck were two sailors in their mid 20s en route to qualifying for their first Olympics in the 49er class, also a two-person boat but with both sailors on the trapeze versus one on the trapeze in the 470.
They had cycled through a series of coaches before Hughes visited them at a camp in Spain for the first time about 18 months before the London Games.
"Immediately we had a really good relationship," Storck said. "Trevor and I were very different in a lot of ways, and Dave has this amazing ability to shift how he interacts with people based on the situation and based on their kind of style. So he was able to be the bridge between us, really. We talked about being a three-man team."
Coaching included not only verbal advice, but also day-to-day boat maintenance, meeting with meteorologists to adjust for weather conditions and even analyzing photographs of Moore and Storck and their rivals.
Storck described Hughes' style as "meticulous."
"On the water, it was recognizing trends and tying that back to things that happened before," Storck said. "Being the person who keeps our heads on straight."
All three marched in the London Olympic Opening Ceremony. The 49er event began three days later and would last a week and a half. Fifteen races, followed by a final medal race for the top 10 teams.
Moore, bothered by a torn shoulder labrum leading up to London, and Storck disappointingly didn't qualify for the medal race. At the 2011 World Championships they placed ninth, but they were fifth going into the medal race before their boat stalled and capsized.
Storck said the "writing was on the wall" before the Olympics, that he and Moore would probably not continue sailing together for another four-year cycle.
Moore's shoulder was compromising, as was what Storck called a strained relationship between the two.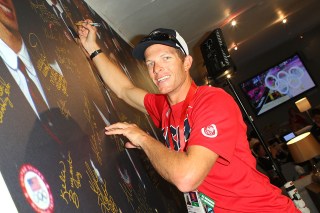 "You've got to be able to communicate with your teammate in a clear, succinct, positive way when you're on the race course, and we weren't always able to do that," said Storck, who added that Moore was the most rawly talented sailor he had ever competed with. "When the results weren't coming during the Games itself, it probably snowballed a little bit."
Coaches are on the water in support boats but aren't allowed to coach during races. Hughes agreed that the Olympics were a letdown, but still believes he's a better sailor for it.
"That experience was totally invaluable," he said. "Just to see the Olympics from that perspective, to guide a team into the Games and to do all those things that coaches do. Yes, it is a different experience than the athlete has. Hopefully I've been able to take some of those experiences into my own campaign for this Olympics."
Storck last sailed in 49er with Moore in London and in Olympic-level competition of any class in 2014. He now prioritizes taking care of 8-month-old Hudson Oakley Storck.
"[Moore and I] grew closer again just as friends now that we didn't have the pressure of the Games on our relationship, so we became good friends again," Storck said. "Stayed in touch, but obviously not as much as I would have liked."
After the 2012 Olympics, Moore and Hughes, plus McNay, who was coming off a 14th-place finish in the 470 in London, moved into an apartment in South Florida, all preparing for potential 2016 Olympic runs.
"At one stage, I was sailing with Trevor as his partner and soon realized that perhaps the better partnership was actually between Stu and I," said Hughes, easing back into Olympic-level competition for the first time since 2007. "Many reasons — physical size, all sorts of things."
Hughes said that Moore eventually gave up his 2016 Olympic bid "for his own reasons," but it didn't impact their friendship.
"[Moore] gave all that extra energy for us, supporting us, not just emotionally but as an adviser and even as a coach," Hughes said. "Because we lived together, it was a daily support system."
Late last June, Hughes and McNay were scheduled to compete in the European Championships in Aarhus, Denmark. When they arrived for the regatta, Hughes received a call from a friend.
Moore had disappeared back in Florida, and a search had so far turned up nothing.
"It's not uncommon for Trevor to have gone out on a motorboat," Hughes said. "We've all done it, whether it's fishing or just a little peace and quiet."
Hughes and McNay sat down and determined their best course of action.
"We thought long and hard about it," Hughes said, "and we realized that if Trevor was truly gone, that he would want us to compete."
McNay had known Moore since their early teens growing up in Massachusetts. He didn't live year-round with Moore like Hughes, but he spent the winter months with them and the summer up north with his wife.
"There was this tragedy at home happening that we were powerless to be a part of," McNay said. "I know that it especially impacted Dave because he and Trevor were best friends. They were year-round roommates.
"Dave's life had just been turned upside down, and at the same time we weren't able to do a thing from Denmark. In fact, we would just be a distraction from the necessary process of what those on the ground in Miami needed to do.
"It would do more to honor Trevor to sail the regatta of our lives than it would be to join a search effort which already had masses of people, and smart people. So we chose to take that route. And I hope that people supported and respected our decision."
Hughes said he barely slept during the week-long regatta. Six hours ahead of Miami time, McNay remembered Hughes receiving phone calls in the middle of the night.
In the water, Hughes and McNay came to Denmark fresh off a World Cup victory in Great Britain, what the two-time Olympian McNay called a "personal-best performance."
They were even better in Aarhus. Crews raced nine times in qualifying, spending up to six hours per day on the water the first five days. A pair's worst finish in qualifying would be discarded.
Hughes and McNay were disqualified from the fourth race. That would have to be their throwaway, giving them no margin for error the rest of the way.
They qualified for the 10th and final race, the medal race, in second place and then overtook a German pair for the victory. McNay called it the biggest win of his 470 career.
"It certainly showed Dave's mental strength to be able to throw down an amazing performance in those circumstances," he said.
Hughes bawled crossing the finish line. The search for Moore had been called off two days earlier.
"I knew that [Moore] was equally as proud of us," Hughes said. "It was a very weird and special mental place to be in."
Hughes continues relaying the timeline in a 40-minute phone interview, about how much Moore helped he and McNay to get to that point. Hughes finishes speaking about Aarhus and comes to a stop before discussing his return to the U.S. He is asked what it was like flying back.
"Nothing that I would ever want to put anybody through," Hughes says. "I'll be honest, I don't remember. I'm sure it was terrible."
Hughes and McNay flew back separately. McNay's wife went into labor with their first child, daughter Alexandra, three weeks early, on the final day of Europeans, the Fourth of July.
"So I rushed home to that," McNay said. "I was completely immersed to that. I lived in the Northeast, while Dave rushed home to Miami. He was right there at ground zero with Trevor's family, Trevor's fiancee, and helped take care of all of the personal affairs, helping take care of everything that related to Trevor, from freeing Trevor's boat from the police impound. Everything."
Hughes felt powerless.
"The toughest thing when this happens to anybody is not knowing what exactly you yourself should do," he said. "It's just about trying to put people's lives back together."
One year later, Hughes still resides in the Coconut Grove house he shared with Moore. He and McNay knew last year they were bound for Rio, but they were officially named to the Olympic team in April.
"Naturally, I'm reminded of Trevor often," Hughes, while training in Rio de Janeiro, said in a text message this week. "I remember the good times and inspirations Trevor gave me as a friend and teammate. I don't focus on his disappearance. Remembering Trevor as the vibrant person he was is the best medicine for any sadness."
NBC Olympics sailing analyst Gary Jobson is a World Sailing federation vice president and former U.S. Sailing president. Jobson believes about half of the U.S.' 10 entries in Rio Olympic sailing events have realistic medal hopes.
Of those, Jobson said Hughes and McNay have the best shot.
"The U.S. has a reasonable chance to get a medal in the men's 470," Jobson said. "I don't think they're a gold-medal contender. I would say Matt Belcher from Australia for sure is the favorite. … I think they're in silver, bronze, fourth or fifth. I would be shocked if they're outside of fifth."
Hughes credits a large chunk of those expectations to Moore. From what he learned coaching him at the 2012 Olympics to what he and McNay gained from being a three-man team with Moore in the years after the London Games.
"Without question, Stu and I would not be where we are today, on the Olympic team and going forward as a medal contender," Hughes said, "if it were not for Trevor's friendship and support."
MORE: U.S. athletes qualified for Rio Olympics
Follow @nzaccardi