RIO DE JANEIRO – Katie Ledecky met all of her goals. It's time to set new ones.
Ledecky, after winning her fourth gold medal and breaking her second world record of these Games in her finale, the 800m freestyle, started looking ahead.
New goals? Not yet decided.
When? She'll see once she gets settled in at Stanford later this summer. Ledecky has not turned professional and plans to swim at least one NCAA season.
She will leave her coach of the last three years, Bruce Gemmell, and train under Stanford coach Greg Meehan, who guided Simone Manuel and Maya DiRado to golds the last two days.
"I'll know we'll set some team goals, which will be probably more important than my individual goals for the next year," she said.
And those individual goals?
"Whether that's goals for one year or for the whole four years, we'll see, but it's important to take things one step at a time," she said.
In 2013, Ledecky and her coach, Bruce Gemmell, decided on three goals for the rest of the Rio Olympic cycle – to go 3:56 in the 400m freestyle, 8:05 in the 800m freestyle and simply get her hand on the wall first in the 200m freestyle in Rio. They kept them a secret until this week.
MORE: Simone Manuel talks racial label
Ledecky met all of them, completing a dominant quad that has included 18 major international meet gold medals, 13 long-course meters world records and the title of face of the U.S. swim team, now that Michael Phelps is retiring.
Ledecky, true to herself, balked at the idea that she could fill the shoes of Phelps.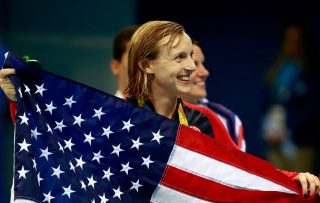 "Collectively, we'll try and carry that forward," she said of a U.S. swim team that has bagged 14 golds and 29 total medals with one day of competition left in the pool.
Two golds in the medley relays Saturday will put the U.S. past its 2012 medal output in the pool. Ledecky will probably be cheering from the stands, thinking about flying home next week.
"I'll have to get all my stuff for my dorm," Ledecky said. "I'm excited for the next chapter and what that can hold."
So are swimming fans.
How can Ledecky possibly get better?
"Does that mean times are faster? I'm not sure it does," Gemmell said as Ledecky passed by in a hallway, sticking her tongue out at him. "She's been the most dominant female freestyler probably ever. Maybe the most dominant female swimmer over a four-year period, ever. … There can be new challenges. There can be new doors. There can be new opportunities. I guess I just don't want to get hung on the faster is necessarily better, and if it's not faster it's not better."
MORE: USA women's water polo dominating
NCAA swimming will come first. And since collegiate meets are held in 25-yard pools, versus 50 meters at the Olympics and world championships, there will be adjustments.
But once Ledecky is back in international competition, there are a few obvious markers on her horizon.
Ledecky's personal best in the 200m freestyle is 1:53.73. The American record is 1:53.61. The world record is 1:52.98.
Ledecky could also continue to develop her 100m freestyle. She was seventh at the Olympic Trials but split 52.64 in the 4x100m free relay here, which ranked fifth among all swimmers in prelims and the final.
There are other possibilities beyond the freestyle. Maybe they should be considered, since distance freestyles have long been known to favor teens.
In 2020, Ledecky will be older than any previous Olympic or world champion in the women's 800m freestyle.
"I hope that what she does is kind of broaden her approach," U.S. head women's coach David Marsh said. "She can be a heck of a 400m IMer, 200m flyer. She can be a lot of things."
MORE: USA women's eight rowers take gold
Gemmell said he and Ledecky were never serious about the 400m individual medley, despite dropping 22 seconds off her personal best in the last three years. Ledecky rarely swims it in competition but ranked seventh in the U.S. this year.
"We had the 400m, 800m, 200m [freestyle] goals," Gemmell said. "The rest of the stuff was just peripheral distraction [he later corrected "distraction" to "variation"], something to do on off-days."
Marsh shared a meal with Ledecky and her parents the other day and stressed one goal Ledecky should have outside the pool in the next several weeks.
"Try to meet people that aren't swimmers, because Stanford is a school that you'll meet incredible people who will influence your life," said Marsh, who formerly coached Auburn. "They won't all be on the swim team."
The toughest part of what lies ahead in Palo Alto?
"Not training with boys," Gemmell said. "I think that will be a huge. Coaches are creative. Greg will figure it out. But that's what she's done. That's what's challenging. That's what's driven her. Somebody said to me, maybe at Olympic Trials. They said Katie's secret weapon is Andrew, my son [a 2012 Olympian]. There's a lot of truth to that."
Even the long-term future was discussed separately by Ledecky and Gemmell on Friday, after they shared tears in their first meeting following the 800m free.
MORE: Bolt cruises, Gatlin clocks top time
Ledecky was asked if she could fathom what 35-year-old teammate Anthony Ervin did, winning 50m free gold medals 16 years apart.
"That's like winning an individual gold medal in 2028, that's insane to think about," said Ledecky, who won her first gold in the 800m free at London 2012 as the youngest member of the entire U.S. delegation. "I'll be happy if I'm even still swimming at that point."
Gemmell thought ahead to the 2030s.
"I hope 20 years from now somebody else is doing something close and somebody's picking up the phone and calling me," he said. "They're jogging my memory about 20 years ago, and I'm trying to recall and say what I remember because some little girl who probably wasn't born yet is watching it on TV or something and is wanting to be Katie Ledecky."