The U.S. earned 115 medals at the Rio Paralympics — its first time cracking 100 medals since 2000 — and finished fourth in the total medal standings, just as it did in London four years ago.
China topped the medal standings for a fourth straight Paralympics, with 239 medals and 107 golds. China earned 231 medals and 95 golds at London 2012, when there were 503 events. The Rio Games had 528 events.
Great Britain finished second to China, just as it did in London, but this time with 147 medals versus 120 four years ago when it hosted.
Russia, excluded from Rio, was third in London with 102 medals. Jumping up to third in Rio was Ukraine with 117 medals.
The U.S., which tallied 98 medals in London, has finished third or fourth in the Summer Paralympic medal standings at five straight Games since leading the standings when it hosted at Atlanta 1996.
MORE: Tatyana McFadden leads U.S. with historic medal haul
Follow @nzaccardi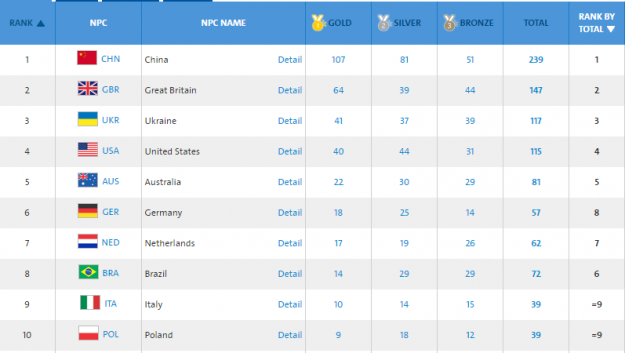 Follow @nzaccardi