Bruce Jenner broke the decathlon world record en route to winning the 1976 Olympic gold medal in Montreal.
But struggling with confusion over gender identity, Jenner felt conflicted by the newfound title of "world's greatest athlete."
Jenner, who is now known as Caitlyn after announcing in 2015 that she was transitioning to living as a woman, revealed her mindset the morning after the Olympic triumph in the following excerpt from her best-selling memoir, "The Secrets of My Life," which is available now:
I am looking in the mirror in a suite of the Queen Elizabeth Hotel in Montreal the morning after my Olympic win. I am naked with the gold medal around my neck. Now that it's over, who am I?
I am trying to see if I feel different after winning the gold and setting a world record and already being offered a broadcasting job by ABC.
The world's greatest athlete.
Nobody can say that except the thirteen gold medalists who have come before.
But I don't feel particularly different. I look into the mirror and I still see what I always see to one degree or another—a person who in working so hard to erase what is inside him has overcome nothing. Now that the Grand Diversion of training for the Olympics is over, now that I have won, what happens next? Will I find something else to preoccupy me, to take the edge off? My wife, Chrystie, is sleeping in the next room. She thinks she knows me almost four years into our marriage. She does know me.
She doesn't know me at all.
My fingers feel like talons, my shoulders and arms humped and ridged with bony muscles. My hair…I hate my hair no matter how long I try to make it. I look into my eyes. I take a few steps closer and burrow into them. What do I see?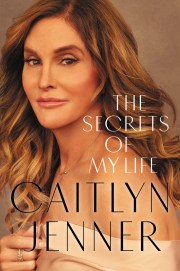 What do you see?
I still see Bruce Jenner.
Not the Bruce Jenner the world now sees and wants and desires.
The Bruce Jenner I never wanted and never desired.
I am proud of my accomplishment. The day of the closing ceremonies at the Munich Olympics in 1972, where I finished tenth as a twenty‐two‐year‐old, even I was surprised to have gotten that far. I wondered, But what if I spend every minute of the next four years of my life training? What if I test myself to the limits to see how good I can become at something?
I did exactly that.
But now that I have won, how special it could possibly be if I could do it. I am a skilled athlete who works harder than the rest, who has to prove his manhood more than the rest. I may act self‐assured, but I still am not. I may exude an attractive confidence, but I feel neither confident nor attractive.
I still see Bruce Jenner.
Excerpted from THE SECRETS OF MY LIFE by Caitlyn Jenner. Copyright © 2017 CJ Memoires, LLC. Reprinted with permission of Grand Central Publishing. All rights reserved.
OlympicTalk is on Apple News. Favorite us!
MORE: Olympic decathlon title one half of 'ultimate double' for Caitlyn Jenner
Follow @srubinroit